Found February 06, 2013 on All Sports Everything:
PLAYERS:
Gerald Wallace
,
Kris Humphries
,
Samuel Dalembert
,
John Legend
,
Ty Lawson
,
Danilo Gallinari
,
Corey Brewer
,
Jeremy Lin
,
James Harden
,
Chandler Parsons
,
Draymond Green
TEAMS:
Brooklyn Nets
,
Golden State Warriors
,
Milwaukee Bucks
,
Denver Nuggets
,
Houston Rockets
,
Ohio State Buckeyes
Two nights removed from the NFL season, the NBA wasted zero time pouring on the action and reminding its fans why they're currently the biggest and best show in town.  The schedule was light, just five games, but still, some of the NBA's best storylines of the season emerged.  Some players will forever live in infamy for getting posterized (Gerald Wallace and Kris Humphries) or rained on (Golden State Warriors), while another (Samuel Dalembert) will enter the history books for having the greatest game of his career. If you don't believe me, just watch. KOBE. Black Mamba visited BK last night and brought vintage Kobe with him.  With the game tied at 80 and less than three minutes remaining, Kobe went old school.  None of this, I'm going to pass the ball stuff.  He drove through the lane, without hesitation, and yammed it on the 6'7 Gerald Wallace and 6'9 Kris Humphries. Kobe's dunk not only brought Barclays to their feet (watch John Legend's reaction in the slow mo video below), but it also helped seal the win for the struggling Lakers who are still climbing back toward .500. and in slow motion…   SAMUEL DALEMBERT WENT OFF AND SET NBA RECORD Nope, that's not a typo. Samuel Dalembert really went bizzerk last night.  While I was glued to my TV watching Michigan fend off their Ohio State rivals, my twitter timeline was working overtime reporting the insane game Dalembert was having.  Last night, he exploded offensively and became the first player in NBA history to record 35 points and 12 rebounds…in 27 minutes.  Here are the highlights. But, it wasn't enough to get the win.  Despite Dalembert's record setting game, Ty Lawson and Danilo Gallinari responded, each dropping 22 points for the Denver Nuggets.  Corey Brewer also joined the party, adding 20 points of his own, which was enough for a Nuggets victory. DANILO GALLINARI'S TRICK SHOT Dalembert wasn't the only player to add to his highlight reel during last night's game, though.  Gallinari completed one of the most incredible shots of the season while drawing contact from Mike Dunleavy. The announcer called it the shot of the century. I wouldn't go that far, but just watch the video and you'll understand.   HOUSTON ROCKETS MAKE IT RAIN FROM 3-POINT LAND The Rockets were hot like fire from the 3-point line.  While setting a franchise record and tying an NBA record, they dropped 23 treys on 40 attempts on the Golden State Warriors.  Jeremy Lin (28 points) drained five 3-pointers, which was a career high; and James Harden (18 points) and Chandler Parsons (16 points) each contributed four.   The final score was 140-109. Oh, you already know Mark Jackson wasn't having it.  In the closing seconds of the game, the Rockets were one three pointer away from setting a new NBA record.  The crowd began chanting, "One More Three," which prompted Jackson to order his team to intentionally foul the Rockets second string unit, in an effort to prevent further embarrassment.  Jackson's strategy was successful, but it came with a cost.  With 34 seconds remaining, Draymond Green committed a flagrant-2 foul on Patrick Beverley. This came after Green picked up a technical foul earlier.  He was subsequently ejected from the game.  Beverley sank both foul shots. The Rockets didn't set a new record, but the damage was already done.  The Warriors saw their four-game winning streak come to a screeching halt at the mercy of the longball. Here's what Jackson said after the game… We got out-played. They made shots. Give them credit, move forward, and we play tomorrow night. We own it, we didn't play well. Give them credit. By no means are we going to accept giving up that many points and giving up open threes and transitions shots. We're disappointed in that and we're going to get better at that. Some nights, its not your night and it wasn't ours and we didn't play particularly well. That doesn't mean lay down and surrender. That's not in our DNA. And on fouling at the end of the game to prevent the Rockets from setting the record… We're not going to lay down. I'm an old school basketball player and an old school coach. If you cant appreciate that, that's on you. We're not going to lay down. If your going to try to get the record, we're going to stop it. There is a way to do it, that's all. Understand it, appreciate it, and I would expect nothing less if I was on the other side. As a team, we're learning. Its nothing personal, but we have a goal and we have a mindset. And this is not last years Warriors. At a time when the NBA has become so soft, it's nice to see Mark Jackson hold onto some "old school" traits of the game, even if Green did go a little hard with the foul. -@sdotrenee
Original Story:
http://allsportseverything.com/2013/0...
THE BACKYARD
BEST OF MAXIM
RELATED ARTICLES
The Milwaukee Bucks appear to be trying to sell high on Samuel Dalembert -- just like a fantasy team. Not even 24 hours after the reserve center hammered the Denver Nuggets for 35 points and 12 rebounds, comes these tweets from ESPN's Marc Stein that Dalembert is on the trade block. Word is Bucks have been shopping Sam Dalembert thanks to emergence of Larry Sanders. Let'...
After playing sparingly for most of the season, Bucks center Samuel Dalembert has had a strong showing over the last week – most notably scoring an impressive 35 points (17-21) in 27 minutes, and pulling down 12 rebounds Tuesday night in a loss vs. the Nuggets. Now the Bucks are reportedly shopping the 10-year-veteran due to the breakout season center Larry Sanders is having, averaging...
The Bikini Basketball League is all set to debut soon and are bringing in new talent to their various franchise. Deion Sanders daughter Deiondra was signed to the Atlanta Franchise and now Samuel Dalembert's sister Melissa has been signed to the Miami franchise. Melissa has some solid basketball credentials on here resume. Here are the details. The Miami Spice is very excited to...
Samuel Dalembert started in place of Larry Sanders (hip) and double-doubled with 10 points and 11 rebounds. A day after scoring 35 points, Dalembert blocked four shots and stole four balls in 26 minutes. He's on the trade block, so his future is in question. And Larry Sanders' return from injury won't help his value. The Jazz beat the Bucks, and Utah got a notable...
In a mere 27 minutes, Samuel Dalembert had 35 points on 17-21 shooting, notched 12 rebounds, dished out 2 and blocked 1. Slammy Sammy has been Silent Sammy for most of the year, with a 14/13 game on January 30 and 12/10 in January 29 being the highlights of the year. In fact, the 35 was a career high for Dalembert. If you're thinking of getting your loved one a Vermont Teddy Bear...
With four minutes and 22 seconds to go in the first quarter of Milwaukee's eventual loss to the Nuggets, Samuel Dalembert checked in.  Seven minutes and 26 seconds later, Dalembert had 14 points.  Come halftime, he had 21.  On the first possession of the fourth quarter, he topped 30.  At that point he'd missed just one shot, and having made 15, he was actually besting LeBron...
The emergence of Larry Sanders this season has made Samuel Dalembert expendable in the Bucks' plans.
Samuel Dalembert dominated with Larry Sanders injured and Ersan Ilyasova in foul trouble. Sam Dam made 17-of-21 shots for 35 points, and the reserve center added 12 rebounds, two assists and a block. He's owned in 35 percent of Yahoo leagues, and is worth a look, especially if Sanders misses time. Dalembert's minutes have been erratic this season. In his previous two...
JaVale McGee's return from a shin injury was memorable, not for his stat line but Samuel Dalembert's. The Bucks' reserve center lit up McGee for 35 points. McGee, who suffered a left tibia irritation about a week ago, played 18 minutes and went for eight points, five rebounds and four blocks. The blocks aren't shabby, but McGee didn't have a great night.
NBA News

Delivered to your inbox

You'll also receive Yardbarker's daily Top 10, featuring the best sports stories from around the web. Customize your newsletter to get articles on your favorite sports and teams. And the best part? It's free!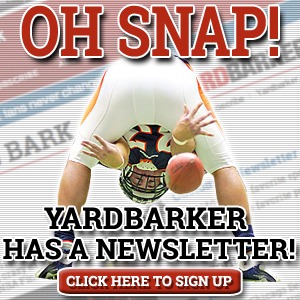 Latest Rumors
Best of Yardbarker

Today's Best Stuff

For Bloggers

Join the Yardbarker Network for more promotion, traffic, and money.

Company Info

Help

What is Yardbarker?

Yardbarker is the largest network of sports blogs and pro athlete blogs on the web. This site is the hub of the Yardbarker Network, where our editors and algorithms curate the best sports content from our network and beyond.