Found June 20, 2013 on StraitPinkie.com:
In each playoff series there is a player that pushes his way into the limelight and shines for a game or two. That person is considered an X-Factor. Tonight for Game 7 you can push all the notions of one guy making a difference out the window. The team that uses everyone correctly will be the ones to hoist up the Larry O'Brien trophy tonight. Yes LeBron James can take the game over, but Spurs coach Gregg Popovich has handled that before in this series. The winner of tonight's game will be a collective effort. Whether it is Tony Parker or Tim Duncan leading the charge for the Spurs, Danny Green, Manu Ginobili, and the rest of San Antonio will need to chip in so the Spurs can win their fifth NBA title. LeBron James (headband or no headband) will need Wade, Bosh, Chalmers, and Allen to be alongside him making baskets and blocking shots. Both Popovich and Erik Spoelstra will have their teams mentally and physically prepared tonight. There have been talks of the Spurs having a mental meltdown after losing Game 6. That could be the case for that night, but Popovich won't let his guys feed into the negativity of the media. Both Duncan and Parker are saying the right things when they were asked about the game tonight. "You know what, it's all about just winning the title. It's not about situation or what has led up to it," Tim Duncan said. "It's a great story for everybody else, but we're here for one reason, one reason only: It's to try to win this game. We have had a very good season thus far, and I think we just want to get to the game more than anything. We just want to see what happens and be able to leave everything out there." "We just have to be positive and forget Game 6," Parker said. "It was a great opportunity, but that's life. It's basketball and everybody will be ready." On the other side of the coin Spoelstra will not allow his team to think Game 7 is in the bag since they are playing in front of their fans in Miami. Yes they team did have a remarkable comeback win in overtime, but that doesn't mean anything for tonight's game. Erik knows the Spurs can beat his team. No team in this series has won back to back games. Spoelstra spoke of this during this series saying, "If people just say it's about us and the fact we're not winning, we don't have our act together that doesn't give any credit to the Pacers or Spurs. [The Heat and Spurs] are the two best teams, and it should be tight." LeBron James knows how big this game is for not only the team, but for him and his legacy. He has been under the microscope during the playoffs. Every shot, pass, and even his body language has been over analyzed. "I want to go down as one of the greatest. I want our team to go down as one of the greatest teams. And we have an opportunity to do that," James said. "Hasn't been many teams to win back-to-back championships. It's so hard. It's the hardest thing. I said last year it was the hardest thing I've ever done, winning my first. Last year don't even come close to what we've gone through in this postseason and in these finals. So I'll be there (Thursday) night. I'm going to give it my all." Hopefully Game 7 will be like Games 1 and 6 and not like Games 2 and 3. In the end we will either see Duncan possibly ride off into the sunset in retirement with his fifth NBA title or James working his way to fulfill the promise of "not one, not two, not three……"
Original Story:
http://www.straitpinkie.com/sports/no...
THE BACKYARD
BEST OF MAXIM
RELATED ARTICLES
The good life: not even noticing when an attractive waitress pours you champagne. LeBron James and several members of the Miami Heat team partied at Story Nightclub, where they probably had the time of their lives drinking Dom Perignon and eating pizza. Also, hey there Damon Jones.  [World Red Eye]
LeBron James will be sporting his signature headband when the Miami Heat take floor against the San Antonio Spurs in Game 7 of the NBA finals Thursday night.The headband came off in the fourth quarter of Tuesday's Game 6 as he blocked a shot by Spurs forward Tim Duncan. It remained off as James proceeded to lead one of the most compelling comebacks in NBA Finals history. He scored...
If the Spurs turn around and won Game 7 of the NBA Finals there would be a lot of people in some third world country rocking out to this collection. Luckily for Nike and the Miami Heat that the Spurs didn't. Photo Credit blacksportsonline.com The post Nike Unveils New Lebron James' Championship Collection appeared first on Overtime.
He just won the NBA Championship, yet Lebron James is not resting. **Follow us on Twitter, View Blitz Viral Videos, or Return to BobsBlitz.com.Follow us on Twitter. Subscribe or Return to... Full story at Bob's Blitz ~ http://www.bobsblitz.com
"For me, I can't worry about what everybody says about me. I'm LeBron James, from Akron, Ohio. From the inner city. I'm not even supposed to be here. That's enough. Every night I walk into the locker room, I see a #6 with James on the back, I'm blessed. So what everybody say about me [...]The post I Ain't Got No Worries – The Miami Heat Are World Champions Again appeared...
Count Metta World Peace among those impressed by LeBron James' fourth quarter Game 6 efforts without his headband on.
If you wanted to reach LeBron James on Thursday night, well, the King was busy wrapping up his second straight championship. Leave a message.
One more defensive rebound, and the Spurs would have been spraying champagne. One more board, one measly Heat miss corralled by the Spurs in the final 23 seconds of regulation, and the NBA Finals are over. Forget a Game 7, forget LeBron James' headband, forget Manu Ginobili laying a gigantic egg for the umpteenth time in the series. It should be over. Tim Duncan should be passionlessly...
With the passing of legendary actor James Gandolfini at the mere age of 51 due to a heart attack, Hollywood lost one of the greatest actors to grace the small/large screen in the process. When James was living, he was a pretty big fan of the New York Knicks and back in the grand year that was 2010, Gandolfini reprised his old role of "Tony Soprano" to help court then-free agent...
LeBron James shrugged off a poor start to get 32 points, 11 assists and 10 rebounds, Ray Allen hit a 3-pointer with 5.2 seconds to play to force overtime and the Miami Heat staved off elimination with a 103-100 victory over the San Antonio Spurs in Game 6 of the NBA Finals on Tuesday night.
NBA News

Delivered to your inbox

You'll also receive Yardbarker's daily Top 10, featuring the best sports stories from around the web. Customize your newsletter to get articles on your favorite sports and teams. And the best part? It's free!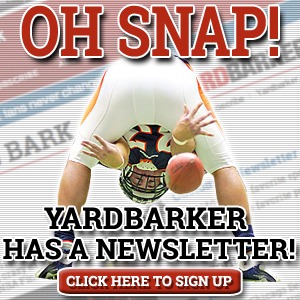 Latest Rumors
Best of Yardbarker

Today's Best Stuff

For Bloggers

Join the Yardbarker Network for more promotion, traffic, and money.

Company Info

Help

What is Yardbarker?

Yardbarker is the largest network of sports blogs and pro athlete blogs on the web. This site is the hub of the Yardbarker Network, where our editors and algorithms curate the best sports content from our network and beyond.