Posted November 01, 2012 on AP on Fox
PLAYERS:
Dwight Howard
,
Jason Richardson
,
Jameer Nelson
,
J.J. Redick
,
Glen Davis
,
Jacque Vaughn
,
Nikola Vucevic
,
Kevin Garnett
,
Gregg Popovich
,
Jerry Sloan
,
Ty Lawson
,
Andre Iguodala
,
George Karl
TEAMS:
Orlando Magic
,
Los Angeles Lakers
,
Denver Nuggets
,
Philadelphia 76ers
,
Boston Celtics
The Orlando Magic take the first step in the post-Dwight Howard era Friday night when they open the season at home against the Denver Nuggets, and it's still anyone's guess as to what direction they are headed. Howard was traded to the Los Angeles Lakers in August. Gone too in offseason trades are power forward Ryan Anderson and shooting guard Jason Richardson, which means the Magic are without three of the four top scorers from last season when they finished 37-29 and lost to Indiana in the first round of the playoffs. In fact, the only holdovers from last year's regular-season rotation are guards Jameer Nelson and J.J. Redick and forwards Glen Davis and Hedo Turkoglu. Throw in rookie head coach Jacque Vaughn, who brings a new style of play, and it's easy to understand why no one knows how the season will unfold. "You can't put a timetable on something like this," Nelson said. "We don't know how many wins we're going to have or when we're going to be playing our best basketball, but I know that we work hard every day we're in the gym and it's going to pay off at some point." Aaron Afflalo said low expectations for the Magic serve as motivation. "A lot of people have us projected to finish last," said Afflalo, who played for Denver the past three seasons and was part of the four-team, 12-player trade package the Magic assembled when they sent Howard to the Lakers. "That lack of expectations is a great incentive for us to compete and do it with a chip on our shoulder. There's nothing wrong with that. We should use anything and everything to fuel our motivation in terms of how hard we compete." Nikola Vucevic, who played in 51 games for Philadelphia last season, will replace Howard in the starting lineup. The 7-foot Vucevic started 15 games for the 76ers and averaged 5.5 points and 4.8 rebounds, but he has no illusions about making people forget Howard. "Dwight is the best center in the league, you can't replace him," Vucevic said. "I will try to rebound, defend the lane and maybe contribute on offense, but I am still learning to be consistent." Howard, an All-Star his last six seasons in Orlando, averaged a team-high 20.6 points and league-best 14.5 rebounds last season, but not everyone thinks his leaving is going to be a bad thing. "Him being gone means it's somebody else's time to arrive," Davis said. "Who is it going to be? I think it's going to be me." Davis led the Magic during the exhibition season with 16.9 points a game. For his five-year career, Davis has averaged 7.9 points and 4.3 rebounds while starting 44 times for Boston and Orlando. He is a full-time starter for the first time in his career and said people may be surprised at what they see. "Every opportunity I got to be a starter, it was like wow! He's capable of doing these things?" Davis said. "People kept saying 'When can we see the Glen Davis we saw in the playoffs, the guy who hit the game-winning shot when he replaced Kevin Garnett (in Boston) and scored all those points in last year's playoffs (for Orlando)?' Well, now it's time." And then there is Vaughn, at 37, the youngest coach in the NBA. He spent the last two seasons as an assistant to Gregg Popovich in San Antonio and has played for legendary coaching names like Jerry Sloan at Utah and Roy Williams at Kansas. He spent 12 years in the NBA, mostly as a backup point guard, and won an NBA title with the Spurs in 2007. He said he expects his team to play at a much faster tempo than it did when Howard was the focal point at both ends of the court and the Magic were strictly a half-court team. "We want to play with pace and we want to share the basketball," Vaughn said. "I saw that at times during the exhibition season. We had a couple of games where we had over 30 assists. "I think we're still in the process of learning. When the games become real and they mean something in the won-loss column, you learn something more about individuals. There is still some learning from me to be done about guys on this roster." Denver opened its season with an 84-75 loss in Philadelphia on Wednesday. Ty Lawson led the Nuggets with 16 points and Andre Iguodala scored 11 in his Denver debut. The Nuggets shot 37.5 percent overall, going 4 for 18 from 3-point range, and committed 22 turnovers in their lowest-scoring game since losing 114-70 in New Jersey on Feb. 7, 2009. "I think the video will show that it was one of those tough games," coach George Karl told the team's official website. "Finding confidence was very difficult offensively. ... It's pretty clear we have some work to do, and I think our guys are up for the challenge." Denver has split its last four trips to Orlando after dropping 18 of its first 20 visits.
Original Story:
http://msn.foxsports.com/nba/story/Nu...
THE BACKYARD
BEST OF MAXIM
RELATED ARTICLES
Dwight Howard's 33 points and 14 rebounds were not enough for the Los Angeles Lakers in a 116-106 loss to the inspired Portland Trail Blazers on Wednesday night. Nicolas Batum had 26 points and the Blazers led by as many as 19 in handing the Lakers their second straight loss to open the season. Damian Lillard, the sixth overall pick in the June draft, had 22 points and 11 assists...
For the uninitiated among us, lets set the record straight: New Orlando Magic general manager Rob Hennigans most critical misstep this summer was not merely the act of trading franchise center Dwight Howard to the Los Angeles Lakers. After all, it was plain to see that the Howard-Magic relationship had fallen into such a state of disrepair, the cloud hanging over the team growing...
Dwight Howard is fouled as he goes up for a dunk. The Lakers got huge games from both Dwight Howard and Kobe Bryant, but turnovers and bad defense did them in again, as they dropped to 0-2 on the young season, with a 116-106 loss in Portland. For the second straight night, the Lakers floundered and flailed, and were again unable to mount any real consistent play in dropping yet...
In an interesting article by Yahoo! Sports, Chris Paul and Dwight Howard had plans on joining forces.  They were teammates in the 2008 Olympics in Beijing and grew closer.  Apparently, Chris Paul wanted Dwight Howard to come to New Orleans and play for the Hornets.  On the other hand, Dwight Howard wanted Chris Paul to come to Orlando and play for the Magic.  When they realized...
Following the Dwight Howard trade, the Denver Nuggets were able to snag Andre Iguodala and brought him to the Mile High City, but how will the addition affect the Nuggets when they face off against the Philadelphia 76ers? Series Matchup 2011-2012: 1-0 Series Matchup 2012-2013: October 31st and March 21st Ty Lawson has shown improvement [...]The post Denver Nuggets Season Preview...
ORLANDO, Fla. (AP) -- The Orlando Magic take the first step in the post-Dwight Howard era Friday night when they open the season at home against the Denver Nuggets, and it's still anyone's guess as to what direction they are headed. Howard was traded to the Los Angeles Lakers in August. Gone too in offseason trades are power forward Ryan Anderson and shooting guard Jason...
MINNEAPOLIS In June, a fake Twitter account pretending to be a credible NBA beat writer tweeted that a deal sending Dwight Howard to the Lakers was done. The Internet exploded for a quick second before everyone took a closer look and realized they'd been royally duped. It was a lesson in caution and a weird example of the efficacy (or inefficacy, depending on how you look at...
Chris Paul and Dwight Howard have discussed playing together since 2009.
Now that the drama of trading for Dwight Howard is over, the Nets can focus on trying to become a legit contender in the East. They traded for Joe Johnson to pair with Deron Williams which instantly gives them one of the top 5 back courts in the NBA. If Brook Lopez can stay healthy and build off of his 19 points and 4 rebounds average for his career he could give the Nets a valid...
LOS ANGELES -- The Los Angeles Lakers discovered on opening night that four superstars do not a team make. The Dallas Mavericks, meanwhile, discovered life without their one star isn't quite so glum. With Dirk Nowitzki out after knee surgery, Dallas marched into Staples Center and spoiled the Lakers debuts of Dwight Howard and Steve Nash, taking a 99-91 win Tuesday. It...
NBA News

Delivered to your inbox

You'll also receive Yardbarker's daily Top 10, featuring the best sports stories from around the web. Customize your newsletter to get articles on your favorite sports and teams. And the best part? It's free!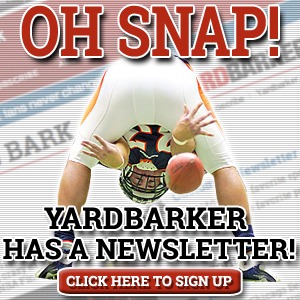 Latest Rumors
The Backyard

Today's Best Stuff

For Bloggers

Join the Yardbarker Network for more promotion, traffic, and money.

Company Info

Help

What is Yardbarker?

Yardbarker is the largest network of sports blogs and pro athlete blogs on the web. This site is the hub of the Yardbarker Network, where our editors and algorithms curate the best sports content from our network and beyond.