Found March 29, 2013 on Celtics Life:
In so many ways, the Celtics resemble the spirit of Dante about to enter his journey into Hell to rescue his beloved Beatrice. Beatrice is of course Banner #18 and Hell will surely be surviving with success to the 2013 playoffs entering as a 6th seeded team at best in the East. We could continue with the analogies with Dante´s marvelous opus by giving the role of the Devil to LeBron James or rather to David Stern, as you may wish. The Celtics are a team that is struggling to keep its best players on the court. With the team´s main crazy artist (Rondo) hurt until next season and with the heart and guts of the team being out indefinitely (Garnett) the team is relying on the power and passion of its captain and the rising athletic prowess of Jeff Green. Some may say it´s surely not enough to get far in the playoffs. You may be forgetting about Jason Terry, too. Yes, I am referring to that guy you think he has underachieved so far. You may be thinking he belongs to the likes of Jermai...
Original Story:
http://www.celticslife.com/2013/03/of...
THE BACKYARD
BEST OF MAXIM
RELATED ARTICLES
LeBron James spoke out about the way he gets officiated on Wednesday night, saying he is starting to get concerned about how physical he believes some opponents are against him. James made the comments to reporters huddled around his locker in Chicago not long after he and the Miami Heat had their 27-game winning streak snapped, with the Bulls prevailing 101-97. He cited two specific...
Normally I like my posts to have some kind of substance to them be it my whit and wisdom (go ahead and laugh) or a video clip of something cool.  This post has neither. What it does have is a hilarious LeBron James meme. In case you've been out of the country and on a desolate island with no WiFi (so, Survivor contestants) the Miami Heat have been streaking. No...
LeBron James – one of the league's most physical players – is upset with the "rough" treatment he's received this season. He ******* whined sounded off following last night's loss to the Bulls: "Those are not basketball plays and it's been happening all year," James said after the game, in reference to the two hard fouls. "And I was able to keep my cool and...
After the Chicago Bulls ended the Miami Heat 27-game winning streak, a rather dejected LeBron James found his way down the visitor's tunnel at the United Center.Before he disappeared from view of the rowdy Chicago crowd, one Bulls fan attempted to jack his headband right off his head:Nice try dude...Nice try...
LeBron James was called for a flagrant foul Wednesday during the Miami Heat's game against the Chicago Bulls after putting a shoulder and elbow into Carlos Boozer, who was setting a screen on him late in the game. James' forceful shoulder into Boozer seemed to be retaliation for getting hit in the head on his team's previous possession. He was called for a flagrant-1 foul,...
CAN'T TAKE IT ANYMORE
The Heat's winning streak came to an end Wednesday against the Bulls and LeBron appeared to be most frustrated about two hard fouls against him during the game.
HEAT CHECK
Danny Ainge recently said that LeBron needs to stop doing so much complaining, and that apparently did not sit well with Pat Riley, to say the least.
(Eds: With AP Photos.) By JIM LITKE AP Sports Columnist Losing game after game is nerve-racking, sure, but after a point, so is winning. Seconds after the NBA's second-longest winning streak was history, LeBron James and his Miami Heat teammates walked off the floor solemnly in single file, their mood seemingly as dark as their black road jerseys. But moments later, inside the...
"Let me calculate my thoughts real fast before I say (what I want to say)," James said. "I believe and I know that a lot of my fouls are not basketball plays. First of all, Kirk Hinrich in the first quarter basically grabbed me with two hands and brought me to the ground. The last one, Taj Gibson was able to collar me around my shoulder and bring me to the ground. Those are...
The streak that some thought may never end, finally did. The Miami Heat ran out of magic and dropped last night's game to the Chicago Bulls, 101-97, putting an end to their 27-game win streak. As they did a number of times over the past two months, the Heat fell behind by double-digits in the first half, only to come roaring back in the second half and take the lead. This time...
The Miami Heat's improbable 27 game winning streak came to a halt on Wednesday night in the Windy City against the Bulls, where they ended up losing 101-97. Many experts had this night circled on their calendars as the night that the streak would go down, and as it turns out those experts were right. But now that we can look back on the streak in its entirety with it now over,...
NBA News

Delivered to your inbox

You'll also receive Yardbarker's daily Top 10, featuring the best sports stories from around the web. Customize your newsletter to get articles on your favorite sports and teams. And the best part? It's free!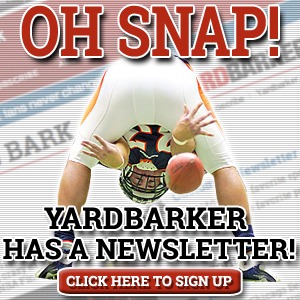 Latest Rumors
Best of Yardbarker

Today's Best Stuff

For Bloggers

Join the Yardbarker Network for more promotion, traffic, and money.

Company Info

Help

What is Yardbarker?

Yardbarker is the largest network of sports blogs and pro athlete blogs on the web. This site is the hub of the Yardbarker Network, where our editors and algorithms curate the best sports content from our network and beyond.