Found January 03, 2013 on Knickswag:
Since their rookie years with the Knicks David Lee and Mark Jackson have been fan favorites. Decades have separated David Lee and Mark Jackson, but one thing they hold in common? They were once NY Knicks and were groomed into the player and coach they are today during their early years in the Big Apple. Mark Jackson Mark Jackson, drafted 18th overall to the Knicks, came out the gate a stud. Winning rookie of the year and creating awesome chemistry with all-time Knick great Patrick Ewing. His career averages are 9.6 pts. 8 ast. and 3.8 rbs. per game over a 17-year career. His tough mentality and wisdom on the court made him a well-known commodity in the league. In his career he was the floor general for great teams and even better coaches. He is currently 3rd on the all time list of assists ending his career at number two before being passed by NY Knicks guard Jason Kidd. His love for the game took him to the broadcasting booth after his playing days, where he schooled us in basketball and defensive mentality during the playoffs. While waiting for his coaching chance to come, many jobs came and went, Then the perfect job came his way. The Golden State Warriors (who were a mess) were under new management. They were looking for a fresh face and an outside the box choice. Their choice?  Action Jackson. In Golden State he changed the culture instantly. From a reckless run and gun system to a system where all players are held accountable and are committed to defense. They have put together a roster of rookies, 2nd and 3rd year players and a touch of veterans, led by none other than David Lee.  They currently are 12 games over .500 and rising in the West to a stunned fan base. The sky is the limit with this young nucleus of players and coaches. Their strong record and commitment is a testament to Mark Jackson and his coaching staff. David Lee David Lee drafted by the NY Knicks 30th overall in the 1st round was an underrated pick from the start. He slowly worked his way into the Knicks rotation with his hustle and rebounding ability. From day one on the court I noticed his ability to use both hands and find the ball at all costs. Over a 3-year period David worked his way into the starting line up with an improved jumper and never ending motor. His love from the fans was building, as he was turning into a crowd favorite and an NBA All-Star. His last 2 years in NY he averaged 16 pts. and 11 rbs. and 20 pts. and 11 rbs. to become the Knicks franchise player. Unfortunately for David the Knicks were in transition and he was the odd man out. I know this sounds crazy and impossible, but the team was purging it's roster and looking to bring in LeBron James or other high profile names to start the franchise in a new direction. David wanted a max deal and the Knicks gave it to him then traded him to Golden State for some expiring contracts and 2nd round picks. At the time it was not a popular move, but necessary to make at that moment with their eye on the 2010 prize. The Warriors welcomed David with open arms and from then on he has become "Mr. Consistent". He is a double-double machine and one of the faces of the franchise. This year David is averaging 20 pts. and 11 rbs. with a solid jumper extending out to 18 feet. His defense has improved over the past year as his ambidextrous skills are what cause opponents to have fits against him. The end of this story is just the beginning. David and Mark are joined at the hip in Golden State. They are enjoying success and nobody knows what the outcome could be. I know one thing, they were raised as Knicks and were groomed in New York. Be proud of what New York has produced. Once a Knick always a Knick.   Peter A. Knickswag Chief The post Once a Knick Always a Knick : Mark Jackson and David Lee appeared first on Knickswag - A New York Knicks Blog - News, Rumors, and more!.
Original Story:
http://knickswag.com/once-a-knick-alw...
THE BACKYARD
BEST OF MAXIM
RELATED ARTICLES
BENCH WARRIOR
The Golden State Warriors have been the NBA's most improved team this season, and one of the driving forces behind their remarkable turnaround has been the play of their bench.  While Andrew Bogut, the team's major acquisition, remains sidelined with his latest injury, unsung additions Jarrett Jack and Carl Landry have combined to form what is arguably the league's most powerful...
Marcus Camby will start tonight next to Tyson Chandler to give the Knicks a 7 foot look. This move is not a surprising one to any of us. The Knicks have been struggling in the 1st quarter these past few weeks and opponents have hurt the Knicks in every way on defense. Woodson makes it official: @marcuscamby23 will start with @tysonchandler. Cambys first #Knicks start in almost 11...
Contending teams have been known to play poorly every now and again. As steady as a squad can be, no one can be perfect.That's why it wasn't worth getting up in arms about the Knicks' feeble effort in the first half of Friday night's game against the Kings. New York made sure such a fluke didn't last the entire game, as the Knickerbockers charged back with all...
JR Smith is definitely in the early running for Sixth man of the year. We're all familiar with his long range shot, which can exhilarate or scare you depending on his shot selection for the night. But don't forget that JR also has hops and get up in that rare air. Check out his one-hand reverse [...]
Blake Griffin is one of the best players in the NBA. However he has a reputation of being a flopper and actor on the basketball court. Add Golden State Warriors coach Mark Jackson to the list of people that have called out Griffin for flopping. Late in the 3rd quarter Griffin was driving to lane when Festus Ezeli tried to stop him. Ezeli grabbed his arm but Griffin make it seem like...
New York Knicks swingman, J.R. Smith, is no stranger to social media networks, and routinely takes to Twitter as a means of discussing NBA issues and personal matters. Smith also has a history of saying what he wants in front of an audience of 208,000+ on Twitter. The most recent Twitter scandal (if that's what we're to make of it) involving Smith, was more of an indirect way...
Peter A – Knickswag The post Knickswag Spreecast: 1/3 appeared first on Knickswag - A New York Knicks Blog - News, Rumors, and more!.
Carmelo Anthony scored 23 points, J.R. Smith kept up his surge with 20 and the New York Knicks snapped the San Antonio Spurs' seven-game winning streak with a 100-83 victory Thursday night. Steve Novak added 15 points and Tyson Chandler had 10 points and 14 rebounds to help the Knicks bounced back from consecutive losses by dominating the final period against the Spurs, who...
J.R. Smith completes a difficult reverse alley-oop from teammate Pablo Prigioni in the fourth quarter of Thursday night's home win over the Spurs:
In the third quarter of last night's Golden State Warriors/Los Angeles Clippers affair, Clippers forward Blake Griffin decided to take an uncontested three point shot.Blake's shot didn't even come close to the rim and hit the side of the backboard as the shot clock expired.That shot would have been enough to make this site but check out the reaction from the Warriors...
The New York Knicks made a lineup change to their frontcourt their last time out, and it could pay dividends against their next opponent. The visiting Knicks are hoping a strong defensive effort carries over Saturday night when they try to extend the Orlando Magic's longest losing streak in seven seasons. New York (22-10) had lost five of eight before coach Mike Woodson gave...
NEW YORK -- This time, there was no need to complain about the absence of the San Antonio Spurs' stars by the end of a marquee matchup. The New York Knicks had made it completely reasonable for Spurs coach Gregg Popovich to rest them at the end of New York's 100-83 rout at Madison Square Garden on Thursday night. Carmelo Anthony scored 23 points for the Knicks and point...
NBA News

Delivered to your inbox

You'll also receive Yardbarker's daily Top 10, featuring the best sports stories from around the web. Customize your newsletter to get articles on your favorite sports and teams. And the best part? It's free!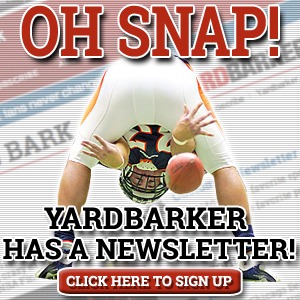 Latest Rumors
Best of Yardbarker

Today's Best Stuff

For Bloggers

Join the Yardbarker Network for more promotion, traffic, and money.

Company Info

Help

What is Yardbarker?

Yardbarker is the largest network of sports blogs and pro athlete blogs on the web. This site is the hub of the Yardbarker Network, where our editors and algorithms curate the best sports content from our network and beyond.