Posted November 19, 2012 on AP on Fox
PLAYERS:
David West
,
Roy Hibbert
,
John Wall
,
Bradley Beal
,
Jordan Crawford
,
Shaun Livingston
,
Chris Singleton
,
Randy Wittman
,
Jan Vesely
,
Trevor Booker
,
Kevin Seraphin
,
Gerald Green
,
Earl Barron
,
D.J. Augustin
,
Frank Vogel
TEAMS:
Washington Wizards
,
Indiana Pacers
,
New York Knicks
There were boos early and at the end for the winless Washington Wizards, who dropped to a franchise-worst 0-9 with a 96-89 loss to the Indiana Pacers on Monday night. Indiana's David West scored 13 of his season-best 30 points in the fourth quarter, and Roy Hibbert broke out of a slump with 20 points and 12 rebounds. Still without point guard John Wall, the No. 1 overall pick in the 2010 NBA draft, and starting center Nene - and no one seems to be sure when either injured player will make his season debut - the Wizards are the only team in the NBA without a victory. They started 0-8 a year ago, the club's previous worst opening to a season. They were led Monday by rookie Bradley Beal's 18 points, 17 coming in the second half. Jordan Crawford scored 11 on 2-for-12 shooting for Washington. Jeered by the announced crowd of 14,426 in the opening minutes and at the closing buzzer, the Wizards actually earned a standing ovation at the end of the third quarter after whittling a 20-point deficit to 71-67 on Shaun Livingston's jumper entering the fourth. Washington went on an 18-2 run to close the third, including 16 points in a row, with Beal scoring nine. And when Chris Singleton made a jumper while getting fouled with 3 1/2 minutes left in the game, Washington suddenly was within 86-85. Alas, Singleton failed to convert the three-point play, missing the free throw that would have tied the score, and West's jumper at the other end put the Pacers back up by three. As West's shot went through the net, Wizards coach Randy Wittman raised his arms then put his hands atop his head in a resigned pose. Moments later, Wittman called time out after West sank yet another jumper to make it 90-85. Before the game, Wittman - with hands stuffed in his pants pockets and the hint of a smile across his face - spoke earnestly about what it's going to take for his struggling team to get better, including lineup changes. ''Hey, when you're 0-8, you're trying a lot of different things,'' he said. ''That's what I do.'' Not exactly going out on a limb, Wittman added: ''This team's going to win games. I really believe that.'' They're still waiting for just one victory. Hibbert, who played college home games for Georgetown at the Wizards' arena, scored in single digits in seven of the season's first 11 games, including only six points on 3-of-10 shooting in Indiana's 88-76 loss at the New York Knicks on Sunday. Even though the Pacers were playing on the second night of a back-to-back set, they were not the ones who came out sluggish Monday. No, the Wizards did. Jan Vesely, the thus-far-disappointing No. 6 overall pick last year, got his second consecutive start and made a 10-foot hook from near the baseline on the game's opening possession - and Washington proceeded to miss its next seven field-goal attempts. When Washington called a timeout 3 1/2 minutes in, trailing 13-4, the evening's first boos rang out. It took about 5 minutes for the Wizards to record their second field goal, on a 7-foot jumper by Jordan Crawford. Midway through the first quarter, with the hosts down 17-6, Wittman yanked three starters and inserted Beal, Trevor Booker and Kevin Seraphin. Didn't help. With about 3 1/2 minutes left in the first quarter, the Wizards trailed 24-7 and had twice as many turnovers (four) and personal fouls (four) as field goals made (2 for 12). Indiana led by as many as 19 in that quarter, at 26-7 on Gerald Green's 19-foot jumper, before Washington woke up and began to eat away at the deficit. The Wizards got as close as within seven in the first half. But right after Earl Barron's 15-foot bank shot as the shot-clock expired made it 48-41 with 3.1 seconds left, he fouled D.J. Augustin, whose free throws put the margin at 50-41 at halftime. The second half brought more runs to make things interesting, but also more missed shots and wayward passes and, in the end, one more loss for Washington. Notes: The Wizards play at Atlanta on Wednesday ... Indiana is 5-7. ... Pacers coach Frank Vogel was asked before the game whether he'd considered taking Hibbert out of the starting lineup and using him as a reserve. ''No. We think about doing a lot of things to get him going,'' Vogel replied, ''but that's not one of them.'' Added Vogel: ''He knows he's better than he's doing.'' ... Wittman, who played college basketball at Indiana, was not exactly a fence-sitter about the changes to that school's Big Ten Conference. ''I don't like it all. ... We got Maryland and Rutgers? That's not Midwest,'' he said with a chuckle. ''Come on. That answer your question?'' --- Follow Howard Fendrich on Twitter at http://twitter.com/HowardFendrich
Original Story:
http://msn.foxsports.com/nba/story/Pa...
THE BACKYARD
BEST OF MAXIM
RELATED ARTICLES
BRUTAL SELF-ASSESSMENT
Indiana Pacers center Roy Hibbert is clearly very unhappy with how he's been playing thus far this season, saying he's "tired of playing like some [expletive]."
WASHINGTON -- In the basketball-loving nation's capital, the letter "W" stands for Wizards or Washington, but not "win" -- not yet. The Washington Wizards fell to 0-9, the worst start in franchise history, as the Indiana Pacers snapped a six-game road losing streak with a 96-89 win Monday at the Verizon Center. Despite a furious second-half rally, Washington...
Things have gotten really bad for the Washington Wizards. At 0-9, they are the NBA's only winless team and — not surprisingly — are in the bottom five of almost every category in the league, including attendance. They may have hit a new low Monday, when the banged-up and listless Pacers came to town and handed the Wizards a 96-89 defeat. Aftward, Wizards coach Randy Wittman...
It should never have come down to it, but a win is a win, even if it was an ugly one against the winless Washington Wizards.The Indiana Pacers somehow managed to squander a 20-point lead in the third quarter before David West activated beast mode in the fourth, scoring 13 of his season-best 30 points, including 4 of the team's last 5 field goals (he assisted on the 5th one to...
As the coach of the only NBA team without a victory this season, Randy Wittman is struggling to pick a starting lineup for the Washington Wizards. Can't even zero in on a nine-man rotation, actually. All the while, he needs to buoy his own flagging spirits and try to prevent his players from getting too down on themselves after a franchise-worst 0-9 start. ''This isn...
The Pacers expressed interest in Rashad McCants before he signed a deal in China with Foshan.
Well. In front of a sparsely populated Verizon Center crowd last night, the Washington Wizards saw their spirited second half fail to net a victory, as they fell to the Indiana Pacers 96-89.  The Wizards are now 0-9 on the young season and off to the worst start in franchise history. Aside from eternal optimists, you'd be hard pressed to find a Wizards fan that thought this...
WASHINGTON (AP) -- There were boos early and at the end for the winless Washington Wizards, who dropped to a franchise-worst 0-9 with a 96-89 loss to the Indiana Pacers on Monday night. Indiana's David West scored 13 of his season-best 30 points in the fourth quarter, and Roy Hibbert broke out of a slump with 20 points and 12 rebounds. Still without point guard John Wall, the...
The Indiana Pacers are still struggling to find their offense without All-Star forward Danny Granger. The Washington Wizards, meanwhile, are having a difficult time simply winning without franchise point guard John Wall. The Pacers will try to snap a six-game road losing streak and beat the Wizards for the eighth straight time as they take on the league's lone winless team...
The shooting guard position in the NBA is at its bleakest its ever been. Is there hope for the future, so guys can pass the torch?The post Changing Of The (Shooting) Guard appeared first on The Sports Fan Journal.
Every morning, we will give you five things from the night before in the NBA to start your day. 1: Wizards without wins Two weeks into the season and nearly 10 games in, the Washington Wizards are still without a win. The Wizards had a two-point lead at the half against the Jazz. That is when Al Jefferson began to take over and turn the tide of the game. Jefferson scored 17...
Line of the Night: David West (2.64) scored a season high 30 points (going 10-14 from the field, 10-10 from the line), adding 8 rebounds and 4 blocks to drop the Wizards to 0-9 on the season and keep them as the only winless team in the NBA. West has been very good to start the season (we've got him at 53 overall on the rater) and seems to be the only other Pacers player (other...
NBA News

Delivered to your inbox

You'll also receive Yardbarker's daily Top 10, featuring the best sports stories from around the web. Customize your newsletter to get articles on your favorite sports and teams. And the best part? It's free!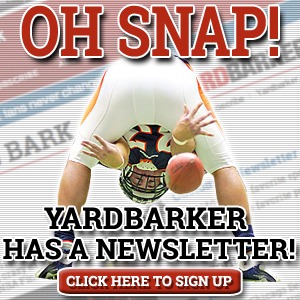 Latest Rumors
The Backyard

Today's Best Stuff

For Bloggers

Join the Yardbarker Network for more promotion, traffic, and money.

Company Info

Help

What is Yardbarker?

Yardbarker is the largest network of sports blogs and pro athlete blogs on the web. This site is the hub of the Yardbarker Network, where our editors and algorithms curate the best sports content from our network and beyond.