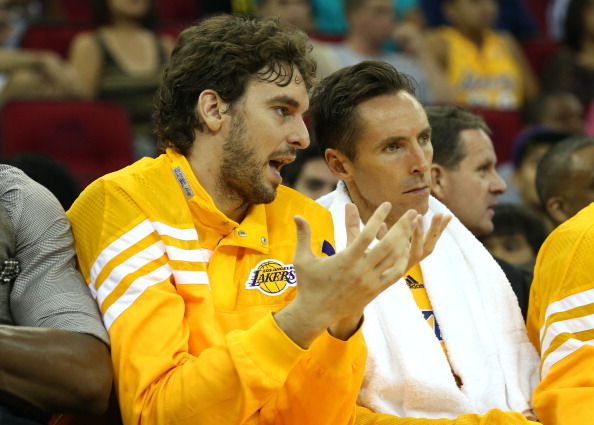 Photo Credit: Lakers TopbuzzTo this point, the Lakers season can be best described as one of those daytime soap operas. You know, the shows that everyone swears they never watch, even though viewer ratings continue to keep them on the air for decades.We've seen one Mike get kicked to the curb in favor of another Mike, former All-Stars get demoted, then promoted, then demoted again, current All-Stars passing box scores around the locker room, and finally, winning streaks, followed by losing streaks, followed by winning streaks. On and on the drama continues, much like that absurd run-on sentence you just read.The latest episode came after last night's win escape over the Hornets at Staples Center, where Pau Gasol, for maybe the first time in his career, strongly voiced his extreme dissatisfaction over Mike D'Antoni's decision to have him on the bench during the 4th quarter."I'm a competitor, I'm a guy that thinks I bring a lot to the table, and not being on the floor is something that I don't like, I don't appreciate."Gasol didn't stop there."It's a challenge. We're challenged every day, and I'm challenged every day to keep my calm and keep my peace and not let my emotions take over my words."Pau, who's battled with injuries this season, had triple-7′s last night (7 points, 7 rebounds, 7 assists), but only played 21 minutes. When he left the floor, the Lakers had a comfortable 10 point lead heading into the fourth.Mike D'Antoni almost immediately addressed the situation after the game:"They went small. I couldn't get Pau back in there because of the lineup change."The Lakers get back to work tonight, taking on the Suns in Phoenix, at 10:30pm ET on ESPN.The post Pau Gasol Angry After Benching vs. Hornets appeared first on Laker Nation.
Read the rest of this story...
MORE FROM YARDBARKER
NBA News

Delivered to your inbox

You'll also receive Yardbarker's daily Top 10, featuring the best sports stories from around the web. Customize your newsletter to get articles on your favorite sports and teams. And the best part? It's free!