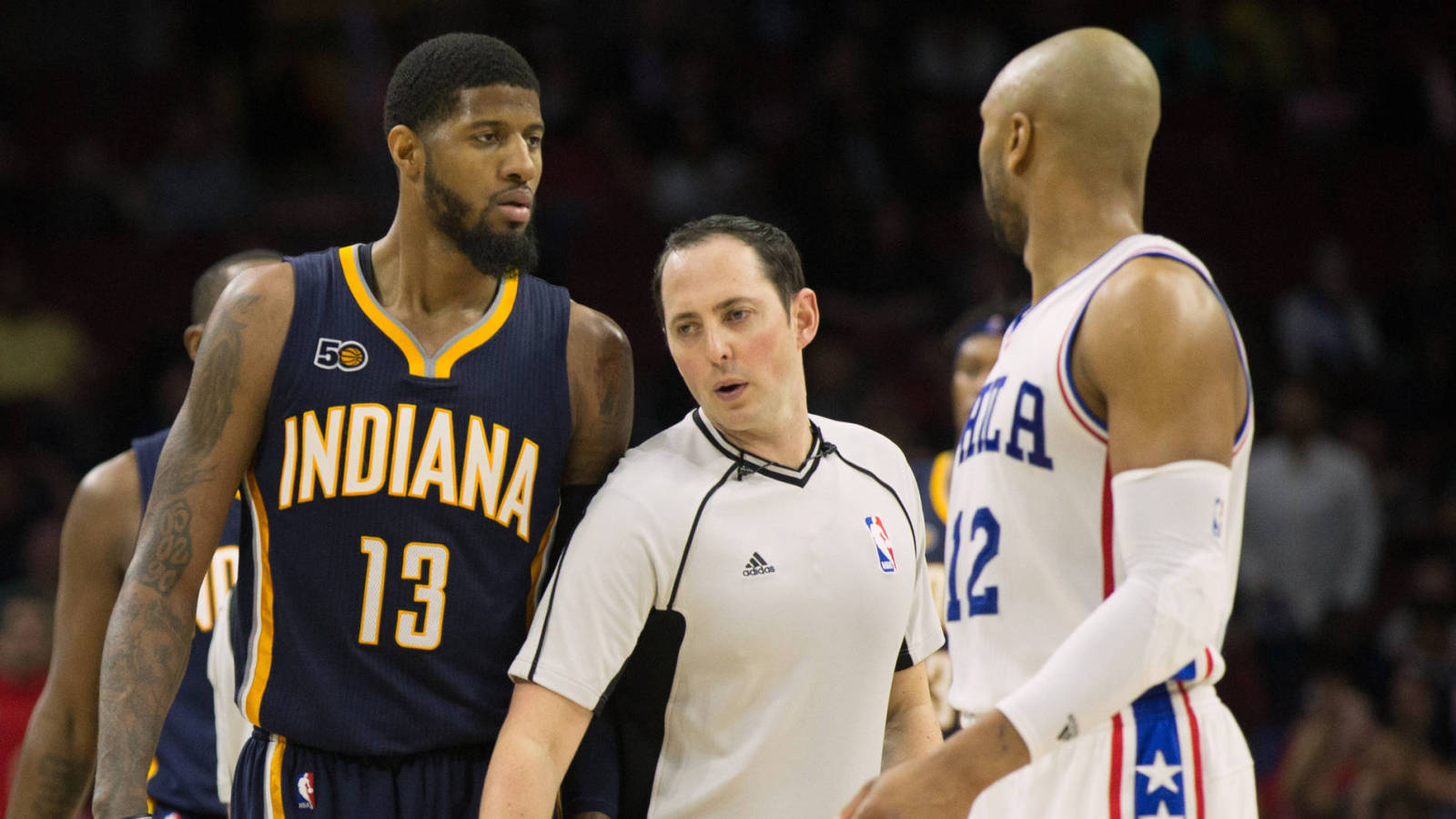 Apr 10, 2017; Philadelphia, PA, USA; Indiana Pacers forward Paul George (13) and Philadelphia 76ers guard Gerald Henderson (12) are separated by referee Marat Kogut (32) after an altercation during the second half at Wells Fargo Center. 
Bill Streicher-USA TODAY Sports
Paul George blasted the officials following the Pacers' 120-111 win over the 76ers on Monday night, a game from which he was ejected.
George got tangled with Philly's Gerald Henderson with around five minutes left, resulting in double-technicals. A few minutes later, the two were ejected for a second incident in which Henderson caught George in the throat with an elbow. Henderson received a flagrant-2 foul for the play, while George was tossed for his second tech of the game.
After the game, George was critical of the refs for how they handled things.
"You'll know how I feel about the officials and tonight I really have no faith in them," George said via the Indy Star's Nate Taylor. "I've been warning them all night what he's going to do, stuff he's doing and they allow the s— to go on."
George was particularly upset about the second technical, which he received for seemingly no reason.
More George on Henderson: "He was throwing jabs & punches at my stomach all night."

— Nate Taylor (@ByNateTaylor) April 11, 2017
Paul George: "So he pulled me down, I get double tech for doing nothing & then throw an elbow at my neck & I get another tech for nothing."

— Nate Taylor (@ByNateTaylor) April 11, 2017
Paul George: "I don't care about him (Henderson). It's the fact that they (officials) let him do that. That's the problem I have."

— Nate Taylor (@ByNateTaylor) April 11, 2017
"I really don't have no respect & nothing is there for the officiating. S—– officiating job," said George.
George ended up playing 36 minutes and scoring 27 points, so he had plenty of an impact on the game despite the ejection. But his issues with the officials is nothing new, as he's been complaining about them all season and can expect yet another fine for his comments.
He also might not be quite as innocent as he made it seem.
MORE FROM YARDBARKER
NBA News

Delivered to your inbox

You'll also receive Yardbarker's daily Top 10, featuring the best sports stories from around the web. Customize your newsletter to get articles on your favorite sports and teams. And the best part? It's free!