Found November 11, 2011 on Dime:
The fact that Paul Pierce has made over $137 million for his career already lets you know that his crib is going to be nice. But after getting a peek inside his house, it appears The Truth has taken the game to a whole new level. What can that type of money buy you? How [...]
Original Story:
http://dimemag.com/2011/11/video-paul...
THE BACKYARD
BEST OF MAXIM
RELATED ARTICLES
SHAQ-Y BALBOA
The Big Fella has never shied away from throwing down (just ask Brad Miller). Now, he seems to have set his sights on a new opponent, and wants UFC boss Dana White to help make it happen.
Any time an interview includes the question, "Hypothetically, it doesn't matter if you're married, single, babies, none, it's Game 7 of the NBA Finals, your wife goes into early labor with her first-born, where do you go — the game or the hospital?", the opportunity for greatness exists.When that interview also includes the Celtics' first-round pick saying all the...
Chicago tonight, Portland tomorrow, & Miami the next day? As I have been fearing for almost a year now, it looks like when the lockout ends (not a guarantee that it will next week) and the season begins on December 15th, the NBA will move to make-up several of the missed games in order to maximize revenue. This means even though a month and a half of games will have been missed...
36-year old shooting guard Ray Allen is back for more in 2011-12 for the Celtics.  He played in 80 games (all starts) for the Celtics last year and he averaged 36.1 minutes, 16.5 points, 3.4 rebounds, 2.7 assists and 1.0 steal per game.  Allen shot an amazing 44.4% from three point range last year for the Celtics as his shot is still there.  Allen has now played in 1,102 games...
The NBA negotiations have been like Paul Pierce's favorite shot — two dribbles forward, one giant leap back — except the negotiations have been hanging in the air for quite a bit longer than Pierce.Reporters briefed by sources on Wednesday's negotiations could all agree: progress was made. But whether that progress is enough to stem the prevalent tide of instability remains...
Delonte West had fallen out of grace with me after his departure from Boston in 2007. I usually keep a warm, fuzzy place in my heart for former Celtics who've been traded. Danny Ainge always remained a fan favorite with me after he left. The Chief too. Though I've always gotten a chuckle out of [...]
There is one free agent I am really hoping that Danny will re-sign when and if this lockout ever gets settled, and that is Delonte. He's a very good and tough player, but he also keeps things light. I mean, just look at what he's been doing during the lockout. First he said he was applying at Home Depot. Then he actually got a job at a furniture store and can be seen...
Former Minnesota Timber-wolf and now Celtic champion, Kevin Garnett, has been speaking very highly of his former home. Not to worry Celtics' fans, KG is not planning to make the move back to Sota. He has, however, been talkin' up the town with the newest member of the Timberwolves, Ricky Rubio. From Slam Magazine (Via [...]
From Celtics.com. Mr. Russell starts off a bit cryptic, but as usual it's a very thought provoking interview from the greatest winner in American Sports history.
Another great expressionism piece featuring Ray Allen by Mike Orduna that was made for an in-store retail installation.
Durfee High School graduated Chris Herren admits he had everything right there in front of him. Unfortunately for Herren, his drug addiction cost him his dream and cut short his playing career with the Boston Celtics. He wrote a memoir titled Basketball Junkie and is the subject of a documentary, Unguarded. Check out an interview with Herren on NESN Daily in the video above.
Not everything that happens during the NBA lockout is bad: Delonte West makes his job applications public, Delonte West makes his broken-down Ford Bronco public, Chris Paul goes on Family Feud, and—provided that they cover up the Adidas logo on their shirts—Carmelo Anthony and Amar'e Stoudemire get to hang out with a puppet named Grover on public access television. More »
Celtics News

Delivered to your inbox

You'll also receive Yardbarker's daily Top 10, featuring the best sports stories from around the web. Customize your newsletter to get articles on your favorite sports and teams. And the best part? It's free!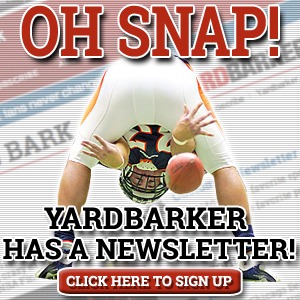 Latest Rumors
Best of Yardbarker

Today's Best Stuff

For Bloggers

Join the Yardbarker Network for more promotion, traffic, and money.

Company Info

Help

What is Yardbarker?

Yardbarker is the largest network of sports blogs and pro athlete blogs on the web. This site is the hub of the Yardbarker Network, where our editors and algorithms curate the best sports content from our network and beyond.