Found October 04, 2013 on Gamedayr:
A Bahamian artist painted a strange portrait of Miami Heat coach Erik Spoelstra along with president Pat Riley and owner Micky Arison.
Original Story:
http://gamedayr.com/gamedayr/photo-er...
THE BACKYARD
BEST OF MAXIM
RELATED ARTICLES
Ray Allen began the Paleo diet a few days after the Finals and is his lightest weight since college as he enters training camp at 38. "The first three or four days, it was a task because I was getting headaches, my body felt like achy, but I just started living on salads and fruit and protein and salmon and chicken and I didn't have soda, any Gatorade," Allen said. "I had...
LeBron James has enjoyed training camp with the Miami Heat in the Bahamas. "To come down here, just us, it gives us a great time to bond and have some camaraderie both on and off the floor," James said. "We worked our tails off for five practices and to be able to have down times in the afternoons to just chill around the pool, we had a lot of laughs." NBA teams are not allowed...
Yesterday on TNLP, we noted that Miami Heat forward Chris Bosh made a cameo appearance on the NBC comedy, "Parks and Recreation". One of the actresses on the show, Aubrey Plaza has been noted as a fan of the Heat big man and well, she finally got the chance to meet him on the set. Normally, these meetings go by without a hitch but Aubrey's personal account tells otherwise as...
After his sophomore year at Marquette, Dwyane Wade decided to have the meniscus in his left knee removed. It was a decision made for expediency's sake, the Heat guard suggests now, and one he regrets. Wade, who has battled knee problems throughout his 10-year NBA career and had to receive regular knee treatments through the second half of last season and the playoffs, believes...
Say what you want about Dwyane Wade, but he'll go down in history as one of the better shooting guards to ever play in the NBA. Wade now struggles with chronic knee issues, and can point directly to when everything changed in his knees.  Wade during an interview admitted that a 2002 surgery he had while still at Marquette led to all his recent knee problems. With hindsight, Dwyane...
Conspiracy theories and circumstantial evidence are popping up almost daily now in the constant and ongoing crusade to figure out what it's going to take to keep LeBron James in Miami after this season. An annual training camp here in the Bahamas at Atlantis Paradise Island Resort probably wouldn't be a deterrent in keeping the world's greatest basketball player in South Florida...
It seems like Dwyane Wade, being the team leader that he is, has taken some of the responsibility for helping turn Michael Beasley's career around. After the first practice of training camp on Tuesday, Beasley said that "D-Wade stayed in my ear the whole time" (via Bleacher Report's Ethan Skolnick). And Wade hasn't stopped as training camp has progressed...
Over the last ten years, many things have changed in our fair world and medical technology has increasingly gotten more advanced to fixing injuries within the human body. Before he became a member of the Miami Heat, Dwyane Wade had surgery to remove a meniscus in his left knee and now, it seems that he feels that he should have waited to do that according to some quotes he gave...
Thursday night's episode of Parks and Recreation featured a basketball game between fictional Pawnee (Indiana) and rival town Eagleton, who played in the appropriately-named "Pawnee-Eagleton Tip-Off Classic". In keeping with television tradition, one side hired a ringer (sort of like Avon Barksdale vs. Prop Joe, but with more white people involved) — this time, in the form...
At the age of 28, LeBron James has now achieved what he ever wanted. He is a two-time NBA champion, a four-time regular season MVP and a two-time Olympic Gold medalist. What could a player like LeBron want more, now that he is in the top of the world? Usually, motivation fades away as success comes. That's why, we might have expected LeBron to take his focus off improving his...
Ray Allen has had a historic career, but it may be defined primarily by one shot. "The Shot": his game-tying three-pointer in Game 6 of the 2013 NBA Finals. And Allen seems fine with that. From Brian Windhorst of ESPN: "I totally don't mind if people define me by that shot," Allen said. "It's a winning shot, it put us in a situation that all of us...
As a six-time NBA champion and one of the greatest players ever to walk on a court, Kareem Abdul-Jabbar is among the most well-respected men in the basketball community. One of the most intense basketball debates involves the subject of who's the best player in league history, with two of the best players of their respective generations, Michael Jordan and LeBron James, dominating...
Heat News

Delivered to your inbox

You'll also receive Yardbarker's daily Top 10, featuring the best sports stories from around the web. Customize your newsletter to get articles on your favorite sports and teams. And the best part? It's free!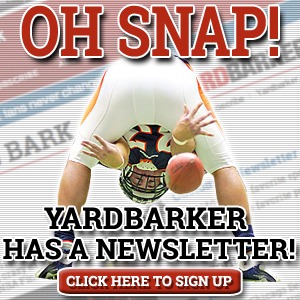 Latest Rumors
Best of Yardbarker

Today's Best Stuff

For Bloggers

Join the Yardbarker Network for more promotion, traffic, and money.

Company Info

Help

What is Yardbarker?

Yardbarker is the largest network of sports blogs and pro athlete blogs on the web. This site is the hub of the Yardbarker Network, where our editors and algorithms curate the best sports content from our network and beyond.