Found July 18, 2013 on Celtics Life:
Paul Pierce and Kevin Garnett sat down with Jackie MacMullan earlier today after being introduced as members of the Brooklyn Nets, an interview that just aired on the 6pm SportsCenter. Forgive me as I am a poor blogger without DVR, so I'm unable to rewind and get exact quotes, but I did get an accurate paraphrasing from Pierce, on wanting to finish his career in Boston. Not many guys play 15 years, all in one city. You look at Kobe, Tim Duncan, Dirk — all of those guys get to the end of their contracts and their team says "ok, how do we keep them". For me, my name was constantly in trade rumors. That hurt a little Again, that is paraphrased, but absolutely the message of what he had to say. KG was actually the one who brought it up, saying that Pierce gave "everything to that city" and deserved a chance to finish his career in Boston, to which Jackie Mac also agreed. Of course, Pierce himself said earlier today that he would have accepted the same d...
Original Story:
http://www.celticslife.com/2013/07/pi...
THE BACKYARD
BEST OF MAXIM
RELATED ARTICLES
Paul Pierce, the former longtime Celtic, has moved on from the team in green and white to the team in black and white. The newest Brooklyn Net throughout Monday's press conference did not look to pleasant on being traded, but as the display went on and it finally hit him that he will not be a Celtic, things started to make sense. "It hasn't really sunk in," Pierce said. "I...
Paul Pierce was traded to the Brooklyn Nets in June, ending his 15-season career with the Boston Celtics. After nine teams passed on Pierce in the 1998 NBA Draft, the Celtics decided enough was enough and took the former Kansas star. Their faith in Pierce paid off; he developed into a franchise player, franchise icon, [...]
The Brooklyn Nets introduced Kevin Garnett, Paul Pierce and Jason Terry on Thursday at the Barclays Center. "I'm no longer a Boston Celtic. I'm a Brooklyn Net, and that's what it is right now. It's a business. At some point we all have to move on, and I'm here to try to create some kind of 
Today was the day that it all became real. Those pictures of Garnett and Pierce jerseys weren't Photoshopped.  It wasn't an elaborate promo for TBS's "Deal With It." Paul Pierce and Kevin Garnett are Brooklyn Nets.  (Oh, and Jason Terry too). Kevin Garnett has been here before.  His departure from Minnesota seems to have been ages ago.  This whole "change of address"...
Paul Pierce may have looked low-spirited during his introductory news conference Thursday in Brooklyn, but believe it or not, the former Celtics captain had to do some work to woo one of his Boston teammates and ultimately complete the trade that sent him to the Nets. Once Pierce realized that a deal was in the works to send him to Brooklyn and give him one last chance at a championship...
It initially looked like it would be a glamorous event, but in the end came across as a sombre one as Paul Pierce, Kevin Garnett, and Jason Terry were unveiled at a press conference at the Barclays Center. At the event, Paul Pierce certainly seemed to be the one having the hardest time dealing with his new surroundings. As a player who thought he would be ending his career in Boston...
The Celtics are now Rajon Rondo's team. The transition began over the past two seasons, but now with Doc Rivers in LA, and Paul Pierce and Kevin Garnett in Brooklyn — the reigns have officially been given to the Celtics point guard. For the past six seasons, Rondo has been little brother to Pierce, KG, and once upon a time, Ray Allen. Now a rehabbing Rondo finds himself as...
The Boston Celtics acquired a $10.3 million trade exception in their trade of Kevin Garnett and Paul Pierce to the Brooklyn Nets. The Celtics will have 365 days to use to the traded player exception.
Kevin Garnett, Paul Pierce and Jason Terry were traded to the Brooklyn Nets in June as part of a surprising multi-player deal. The three players are expected to solidify an already strong roster and potentially lead Brooklyn to a title run. The trade was jarring because not many expected to see happen Pierce and KG [...]
With the acquisitions of Paul Pierce, Kevin Garnett, and Jason Terry and returning caliber pieces, the Brooklyn Nets seem to have thrown all of their chips in for a championship scenery. The trio, along with new head coach Jason Kidd and general manager Billy King, addressed the city of Brooklyn and the media on Thursday at the Barclay Center. Check out the newest members of the Nets below.
Kevin Garnett said last year that Jeff Green has a chance to be one of the greatest players in NBA history. The Celtics are about to test Garnett's theory, big time. Green, who spent much of last season as the fourth offensive option behind Paul Pierce, Garnett and Rajon Rondo, respectively, will start next season without at least two and perhaps all three of those players. Pierce...
NBA News

Delivered to your inbox

You'll also receive Yardbarker's daily Top 10, featuring the best sports stories from around the web. Customize your newsletter to get articles on your favorite sports and teams. And the best part? It's free!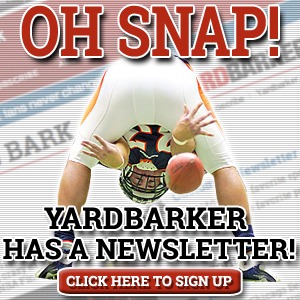 Latest Rumors
The Backyard

Today's Best Stuff

For Bloggers

Join the Yardbarker Network for more promotion, traffic, and money.

Company Info

Help

What is Yardbarker?

Yardbarker is the largest network of sports blogs and pro athlete blogs on the web. This site is the hub of the Yardbarker Network, where our editors and algorithms curate the best sports content from our network and beyond.