Found November 26, 2012 on NorthWest Sports Beat:
Rip City travels to Motown The Portland Trail Blazers have a legitimate chance at taking down an Eastern Conference foe on the road Monday, but they'll have to worry about the big men in the middle when they take on the Detroit Pistons. Matchup: Portland (6-7) @ Detroit Pistons (3-11) Venue: The Palace of Auburn Hills Time: 4:30 PM PT Date: Monday, Nov. 26, 2012 The Blazers have struggled in the paint this season, and as a result, they could struggle against Greg Monroe and Andre Drummond. Game Notes/How They Match Up Andre Drummond and Damian Lillard are two of the gems from the 2012 draft class If Blazers fans have been frustrated by inconsistent performances this season, just imagine what it must feel like to cheer for the 3-11 Pistons. Detroit has struggled early in the year, and it's an apparent lack of talent that is keeping them from finding their groove. That being said, they have a young center who is truly coming into his own in Greg Monroe. The big man is the clear-cut go-to option on this team, as he is the team leader in points, rebounds and steals. His only real downside is that he has trouble defending in the key. Portland also has trouble defending down low, but the problem is, they've yet to establish a true score at the rim. Monroe's defense is suspect at this point in his career, but if he has nobody worth defending down low, he can use his energy to attack a Blazers team that will likely struggle to contain his size and strength. What to Watch: Portland The thing to watch when it comes to Portland is how they establish their offense if LaMarcus Aldridge is unable to play. He missed his first game of the season against the Brooklyn Nets on Sunday, and the team was held to their lowest point total of the year. Damian Lillard has become the team's leading scorer, and he will be put to the test against an ample defender in Brandon Knight. Nicolas Batum is also a solid option to score this season, as he has stepped up his points-per-game average substantially since last year. The Blazers have options on offense, but the key is getting one of them going. If someone can't take over for Portland, they will make a middle-of-the-road defense look outstanding Monday night. What to Watch: Detroit Detroit hasn't been a good defensive team this season, but one area where they've excelled in is transition defense. The Pistons are a top-10 team this year when it comes to stopping fast-break points, which is going to be an important concept against a Portland team that has struggled to score in transition. Heading into this year, we heard about how the Blazers were going to get out and run, and how their offense was going to shoot quickly and score often. That notion has only been on display sporadically, and as a result, the team finds itself under .500 on the year. Greg Monroe will make up one-half of the key matchup Monday night. (Photo: AP/Duane Burleson) If Detroit allows Portland to get comfortable in transition, it could spell trouble for the home team. However, if they stop them from scoring quickly, they'll have a better chance of stopping a Portland offense that is still trying to establish scorers deep into its roster. Key Matchup Seeing as how Detroit has very little going for them outside of Greg Monroe, it's easy to see why he makes up one-half of the key matchup. The problem is, with the potential absence of LaMarcus Aldridge, it's difficult to say who it will be challenging the Pistons' big man. The first possibility is Meyers Leonard. If Aldridge is out, that likely means that Leonard is in. The rookie big man has shown flashes of potential throughout the year, but even his own coach has recognized him as a "poor post defender," (according to CSNNW's Chris Haynes, h/t Blazers Edge). If Aldridge is in, the assignment goes back to J.J. Hickson. The Trail Blazers' starting center has shown he can play with the big boys this year, as his 6'9", 242-pound frame is leading the team is rebounding in just 28.8 minutes per game. Containing Monroe is going to be key in this contest, but challenging him with offense is also important. Whichever Blazer big gets the nod will be responsible for both. Injury Report Portland: QUESTIONABLE—LaMarcus Aldridge Detroit: N/A Prediction The Pistons have a lot of areas to improve early in the year, and while the Blazers could fall under that same classification, they'll look to take advantage of what Detroit gives them on the road Monday night. Blazers 98 – Detroit 90 CLICK HERE TO CHECK OUT THE BLAZERS BLOG IN OUR CLUBHOUSE TODAY AT NWSB!
Original Story:
http://www.nwsportsbeat.com/trailblaz...
THE BACKYARD
BEST OF MAXIM
RELATED ARTICLES
Huge night for the rookie The Headline: Damian Lillard scores a season high 28 points in this big Portland win. Minnesota Timberwolves vs. Portland Trail Blazers When: 10:00 ET, Friday, November 23, 2012 Where: Rose Garden (Portland) Officials: Joe Crawford, Tre Maddox, Derrick Collins Attendance: 20,555 Love 'em 1. Lillard leads the way Damian Lillard had the best night of his...
Blazers drop close one The Headline: despite a nagging back injury, LaMarcus Aldridge comes alive for Portland; unfortunately, it's not enough to hold off the Pistons in this 101-108 loss. Lets review the game, Love'em & Hate'em style. Portland Trail Blazers vs. Detroit Pistons When: 7:30 ET, Monday, November 26, 2012 Where: The Palace of Auburn Hills (Detroit) Officials...
1. Portland Trail Blazers point guard Damian LillardStats: 47.3% FG, 40.5% 3PT, 20.2 points, 3.0 rebounds, 6.0 assists, 1.3 steals, 3.3 turnoversLillard has made an amazingly smooth transition from mid-major Weber State to the NBA, and leads all rookies in points, assists and three-pointers made. He's also leading the Blazers in scoring, ahead of All-Star LaMarcus Aldridge.2...
Brandon Knight scored 16 of his 26 points in the first half, outplaying Damian Lillard in a matchup of young guards and leading the Detroit Pistons to a 108-101 victory over the Portland Trail Blazers on Monday night. Lillard entered the day as the NBA's top rookie scorer, averaging 19.6 points per game. He missed his first 12 shots from the field against the Pistons. Detroit...
The Detroit Pistons have lost 12 straight to Western Conference opponents, but could be catching a break in their bid to end that skid. The Portland Trail Blazers may be without All-Star forward LaMarcus Aldridge as they visit the Pistons on Monday night. Aldridge, averaging 19.7 points and 5.8 rebounds, missed his first game Sunday when he sat out a 98-85 loss at Brooklyn with...
Forward Kyle Singler has been one of few bright spots in a relatively disappointing season thus far for the Pistons this season. The second year pro from Duke is also pretty accomplished at executing some pretty remarkable trick shots. Here's Singler sinking many different tricks shots around Detroit including one off a moving car. h/t: HoopsHype
The Detroit Pistons dug themselves an early hole this season as they struggled on the road. Detroit still has a ways to go to reach the break-even point, but it's heading in the right direction by taking care of business at Auburn Hills. The Pistons look to push their home winning streak to four - and post their first set of back-to-back victories this season - on Wednesday...
AUBURN HILLS, Mich. -- Brandon Knight scored a season-high 26 points Monday, but his defense was even more impressive. Knight held Portland's standout rookie point guard, Damian Lillard, to 12 points, tying his season low, and the Detroit Pistons defeated the Trail Blazers 108-101 at The Palace. The Pistons (4-11) won their third straight home game. The Blazers (6-8) have...
After getting their first two wins of the season last week, this was a so-so week for the Pistons, now 3-11. After a couple of days of practice, the Pistons traveled to Orlando and promptly laid an egg. The first half was actually pretty good as they held a 48-45 lead over the Magic. But it was a completely different story in the second half, particularly the third quarter. The...
AUBURN HILLS, Mich. (AP) -- Brandon Knight scored 16 of his 26 points in the first half, outplaying Damian Lillard in a matchup of young guards and leading the Detroit Pistons to a 108-101 victory over the Portland Trail Blazers on Monday night. Lillard entered the day as the NBA's top rookie scorer, averaging 19.6 points per game. He missed his first 12 shots from the field...
AUBURN HILLS, Mich. Kyle Singler is one of the more intriguing young players the Pistons have. At 6-8, 230 pounds, Singler is a pretty big shooting guard. But really, that's just where he is listed in the starting lineup. With that size, he can play more than one position. That versatility was on full display Monday night at the Palace against the Portland Trail Blazers. ...
NBA News

Delivered to your inbox

You'll also receive Yardbarker's daily Top 10, featuring the best sports stories from around the web. Customize your newsletter to get articles on your favorite sports and teams. And the best part? It's free!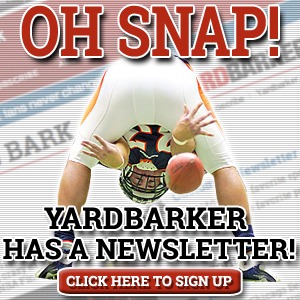 Latest Rumors
Best of Yardbarker

Today's Best Stuff

For Bloggers

Join the Yardbarker Network for more promotion, traffic, and money.

Company Info

Help

What is Yardbarker?

Yardbarker is the largest network of sports blogs and pro athlete blogs on the web. This site is the hub of the Yardbarker Network, where our editors and algorithms curate the best sports content from our network and beyond.