Found December 04, 2012 on NBA 24/7 365:
With just over eight minutes to go in the opening quarter of Charlotte's only home game against Portland, BJ Mullens caught a swing pass from Michael Kidd-Gilchrist.  Upon collecting the basketball, Mullens immediately proceeded to shoot a three-pointer.  It's something he does over five times per game, and as he does more than 70% of the time, he missed.  Much to the chagrin of Bobcats fans, it appeared as though the most stereotypical BJ Mullens possession had just unfolded.  However, in this particular instance, the play was far from over.  Mullens just so happened to come up short on his attempt, causing the ball to ricochet hard off the front of the rim.  Like a boomerang, it shot right back in BJ's direction, coincidentally serving as a well-placed pass that led him into the lane.  Once again, Mullens collected the basketball… but this time he did so with a much, much different intent.  With his lead foot planted outside of the dotted line, Mullens exploded off the floor.   He leaned towards the basket, extended his right arm, and toppled a helpless LaMarcus Aldridge like a bowling pin.  Using all 7 feet, 1.5 inches of his wingspan, BJ Mullens completed the finest play of his NBA career. And I missed it.  Figures that I'd tune into a Bobcats game midway through the first quarter to find that they already had 22 points and BJ Mullens had thrown down the second or third best dunk of the season.  What were the odds? Dunk rating on the Starbury Nastiness Scale: 9/10 2012/13 Daily Poster Stats Throwback Poster of the Day: Joey Graham bangs on Josh Boone…
Original Story:
http://nba247365.com/?p=8734
THE BACKYARD
BEST OF MAXIM
RELATED ARTICLES
The Charlotte Bobcats have not had much to celebrate in their nine-year existence. They have posted only one winning season and gave their fans (what few of them there are) reason to get excited earlier this season when the 'Cats won six of eight. Since then, somebody must have reminded them that they are the Bobcats, because they have lost four straight. With that in mind, we...
Check out ya boy Byron Mullens of the Charlotte Bobcats flying over top of LaMarcus Aldridge and dunking all over his face last night.  This is a seven footer I might add.  Never seen anything like it.  Aldridge didn't seem like he wanted to go for a block and settled for trying to take a charge, but no go on that.  The dunk was good to go and it clearly sits at the top of...
Byron Mullens tossed LaMarcus Aldridge on one of the more nasty posters we have seen this year. Wait, what? You heard that correctly. During today's game between the Trailblazers and the Bobcats the seven-foot center out of Ohio State took flight from inside the free throw line and soared over Aldridge to complete the one-handed jack hammer. Quite the athletic play from the...
Last night, Byron Mullens (better known as B.J. to you college basketball fans) had what might be the best dunk of the NBA season so far. I know what you're thinking, 'Wait, that dorky, weird looking white guy had the dunk of the year?' Yes and you should watch it. Now. Mullens tosses up a three from the top of the key. The shot ends up bricking horribly but Mullens was in...
As we get ready for a Monday night of NBA hoops, Charlotte Bobcats center Byron Mullens has been a nice surprise over the last two seasons.Earlier tonight against the Portland Trail Blazers, Mullens decided to put LaMarcus Aldridge on a poster with this one-handed dunk: (Courtesy of The Point Forward)
Things haven't been going well for Portland.  They are cursed with injuries and their team always seems to have a let down in store.  Things can't be worse than Byron "Don't call me BJ" Mullens dunks on you. Hopefully the Blazers do the right thing and trade LaMarcus! #FreeLA
Portland shellacked The Headline: LaMarcus Aldridge comes alive, but a dominating Celtics defense holds Portland to 34 percent shooting in this ugly loss Portland Trail Blazers vs. Boston Celtics When: 7:30 ET, Friday, November 30, 2012 Where: TD Garden (Boston) Officials: Bennett Salvatore, Leroy Richardson, Pat Fraher Attendance: 18,624 Love 'em L-Train has a good game LaMarcus...
The Charlotte Bobcats have already won more games this season than last year. While they didn't win Monday night's game against the Portland Trailblazers, BJ Mullens certainly had one of the plays of the night with his dunk over LaMarcus Aldridge.   Mullens is having the best season as a pro,  averaging career-highs in points [...]
Blake Griffin, Gerald Green, DeMar DeRozan are all considered some of the best dunkers in the NBA but should Bobcats' Byron Mullens be added to the list? If his dunk on Blazers' LaMarcus Aldridge is any indication, then the answer is yes. During the Bobcats-Blazers game, Mullens went top-shelf on Aldridge and showed off not only some major hops, but will certainly have...
CHARLOTTE, N.C. (AP) -- LaMarcus Aldridge had 25 points and 13 rebounds, Luke Babbitt hit a pair of clutch 3-pointers and the Portland Trail Blazers overcame an 18-point fourth-quarter deficit to beat the Charlotte Bobcats 118-112 in overtime Monday night. The Blazers trailed 97-79 with 5:17 left in regulation, but stormed back to tie the score and sent it into overtime on Babbitt...
Now in his third season, Blake Griffin is considered a superstar in the NBA and has been an All-Star in his first two NBA seasons and is expected to be one for the foreseeable future. But despite the fantastic dunks and the excitement he brings, he simply is not playing at an All-Star level this year and has actually regressed. Despite this fact, he is one of the league's most...
NBA News

Delivered to your inbox

You'll also receive Yardbarker's daily Top 10, featuring the best sports stories from around the web. Customize your newsletter to get articles on your favorite sports and teams. And the best part? It's free!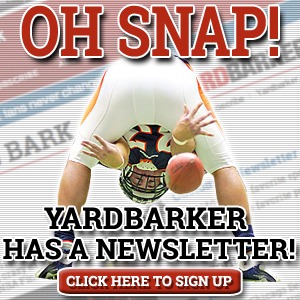 Latest Rumors
Best of Yardbarker

Today's Best Stuff

For Bloggers

Join the Yardbarker Network for more promotion, traffic, and money.

Company Info

Help

What is Yardbarker?

Yardbarker is the largest network of sports blogs and pro athlete blogs on the web. This site is the hub of the Yardbarker Network, where our editors and algorithms curate the best sports content from our network and beyond.