Found November 30, 2012 on Purple and Gold Blog:
It hasn't been the most pleasant 2-day break for the Lakers (7-8) after falling back to sub .500 last Tuesday thanks to their most lackluster performance of the season against Indiana. There were plenty of reasons as to why and how the purple and gold lost that game, but it's obvious the Lakers can't establish their identity without having everybody back, especially Steve Nash. Without the 2-time MVP at the point, the Lakers had been relying on Kobe Bryant's ability to draw lots of attention from the defense to make plays for the rest of the team. So far, Kobe is averaging 4.9 assists but also 4.1 turnovers per game. Say what you will about that particular stat. But make no mistake, that number is indicative of how much the Lakers miss Nash running the offense. However, Mike D'Antoni isn't harping about all of the wrongs his team is doing on offense. Instead, he wants his team to focus more on the defensive end of the floor. That is probably the biggest understatement of the year. But defense is a different beast compared to offense. It really takes attitude and commitment mentally on an individual level before that takes on the personality of the team. Against the Denver Nuggets (8-8) tonight, the Lakers are seeing the team they bounced out of the 1st round last season for the first time this season. Expect the Nuggets to carry a bit of zest and, perhaps, confidence due to having taken the Lakers to 7 games in the playoffs last year. Not to mention that they now have Andre Igoudala, who they can use to defend Kobe and provide some serious perimeter scoring with the rest of the team. Igoudala leads the Nuggets at 15.7 points and baskets made at 6.1 per game. Career-wise he is averaging 16.6 points and 6.2 made field goals versus the Lakers. But Iggy isn't the only problem for L.A.. Ty Lawson has always been an enigma because of his speed, quickness and ability to score against whoever the Lakers put on him. Lawson is averaging 13.5 points and 7.6 assists this season. He might be an undersized power forward at 6-foot 8 and 228 pounds, but Kenneth Faried is a relentless, energy guy who can outwork and outhustle just about anybody on the floor. This guy loves to help as a secondary defender in the paint and can be a nagging hang nail on the boards as well. Want proof? He's getting 13.3 points, 11.1 rebounds and 1.1 blocks per game so far this season. On the flip side, the Lakers have their own guys that can give Denver problems all night long. Kobe Bryant loves to play against them because the Nuggets were a few teams in the NBA who can throw more than one defender at him. Aaron Afflalo is gone now, but Corey Brewer and Wilson Chandler are still around. Add Igoudala in the group and Kobe might just be salavating at this challenge since Wednesday. Bryant averages 25 points at 45.7% shooting per game against Denver all-time. Dwight Howard is next in line. He averages 17.1 points, 13.7 boards and 2.1 blocks per outing in his career versus the Nuggets. Same goes with Pau Gasol. His numbers overall reads 17.4 points, 10.1 rebounds and 1.7 blocks per night. In fact, these 2 teams are nearly parallel in stats this season. The Lakers are putting up 99.1 points (10th) while Denver is at 99.8 points (6th) per game. Defensively, L.A. is allowing 95.5 points (9th) and the Nuggets are giving 98.8 points (18th) per game to their opponents. Then, rebounding and assists look like this: 45.9 (Lakers), 46.8 (Nuggets) and 20.3 (Lakers), 21.8 (Nuggets). Denver is also struggling with their consistency despite only introducing 1 new player in their starting lineup this year. But the Lakers know they can't rely on dealing with a lesser Nugget team even at home. Historically, Denver plays hard against them no matter where they play. If the Lakers respect and, more importantly, expect that tonight, they should be good to go. Then again, Laker fans never know what kind of Laker team shows up each game. The Lakers won last season's series 3-1 and are 5-1 at Staples Center against the Nuggets, including post-season. Matchup of the Game Kenneth Faried vs. Pau Gasol: Tendinitis or not, Pau better bring it tonight. Going up against Faried alone is quite an undertaking even when he's healthy. He can't allow Faried to negate everything he does on the floor. If that happens, it will be difficult for the Lakers to get back to .500 tonight. Keys to the Game > Team Effort: Despite their 8-8 record, make no mistake, the Nuggets are going to be a tough challenge for the Lakers. If they don't meet that challenge from the get-go, Laker fans are going to be frustrated again. > Defense: As always, Denver will attack the Lakers from outside using a variety of dribble penetrations for kickouts and layups and a number of screens to get their shooters free to do their thing. The Lakers have to stay on shooters, rotate well, get back in transition and help out Howard when he goes up for a block. But they also have to remember to make perimeter players dribble the ball into their interior defenders. > Get the Bigs Going Early: Everything tends to go their way on both ends of the hardwood when they feed their post-players early and often. Going inside first opens up the perimeter for everyone. And if Kobe wants to minimize his turnovers, he needs to look for Dwight and Pau as soon as he brings the ball over into their halfcourt. Game Info Tonight vs. Denver Nuggets Tip-off at 7:30 p.m. Staples Center TV: TWC SportsNet/ESPN Radio: 710 ESPN/1330 KWKW Injury Notes Nuggets: None Lakers: Steve Nash (leg – out for at least next week) and Steve Blake (abdomen – out for at least 2 more weeks)  
Original Story:
http://www.purpleandgoldblog.com/2012...
THE BACKYARD
BEST OF MAXIM
RELATED ARTICLES
FROM DOWNTOWN
Dwight Howard isn't known for his skills on offense. It basically consists of being able to get the ball low on the block and dunking or performing the Mikan Drill. Howard is so bad as a shooter that he actually lost a FT and 3pt-shooting contest to the mascot for the Los Angeles Kings. Yes, [...]
LOS ANGELES Our record is 7-8 right now, said Laker forward Metta World Peace. That means right now were a 7-8 team. Leave it to MWP to say what most of us are thinking. Fact is, they are a game under .500, and most of the time this season they have absolutely played down to their record. Sometimes, even lower, like the rancid offensive performance against Indiana last Tuesday...
Off the court, Laker center Dwight Howard is polite, soft-spoken and when hes not joking around, very thoughtful. He very rarelyif everrefuses to speak with the media - that makes him an anomaly in the world of professional sports. Naturally, with his former teamthe Orlando Magicin town to play the Lakers Sunday night at Staples Center, questions were asked about his emotions in...
We have already seen images of Kobe Bryant's latest shoe the Nike Zoom Kobe VIII "Electric". But today, a photograph was leaked that showed the Kobe VIII's in new a black/red colorway. The Kobe 8 has a very sleek design that feature a hyperfuse/mesh upper and a low-cut profile around the ankle. No release date has been announced for the Kobe VIII  "Bred", so make sure...
EXIT STRATEGY
Dwight Howard has acknowledged that he could have handled his exit from Orlando better than he did.
Andre Iguodala's 3-pointer as the buzzer sounded was waived off, and the Golden State Warriors held on for a wild 106-105 win over the Denver Nuggets on Thursday night after four replay reviews over the final 3.4 seconds. Iguodala received a cross-court inbounds pass and connected from the left wing with a hand in his face, and Denver players celebrated by running off the court...
Mike D'Antoni was never able to get over the hump with the Phoenix Suns. He had a few teams that looked like they could win a championship, but his offensive mindset never translated to a title. When he left Phoenix for the bright lights of New York, with the talent the Knicks had, it looked like D'Antoni might have the chance to be successful there. But things were much...
The Lakers are thin at point guard with Steve Nash and Steve Blake injured.
The Phoenix Suns are officially running one of the most intriguing promotions ever, promising a money back guarantee to fans who don't enjoy the experience.  The promotion is due to take place Thursday December 6th against the visiting Dallas Mavericks.  The Suns are guaranteeing the always subjective "good time" to their fans, allowing them to mail in a ticket stub...
NBA News

Delivered to your inbox

You'll also receive Yardbarker's daily Top 10, featuring the best sports stories from around the web. Customize your newsletter to get articles on your favorite sports and teams. And the best part? It's free!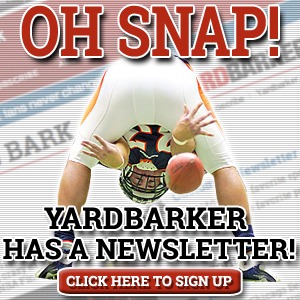 Latest Rumors
Best of Yardbarker

Today's Best Stuff

For Bloggers

Join the Yardbarker Network for more promotion, traffic, and money.

Company Info

Help

What is Yardbarker?

Yardbarker is the largest network of sports blogs and pro athlete blogs on the web. This site is the hub of the Yardbarker Network, where our editors and algorithms curate the best sports content from our network and beyond.