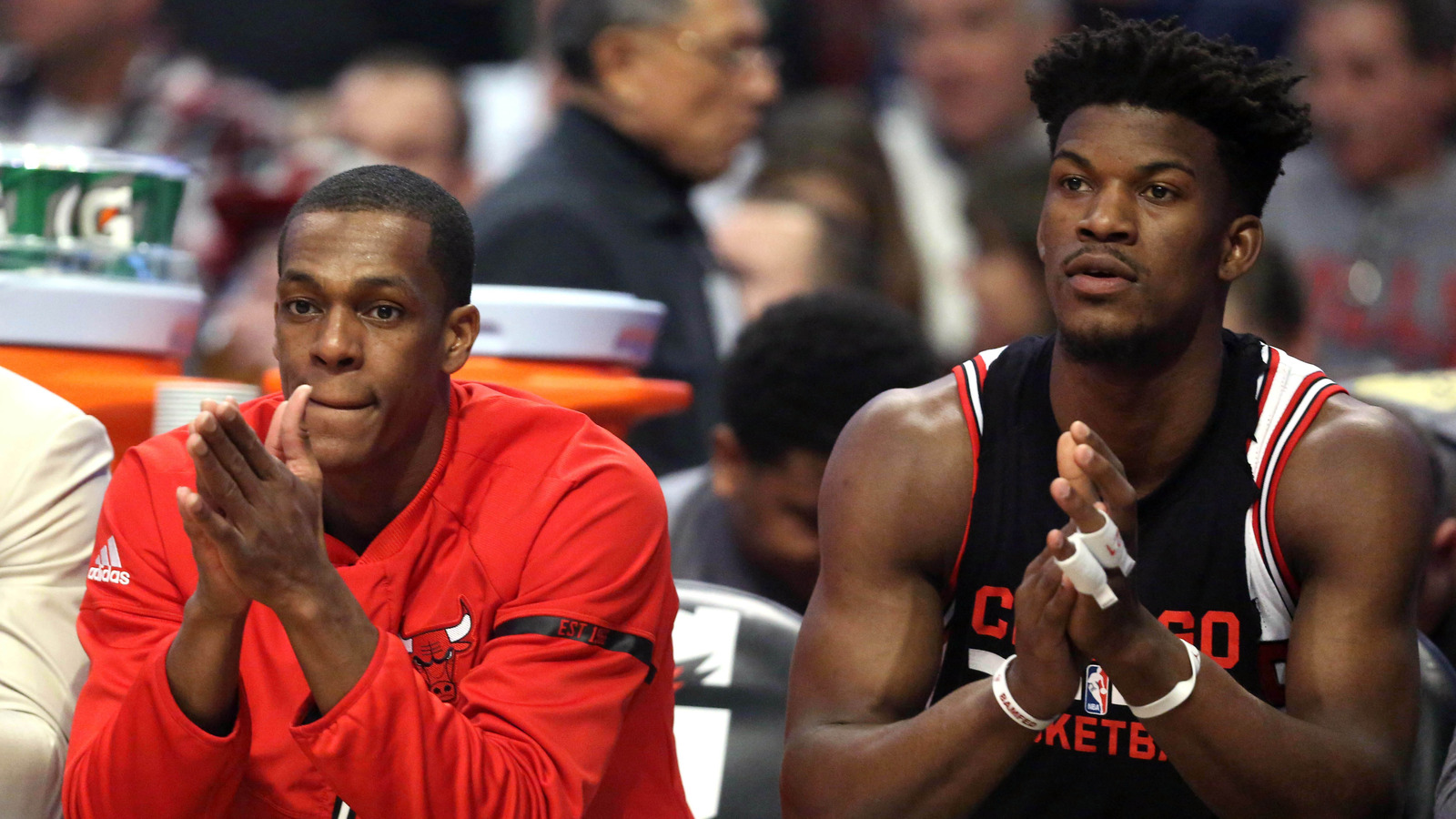 Rajon Rondo doesn't seem too happy with the Bulls right now.
Dennis Wierzbicki-USA TODAY Sports
The Chicago Bulls have lost five of their last six games to fall below .500 on the season, and no player on the team seems more frustrated about it than Rajon Rondo.
During a win over the Charlotte Hornets Monday night, Rondo was seen giving teammate Jimmy Butler an icy look following a defensive breakdown late in the game.
Those emotions were subtle compared to the ones Rondo expressed after Sunday's embarrassing blowout loss to the Boston Celtics. The Bulls hardly looked like they were trying in that game. Rondo played just 19 minutes and scored two points, and he was very open about his lack of playing time this season.
"I feel pretty good due to the [lack of] playing time," Rondo said, per Gary Washburn of the Boston Globe. "You can look at it one of two ways, I look at it as [being] pissed off by not playing a lot, which I am. Or you can look at it as I'm benefiting, I'm healthy. I can play with my son.
"I'm not waking up at 3 or 4 in the morning with a lot of aches and pains at night."
Rondo then spoke about how different things have been with the Bulls than how he envisioned them when he signed with the team last summer. He also made it clear he has not gotten along with head coach Fred Hoiberg.
"My perspective on things [has changed], I would love to be part of a winning tradition or winning culture," Rondo said. "I thought I was going to get that here. The people up top are going in a different direction as far as experimenting. It [stinks] when you have the opportunity to make the playoffs and they want to go a different route.
"I'm looking for a straightforward coach. That's what I'm looking forward to the most, sitting down with a coach. I want to develop a relationship and see what his goals are."
Simply put, things are a mess in Chicago. If the report we heard about Butler's paranoia a while back wasn't enough to prove that, Rondo's latest remarks certainly are.
MORE FROM YARDBARKER
Bulls News

Delivered to your inbox

You'll also receive Yardbarker's daily Top 10, featuring the best sports stories from around the web. Customize your newsletter to get articles on your favorite sports and teams. And the best part? It's free!