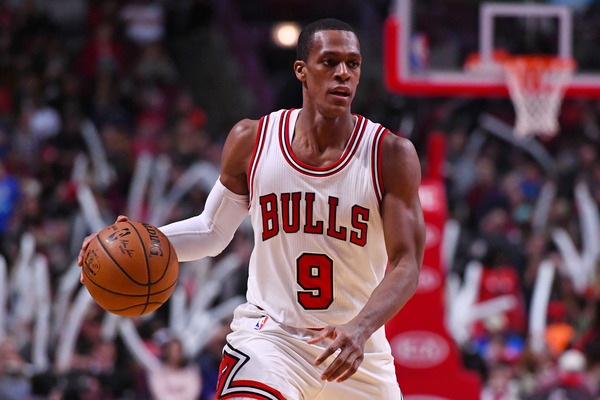 Chicago Bulls guard Rajon Rondo (9) dribbles the ball against the Brooklyn Nets during the second half at the United Center.
Mike DiNovo-USA TODAY Sports
Rajon Rondo and his relationship status with the Chicago Bulls has been changed to "it's complicated," while the two sides still need to have "the talk."
Rondo says he has had very little communication with the Bulls' front office since his meeting with them after being benched. What's more concerning is that he's had very little communication with head coach Fred Hoiberg.
Rondo on if he and Hoiberg have talked much about his circumstance: "Um. How can I say this? No."

— K.C. Johnson (@KCJHoop) January 10, 2017
Rondo says the relationship between the two is cordial, but it's clear there is some tension over the point guard's circumstance.
Rondo has turned into a sixth man now for the Bulls. His role with the team is a lot different from what he envisioned when he signed a two-year contract with the squad in the offseason.
"When I signed here, why I wanted to come here, it's a lot different than what I anticipated," Rondo said before Tuesday's game via the Chicago Tribune.
Rondo says he finally got somewhat of an explanation for a halftime benching last month, which preceded a full game on the bench. While he continues to adjust to a sixth-man job, he could be on the trade block, and at least one team is said to be interested.
MORE FROM YARDBARKER:
Can Russell Westbrook win the MVP on a team that's not elite?
MORE FROM LARRY BROWN SPORTS:
MORE FROM YARDBARKER
Bulls News

Delivered to your inbox

You'll also receive Yardbarker's daily Top 10, featuring the best sports stories from around the web. Customize your newsletter to get articles on your favorite sports and teams. And the best part? It's free!