Found July 11, 2012 on NBA 24/7 365:
If you know two things about Rashard Lewis, they are A) that he reached an agreement to join the Miami Heat today, and B) that he once signed a contract worth over $100 million.  It was the summer of '07, about five years ago to the day, when the Orlando Magic decided to dole out the 26th largest contract in the history of pro sports, which was to pay Rashard in excess of $21 million for the season that was 2011/12, during which the since-traded forward averaged a whopping 7.8 points per game for the twenty-win Washington Wizards. It's been a slow and steady decline for Lewis, who was once good for more than 22 points per game for the Seattle Supersonics.  Fortunately for the Heat, they don't need 22 points a night (or anything at all, really)… they're just looking for a guy to come off the bench and spread the floor for LeBron James.  If Lewis, the soon-to-be 33-year-old, is unable to locate his stroke, he'll simply occupy a spot on the bench, Eddy Curry style.  Seeing as he'll be paid just $1.35 million (or the veterans minimum) for the coming season, it's a pretty low-risk signing from Miami's point of view. That's really all there is to it, but I got to thinking… has Rashard Lewis just taken the biggest pay cut in NBA history?  Like, has anyone ever gone directly from a maximum deal of $20+ million per season (few players have ever even made this much) to the veteran's minimum?  Technically, Rashard will still earn about $15 million over the course of this season because the Hornets gave him something like $13 million just to disappear… but I'm still curious—has anyone's salary ever instantly decreased by more than $19,700,000? Although it seems that the answer is no, there is one player who nearly accomplished this feat in 2009.  Stephon Marbury, who was bought out of his $20.8 million deal by the Knicks, went on to sign with the Celtics for the veteran's minimum, or approximately $1.3 million.  Assuming the information I've gathered from ESPN is correct, this would make Marbury's pay cut a close second at about $19.5 million.* That also makes Marbury the first player I know of to go directly from a max contract of over $20 million to the veteran's minimum.  Well how about that, Rashard; you're not alone in infamy.  Not surprisingly, it's a New York Knick you'll be joining. *Unlike Lewis, Marbury took his buyout in the middle of the season.  Even though he didn't play a single game for the Knicks in '08/09, I believe this means he'd already collected some of the $20.8 million he was owed before taking the buyout and signing with the Celtics.  Still, from contract to contract, his salary dropped off by about $19.5 million.
Original Story:
http://nba247365.com/?p=7055
THE BACKYARD
BEST OF MAXIM
RELATED ARTICLES
Rashard Lewis has decided to join the Miami Heat, becoming yet another shooting option for the reigning NBA champions. Agent Tony Dutt said the free agent forward and the Heat agreed to terms on Tuesday, and Lewis is expected to sign his contract Wednesday in Miami. Lewis' decision comes just four days after Ray Allen agreed to accept an offer from Miami. Allen and Lewis were...
Veteran free agent forward Rashard Lewis has reportedly agreed to a two-year deal with the Miami Heat, according to reports from Y! Sports Marc Spears: Heat have agreed to a two-year deal with forward Rashard Lewis, sources tell Yahoo! Sports. — Marc J. Spears (@SpearsNBAYahoo) July 10, 2012 Lewis played sparingly for the Wizards in [...]
The Miami Heat continues to add to its championship roster. Days after landing free agent guard Ray Allen, the Heat reached agreement with forward Rashard Lewis on a one-year, $1.35 million deal, according to the Miami Herald. NBA free agent contracts can't be officially announced until Wednesday. Lewis will be making the veteran minimum salary, but it's not as though...
Rashard Lewis has agreed to a two-year deal with the Heat.
Yes, that LMFAO song with Lil' Jon called "Shots" is what ran through my head when I realized that Rashard Lewis and Ray Allen had both officially signed with the Miami Heat on Wednesday. I tweeted this yesterday, and there was a range of reactions from, "Ed you've lost your damned mind," to "OMG that [...]The post Starting Lineups: The Miami Heat Signed Ray Allen And...
MIAMI Rashard Lewis is joining the Heat. Lewis agent, Colin Bryant, told FOX Sports Florida Tuesday that Lewis will sign Wednesday. He will a deal for the minimum salary of 1.35 million. The free-agent forward is a two-time All-Star. The 14-year veteran had his contract bought out June 30 by New Orleans for 13.7 million. Money, therefore, was not considered a big obstacle. Hes...
(Mike Cassese/Reuters Pictures) Just a week after signing future Hall of Famer Ray Allen, the Heat bring in another sharpshooter in Rashard Lewis. Despite Lewis' struggles the last few seasons, he brings another perimeter shooter to make plays while the defense concentrates on Lebron and Dwayne Wade. Lewis amnestied a few weeks ago after being traded to New Orleans for Emeka Okafor...
MIAMI (AP) -- Ray Allen and Rashard Lewis have signed their contracts with the NBA champion Miami Heat, and will be introduced in news conferences later Wednesday. Allen agreed to join the Heat on Friday. Lewis agreed to terms with Miami on Tuesday. Neither deal could be completed until the NBA's offseason moratorium expired Wednesday. Allen will make just over 3 million this...
MIAMI Ray Allens number never will hang above the parquet floor. That became assured when Allen, who had played in Boston for five eventful seasons and helped the Celtics to the 2008 title, bolted to sign with rival Miami as a free agent. But hows this for a way for Heat president Pat Riley to welcome Allen, whose emotions clearly have been torn, to his new city? We hope (Allen...
The Miami Heat stumbled on to a plan during the playoffs and it looks like they're going to keep that plan going through next season and beyond. When Chris Bosh was injured the Heat modified their line up from two power forwards to moving Shane Battier in to the starting line up. When Chris Bosh returned, the Heat moved Udonis Haslem to the bench and stayed with their...
New York Vinnie would truly like to give LeBron James his Propers for winning both the NBA MVP Trophy and his first NBA Title; but just like the "King Of Crappolla" could not bring himself to congratulate Dwight Howard after the Orlando Magic beat the Cleveland Cavaliers behinds in the 2009 NBA Eastern Conference Finals; New York Vinnie now finds myself in a similar situation...
For the Heat, the sole priority of free agency was achieved with such swiftness that Miami stood as the lone stop on Ray Allen's free agency tour. While Allen, who had grown disgruntled in Boston in the wake of repeated attempts by the Celtics to trade him, had sparked free agency interest from the Los Angeles Clippers, Memphis Grizzlies and Minnesota Timberwolves, all it took...
NBA News

Delivered to your inbox

You'll also receive Yardbarker's daily Top 10, featuring the best sports stories from around the web. Customize your newsletter to get articles on your favorite sports and teams. And the best part? It's free!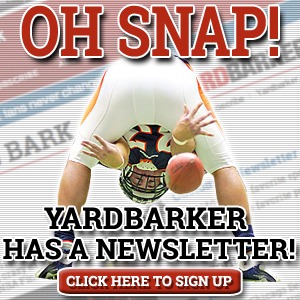 Latest Rumors
Best of Yardbarker

Today's Best Stuff

For Bloggers

Join the Yardbarker Network for more promotion, traffic, and money.

Company Info

Help

What is Yardbarker?

Yardbarker is the largest network of sports blogs and pro athlete blogs on the web. This site is the hub of the Yardbarker Network, where our editors and algorithms curate the best sports content from our network and beyond.