Found June 04, 2013 on NESN.com:
If the Atlanta Hawks were hoping to make a big free-agent splash this offseason, this probably wasn't the kind of start they had in mind. According to the Atlanta Journal-Constitution, a recent letter sent by the Hawks to prospective ticket buyers may have violated the NBA's anti-tampering policy by mentioning Lakers center Dwight Howard and Clippers point guard Chris Paul, who both are still under contract by other teams and become unrestricted free agents on July 1. The letter included the headline "Hot New Player news: Chris Paul and Dwight Howard" and began with the following statement: "The buzz around our offseason is more than heating up. With massive cap space, 4 draft picks, and free agency rapidly approaching, we sit in the best position in the NBA. Player interest is skyrocketing as the possibilities of landing Chris Paul & Dwight Howard become more and more of a reality." The letter later added: "This is your opportunity to get on board before its (sic) too late. Onc...
Original Story:
http://nesn.com/2013/06/report-atlant...
THE BACKYARD
BEST OF MAXIM
RELATED ARTICLES
NEEDS WORK
Dwight Howard's terrible free throw game was put to the test during a contest against an Arizona housewife. Here's video of Howard losing the free-throw shooting contest.
It goes without saying that the Atlanta Hawks would love to have free agents-to-be Dwight Howard and Chris Paul join them next season, the team's first under new head coach Mike Budenholzer. Unfortunately, the Hawks reportedly went ahead and said it -- and now the team could be in trouble with the NBA for violating the league's anti-tampering policy as a result. According...
Dwight might want to invest in seeing a surgeon about a vasectomy. but let's stick to the basketball side of things. Howard believes the majority of his problems are mental.  Doesn't matter if it was his free throw shooting or handling the Lakers Fans. "I have only one problem and it's between my ears," he said, while admitting he visited a Lakers' psychiatrist. "I...
It is not in Kobe Bryant's nature to be a spectator. Therefore, it must be taxing for him to watch the 2012-13 NBA season play itself out without his participation. Please click here to read this story The post Kobe Bryant hopes to play opening day, will pitch Dwight Howard appeared first on Players View.
The Atlanta Hawks may have jumped the gun a bit by using the names of impending free agents in an attempt to boost their ticket sales, and the NBA could make them pay for it. A recent letter that was sent to prospective ticket buyers hyped up the possibility of Atlanta making a run at [...]
If there is one perfectly fair criticism of Dwight Howard's game that has not changed it is his free throw shooting. Howard has never been a great free throw shooter, but his precipitous decline since shooting a career-best 67.1 percent his rookie year has simply been astonishing and confusing. You are supposed to get better at these things, particularly when you know it...
The chances of Chris Paul and Dwight Howard joining forces to go to Atlanta are extremely low in general so regardless of the potential tampering penalties, it was kind of ridiculous to put this in a letter to the fans. Now the NBA is going to get involved. Per Blacksportsonine. According to the NBA's collective [...]
Dwight might try to play this off as he let her win, but we all know he just isn't very good at shooting free throws. Also, some very quality trash talk from the housewife as well.
The Atlanta Hawks plan on being big spenders this offseason with the ton of salary cap room the will have heading into free agency. But they may have just shot themselves in the foot due to an overzealous ticket-sales department that sent out emails mentioning two high-priced free agent names that happen to be the biggest targets this summer. Everybody around the NBA suspects that...
I don't think there is anything Kobe can say at the moment that will affect Dwight Howard's decision. To me it is a very simple decision for Howard. If he is too afraid of the spotlight and being the face of a franchise like the Lakers, he will sign with the Rockets. But, Kobe for his part wants to have the final word before he makes a decision. "For me, you kind of let him...
When the topic of great players in this generation comes up, you can run off about 14 or 15 names in my opinion.  From Iverson, Wade, Nowitzki, LeBron, Kobe, Pierce, Duncan, Carmelo, Chris Paul, to Kevin Durant, figuring out who might be the best can be debated for hours. LeBron James and Tim Duncan will match up in the NBA Finals for the second time in six years.  The respect...
Perhaps my all time favorite LA Clippers joke comes from an obscure '90s stand-up who's name I can't recall: "a burglar will actually break into your house and leave you LA Clippers tickets." The LA Clippers have obviously gotten a lot better since those days, as they at least reach the NBA post season nowadays. Still they are the sad sack franchise of the NBA; and the...
NBA News

Delivered to your inbox

You'll also receive Yardbarker's daily Top 10, featuring the best sports stories from around the web. Customize your newsletter to get articles on your favorite sports and teams. And the best part? It's free!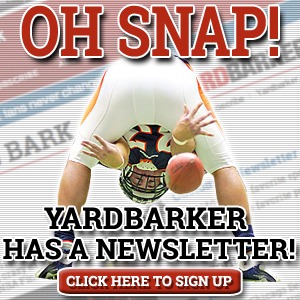 Latest Rumors
Best of Yardbarker

Today's Best Stuff

For Bloggers

Join the Yardbarker Network for more promotion, traffic, and money.

Company Info

Help

What is Yardbarker?

Yardbarker is the largest network of sports blogs and pro athlete blogs on the web. This site is the hub of the Yardbarker Network, where our editors and algorithms curate the best sports content from our network and beyond.