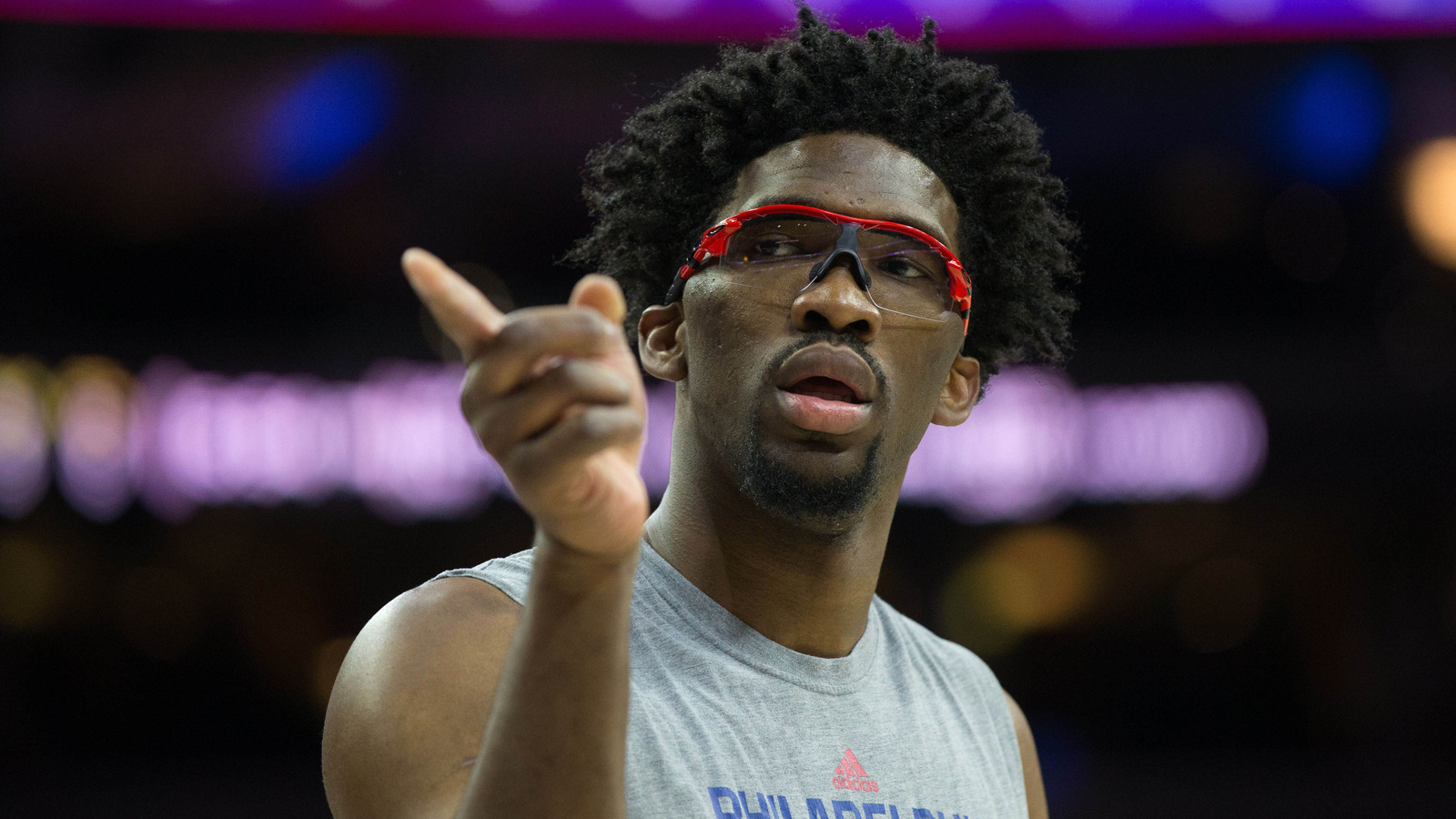 Joel Embiid drew some criticism for dancing at a concert on his injured knee.
Bill Streicher-USA TODAY Sports
The Philadelphia 76ers revealed over the weekend that Joel Embiid has a torn meniscus in his knee, which is the reason he has missed 12 of the team's last 13 games. The injury did not, however, prevent him from dancing on stage at a concert recently, and Sixers president Bryan Colangelo is not thrilled about that.
After revealing the extent of Embiid's injury, which the team knew about since last month, Colangelo was critical of the star center's behavior at Friday's Meek Mill concert.
"It's not the best thing to see when you wake up on Saturday morning and find out that was the case," Colangelo said, per Tom Moore of The Intelligencer. "I understand some of the potential concern out there. Being at a concert wasn't disappointing. Probably being onstage and dancing was a little bit, given the circumstances and given the potential reaction."
While the injury does not sound season-ending, you can understand why Embiid going crazy on stage was a bad look. His knees certainly didn't seem to be bothering him. You can see the video here.
Embiid described the concert experience as "great."
"Meek invited me to the stage and I had fun. That's what I'm about — just enjoy life," he said. "I don't think it was a good decision and I don't think it was a bad decision."
Dancing and playing basketball are two entirely different things, but Embiid should be more aware of the perception. The 22-year-old sat out the entire first two seasons of his career and is averaging 20.2 points, 7.8 rebounds and 2.5 blocks per game. Fans want him back on the court as soon as possible.
MORE FROM YARDBARKER:
QUIZ: Name every Philadelphia 76ers first round draft pick since 1996
Since 1996, the Philadelphia 76ers have selected 20 players in the first round of the NBA Draft. How many can you name?
Clue: Year (Draft number)
MORE FROM YARDBARKER
76ers News

Delivered to your inbox

You'll also receive Yardbarker's daily Top 10, featuring the best sports stories from around the web. Customize your newsletter to get articles on your favorite sports and teams. And the best part? It's free!