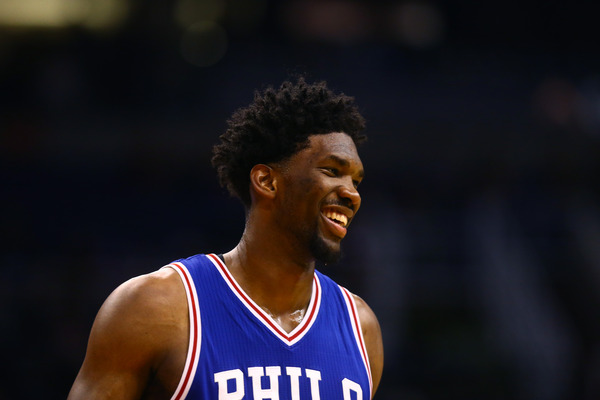 The 76ers are employing an unconventional media blitz to get center Joel Embiid an All-Star nod.
Mark J. Rebilas-USA TODAY Sports
Joel Embiid's fondness for Shirley Temples has been well-documented. The Philadelphia 76ers are cleverly using his love of the kiddie cocktail to help get their talented young center an All-Star nod.
The Sixers are sending ingredients for Shirley Temples to media members who take part in the All-Star voting process. A recipe with instructions on how to mix up the drink is also included.
Creative: The @sixers are sending the media ingredients to make Shirley Temples, @JoelEmbiid's favorite drink, in All-Star vote campaign pic.twitter.com/sru7HWnEzG

— Darren Rovell (@darrenrovell) January 10, 2017
A savvy marketing gimmick, indeed.
Shirley Temples are not only being utilized to land Embiid a potential All-Star nod, the young center also hopes to profit from his affinity for the drink as well.
Reports in November indicated Embiid — through his agency CAA Sports — has filed trademark applications for "The Process," a moniker he co-opted from former 76ers general manager Sam Hinkie's much maligned and mocked "Trust the Process" mantra.
Embiid submitted to two filings United States Patent and Trademark Office, primarily for trademark status for "goods and services." The second filing names pre-bottled Shirley Temple drinks as a possible product Embiid hopes to market.
Shirley Temples aren't the only way unconventional means are being utilized to land Embiid an All-Star nod. The budding superstar issued a tweet last week that made it seem like president-elect Donald Trump is backing him by posting a fake retweet.
WOWWW RT @realDonaldTrump Joel Embiid #NBAVote

— Joel Embiid (@JoelEmbiid) January 5, 2017
All that aside, as far as actually being named an All-Star is concerned, Embiid (221,984 votes) currently is trailing only LeBron James (595,288), Giannis Antetokounmpo (500,663) and Kevin Love (250,347) in Eastern Conference frontcourt voting as of last week.
But using Shirley Temples to bolster Embiid's All-Star aspirations? Talk about a pretty "sweet" move by the Sixers, to say the least.
MORE FROM YARDBARKER:
Best athlete by state all time
QUIZ: Name every Philadelphia 76ers first round draft pick since 1996
Since 1996, the Philadelphia 76ers have selected 20 players in the first round of the NBA Draft. How many can you name?
Clue: Year (Draft number)
MORE FROM YARDBARKER
76ers News

Delivered to your inbox

You'll also receive Yardbarker's daily Top 10, featuring the best sports stories from around the web. Customize your newsletter to get articles on your favorite sports and teams. And the best part? It's free!