Found June 22, 2012 on Waiting For Next Year:
PLAYERS:
Dan Gilbert
,
LeBron James
,
Jose Mesa
,
Dwyane Wade
,
Marcellus Wiley
,
Kyrie Irving
,
Trent Richardson
,
Brandon Weeden
TEAMS:
Cleveland Cavaliers
,
Miami Heat
,
Cleveland Browns
,
Cleveland Indians
"I PERSONALLY GUARANTEE THAT THE CLEVELAND CAVALIERS WILL WIN AN NBA CHAMPIONSHIP BEFORE THE SELF-TITLED FORMER 'KING' WINS ONE"
You can take it to the bank.
If you thought we were motivated before tonight to bring the hardware to Cleveland, I can tell you that this shameful display of selfishness and betrayal by one of our very own has shifted our "motivation" to previously unknown and previously never experienced levels.
Some people think they should go to heaven but NOT have to die to get there.
Sorry, but that's simply not how it works.
This shocking act of disloyalty from our home grown "chosen one" sends the exact opposite lesson of what we would want our children to learn. And "who" we would want them to grow-up to become.
But the good news is that this heartless and callous action can only serve as the antidote to the so-called "curse" on Cleveland, Ohio.
The self-declared former "King" will be taking the "curse" with him down south. And until he does "right" by Cleveland and Ohio, James (and the town where he plays) will unfortunately own this dreaded spell and bad karma."
–Dan Gilbert, July 8, 2010
———-
It's been two years now since Dan Gilbert sent that letter out on a warm, bitter summer night. Two years, or a lifetime. I don't really care too much how anyone else feels about the letter, but I will be forever grateful to Mr. Gilbert for sending that letter. We live in a world where everyone feels the need to bite their tongue and hide their emotions and not say what's really in their heart.
That night that LeBron James left Cleveland was painful. I was 7 years old when The Drive happened. It's a painful memory, and I cried actual tears when Rich Karlis, an Ohio native, booted the game winning FG. But I was too young to fully understand what it meant in the context of Cleveland Sports.
For me, the pinnacle of Cleveland Sports Misery was Game 7 of the 1997 World Series. Cleveland had their title. It was in the palm of our hands. Jose Mesa just needed two more measly outs and we were going to celebrate like never before. We all know what happened, and I was crushed with a sports pain I had never felt before. It took me a very long time to get over that one. In some ways, I'm still not over it.
But I've never felt bitterness toward that Indians team. I loved that team. I still love that team. God knows they gave it everything they had. Jose Mesa didn't want to blow that save. He didn't choose to let the Marlins tie the game. He just didn't have it in him, and the Marlins got key hits when they needed it.
LeBron was different. Not only did he leave us with a bitter on court disappointment (the mystery Game 5 disappearing act), but he turned right around, upped the ante and not only chose to walk away from us, but he chose to embarrass us in the process. The way Cleveland is now perceived by national media and sports fans across the country was directly set up by LeBron James' actions and choices.
Sure, Cleveland fans could have handled it better. Dan Gilbert could have acted more professionally. But that night was raw. It was the deepest cut most Cleveland sports fans, or any sports fans in any city, had ever felt. There's no practice session or owner's manual on how to process that kind of visceral outpouring of emotion. Everything that happened that night was nothing short of real. It doesn't get any more real than that night.
On a night in which Cleveland was kicked down to the ground and being stomped on by the media and laughed at by sports fans everywhere else, Dan Gilbert tried to pick us up a little bit. He showed us that hey, LeBron might be gone now and people are going to start ripping our franchise, our team, and our fans, but Gilbert had our back still. I understand why everyone outside Cleveland (and even some in Cleveland) hated that letter, but I wish they'd at least try to see it from our point of view and understand why we appreciated it.
But the guarantee of winning a championship first never made much sense to me. I never believed it. Nobody ever really believed it, did they? I'm not even sure Mr. Gilbert believed it. So now that LeBron James has his Championship while Cleveland still sits and waits, does this change anything?
I don't know if I believe in curses or not. I do believe in karma, to a degree. I believe that the choices we make have a direct influence on the outcomes we experience. Choosing to do good things and to be nice to people and helping people out when they need it causes good things to come back your way. Not as any kind of mystic power, but just by the very nature of how those you help and are nice to tend to return the favor.
Dan Gilbert said this would reverse the curse. We'll have to see about that. But Gilbert also said that until LeBron does right by Cleveland, he'll experience nothing but failure and Miami will experience his curse. For a year, that seemed to be the truth. Everything that happened last season was a direct result of The Decision. LeBron chose his path and he was falling under the weight of his own pressure.
But something happened in the offseason. Brian Windhorst wrote at length about this, but LeBron almost seemed to realize that things had to change. I'm not going to say he did right by Cleveland. But he put his personal life in order, he spent time back in Akron during the lockout, he worked on his post game, he apologized for the way he handled The Decision, he threw an olive branch in Cleveland's direction. In a lot of ways, he grew up.
We saw a changed man in the playoffs this year. I said a lot of dumb things when LeBron left. I said Miami will never be his team and that even if he wins, it will be riding Dwyane Wade's coattails. I was bitter, I was an idiot, and I was wrong. LeBron James didn't ride anyone's coattails anywhere this postseason. He threw his team on his back, just like we always hoped he would do against Boston when he played for Cleveland, and refused to be stopped on his new path toward a Championship. He was pure greatness in these playoffs.
So am I LeBron James fan again? Heck no. I was rooting against him like crazy, as is my right as a Cleveland fan to do. I will never root for LeBron James again unless he's wearing a Team USA jersey or a Cavaliers jersey. But I saw LeBron cast aside his bitterness. He allowed himself to be humbled, and he grew from it. Now it's my turn.
I'm tired of being angry, bitter, and sad. This is sports. It's a game. It's supposed to be fun. I allowed not just LeBron James, but the entire specter of Cleveland Sports to cut that part out of my heart. I decided a couple months ago to let go of the hurt and anger of LeBron leaving. Look, I'm not going to tell anyone else how they have to feel. If you're still bitter and angry, that's your right and I'll defend you against anyone telling us to "just get over it". It's a personal decision. And for me, I let it go, and I've felt much better for it.
So as I watched LeBron James and his Miami Heat pull away from the Thunder last night, and the moment I never wanted to see happen was becoming more and more certain, I was surprised at how I felt. There was a little sadness, seeing Miami get yet another Championship at Cleveland's expense. But other than that, there was just benign numbness. I wasn't angry. I just didn't care. So LeBron James won a title. At the end of the day, it doesn't change my life one bit.
I was stunned this morning as I found myself able to listen to sports radio and watch SportsCenter and listen to people gush about LeBron James. And I felt nothing. It was a liberating realization that it doesn't matter to me. My allegiance lies with the Cleveland Cavaliers. I put so much of my passion and my heart into following the Cavaliers, and this series had nothing to do with Cleveland. The Cavaliers haven't played a game since April 26th. LeBron James has nothing to do with Cleveland or the Cavaliers anymore. He's moved on.
Cleveland isn't cursed. Cleveland is lucky. Cleveland is a small market city that gets to support 3 franchises. How many cities would kill for an NBA team? I live in Columbus. I can tell you that Columbus would give anything to have the Cavaliers. I sometimes feel like Cleveland sports fans have been driven so Championship crazy that we forget to count the blessings before us.
Of course winning a title is the goal. We all want to experience it in our lifetime. Yes, we're a tortured, battered, scarred, beaten down group of fans. And we take pride in owning that misery. It's a part of our passion. Other cities make fun of our passion, but it's because they don't understand it. It's different in Cleveland and we should be proud of that.
But maybe it's time to let go of some of the Championship anxiety. As I listened to Mike and Mike this morning (yes, a cardinal sin, I know), Marcellus Wiley mentioned how he remembered a class in college where they were talking about setting goals. Having goals is important. But Wiley said his instructor made the point that you can't achieve your ultimate goal until you learn to focus on the first step. Maybe instead of fretting about the ultimate goal, we should stop and think a little bit about the first step in front of us.
Things aren't so bad in Cleveland. The Cavaliers are lucky. We have Kyrie Irving. Do you even realize how fortunate we are to have a franchise player so soon after losing the last one? Kyrie won't be LeBron James. Nobody ever will be. That was a once in a lifetime situation where a local guy gets drafted by his home team and becomes the best player in the game.
What Kyrie Irving is, though, is a leader. A player who loves crunch time. Who loves attacking the rim at the end of games. Who loves shooting clutch free throws. As a rookie.
Cleveland has the 4th overall pick and four picks in the top 34 of the draft next week. A championship isn't going to be won in one draft or in one offseason. But the groundwork is being laid. And even if the Cavaliers never win a Championship, so what? Yeah, it's not an ideal outcome. But rooting for the Cavaliers is fun. Spending cold Ohio winters watching our men in Wine and Gold as we partake in a Christmas Ale or two, joining in with fellow Cavs fans on Twitter, Facebook, and the comments section on this website. I wouldn't trade it for the world.
If you told me the Cavaliers were never going to win a Championship no matter what, and then gave me the choice to either keep them in Cleveland anyway or let them go elsewhere and give up on rooting for them all together, I'd choose to keep them. Winning a Championship is the goal. My desire for a title in Cleveland is diminishing. That's not my point. My point is, it's time for me to stop sacrificing all the benefits of rooting for sports teams in Cleveland for the sake of putting too much importance on winning a title.
———-
I still feel like LeBron would have won a title in Cleveland had he stayed. I think he would have eventually learned the lessons he needed to learn. But maybe he had to leave. Maybe he had to be broken down. Maybe he had to go through being the villain. Maybe this was all a process to get him where he was always destined to be, an NBA Champion.
And maybe so, too, is this our process. There's no question the Cavaliers learned some valuable lessons from the LeBron era. They learned about team building. They learned about handling superstars 1 . They learned about expectation, loyalty, ego, and disappointment.
LeBron James built himself back up. Now it's Cleveland's turn. And I honestly believe that process has already begun organically.
In Cleveland, the Indians are a good team. They're a fun group to watch, and they maximize the most of their limited abilities. It's a true team. And they're closer to a World Series than most of us realize. The Cavaliers have a great player in Irving and are positioned to add more talent. The Browns…..well, they're still the Browns. But hey, in the spirit of positivity, let's imagine a world where Trent Richardson is the real deal and Brandon Weeden turns out to be an elite QB. It's not impossible.
We spend so much time in Cleveland focusing on the negatives, but man, for a city with such bad sports teams, we have a lot of positives to think about as well. So, if anything, I'll take the high road and thank LeBron for helping me realize this. He doesn't care how Cleveland feels today, and I don't care how he feels today. This isn't about LeBron James anymore. Today, I am proud and happy to be a Cleveland sports fan.
So sure, Dan Gilbert has been proven wrong and everyone can have a nice giggle fit over that. You think this is the worst Cleveland has ever felt? Please. We're pros at handling heartbreak. But if we refuse to learn anything along the way, we're just going to keep finding ourselves in this same position.
I'm not happy LeBron won a title. I just don't care. I really don't. He was always going to win one. He's going to win more. He's the best player on the planet. There's a reason we wanted him to stay so bad despite the fact he "quit" in that Game 5. There's a reason we defended him against people like Skip Bayless. He's a great player. Denying that fact isn't going to change anything.
But he doesn't play for Cleveland anymore. And Cleveland still has the Cavaliers. We still have the first place Indians. We still have the Browns. We'll be just fine, thank you.
One day, Cleveland will win a Championship again. And when that day comes, the ghosts of our pain will wash away in a current of unbridled joy. When we get our turn to celebrate, our failures will serve as the foundation of our joy, but it will be just that….foundation. Buried underground, not seen by the outside world, and but a mere afterthought.
To paraphrase Mr. Gilbert, we will have died AND gone to heaven. Doing it the right way, so to speak. And it will have nothing to do with LeBron James then either. So congrats, LeBron. You did it. Whatever. I'll save my emotional response to an NBA Championship when it's the Cavaliers hoisting the trophy. Dan Gilbert may have been wrong about who wins one first, but he was right when he said:
"I PROMISE you that our energy, focus, capital, knowledge and experience will be directed at one thing and one thing only:
DELIVERING YOU the championship you have long deserved and is long overdue…."
___________________________________
by doing it the wrong way
Original Story:
http://www.waitingfornextyear.com/201...
THE BACKYARD
BEST OF MAXIM
RELATED ARTICLES
For those of you wondering how Cleveland Cavaliers owner Dan Gilbert would react through the realm of Twitter regarding Lebron James winning a ring, here how that went:(Courtesy of Dan Gilbert's Twitter)
LeBron James has been criticized so much over the past several years that it's hard to keep track of it all. But one thing few people forgot was what Dan Gilbert said shortly after LeBron James left the Cavs to sign with the Heat. When the jilted Cavs owner wrote a letter to his fan base in July of 2010 — in Comic Sans font — he issued the following guarantee: "I PERSONALLY...
"I PERSONALLY GUARANTEE THAT THE CLEVELAND CAVALIERS WILL WIN AN NBA CHAMPIONSHIP BEFORE THE SELF-TITLED FORMER 'KING' WINS ONE. You can take it to the bank." Those were the famous words and guarantee spouted off by Cleveland Cavaliers owner Dan Gilbert shortly after LeBron James announced via The Decision that he would take his talents to South Beach, spurning the Cavs...
"I personally guarantee that the Cleveland Cavaliers will win an NBA championship before the self-titled former 'king' wins one." Oops. Those were the words of Cleveland Cavaliers owner Dan Gilbert just two summers ago. Like a jilted lover, Gilbert fired off a now infamous letter to Cavs fans after LeBron James made the "decision" to leave Cleveland for...
This morning as the basketball community focuses on the Heat's joy and the Thunder's tears, it could not be overlooked that there is a third group that still has sincere and strong feelings about the outcome of last night's game. Please click the link below to read this feature with multiple quotes and video features that centers around the Cavaliers latest superstar.
Chad Ford released the eighth version of his 2012 mock draft on Friday, and the ESPN scout thinks the Cavaliers will have their choice of Harrison Barnes and Michael Kidd-Gilchrist at No. 4. Ford predicts Thomas Robinson will go to Charlotte at No. 2 and the Wizards will scoop up Brad Beal at No. 3, leaving Chris Grant with a delectable choice between the two wing players to run...
Is the sequel to this photo getting closer to reality? Perhaps. On Wednesday, as word broke of the New Orleans Hornets and Washington Wizards trade, there was a lot of instant analysis being done in the media and in social media outlets as well. One of the main assumptions everyone seemed to jump to was that this trade signaled Washington's intent to draft Bradley Beal at #3. On...
I'm from Cleveland, and I understand that LeBron James is about to win an NBA Title this evening. As much as I wanted him to win that Title here, as much as I didn't want him to leave two years ago, and as much as I hated the way he left, I was pretty sure this would happen eventually. LeBron James, Dwyane Wade, Chris Bosh - sic team. An NBA Championship was inevitable the...
As the Miami Heat and LeBron James won the 2012 NBA championship, you had to figure that some people in Cleveland wouldn't exactly be pleased about it. Check out this fan freaking out and rolling around on the ground while saying, "It should have been Cleveland":
The City of Cleveland, Ohio, awoke Friday morning to find that the sun had indeed risen, that the city was still intact and there was not a stream of locusts flying out of the doors of the Quicken Loans Arena, the home of the Cleveland Cavaliers. As they started to wipe the sleep from their eyes, they realized, their lives were no better or worse, after former Cavaliers star LeBron...
Earlier, we posted a clip of a Cleveland Cavaliers fan freaking out over the Miami Heat's 2012 NBA championship. He wasn't the only one a little miffed by LeBron winning a title, check out WEWS meteorologist Mark Johnson doing his weather forecast last night and appear to have issues with the OKC's inability to beat the Heat: iframe> (Courtesy of Bob's Blitz)
NBA News

Delivered to your inbox

You'll also receive Yardbarker's daily Top 10, featuring the best sports stories from around the web. Customize your newsletter to get articles on your favorite sports and teams. And the best part? It's free!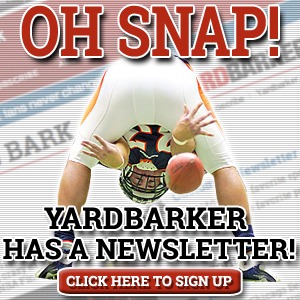 Latest Rumors
The Backyard

Today's Best Stuff

For Bloggers

Join the Yardbarker Network for more promotion, traffic, and money.

Company Info

Help

What is Yardbarker?

Yardbarker is the largest network of sports blogs and pro athlete blogs on the web. This site is the hub of the Yardbarker Network, where our editors and algorithms curate the best sports content from our network and beyond.