Found April 10, 2013 on Fox Sports Arizona:
PLAYERS:
P.J. Tucker
,
Luis Scola
,
O.J. Mayo
,
Goran Dragic
,
Shawn Marion
,
Dirk Nowitzki
,
Vince Carter
,
Markieff Morris
,
Wesley Johnson
,
Mike James
,
Rick Carlisle
,
Chris Kaman
,
Elton Brand
,
Michael Beasley
TEAMS:
Phoenix Suns
,
Dallas Mavericks
,
Los Angeles Lakers
DALLAS (AP) -- P.J. Tucker scored 17 points, including two key baskets in the closing minutes, and the Phoenix Suns pushed the Dallas Mavericks to the brink of playoff elimination for the first time since 2000 with a 102-91 victory Wednesday night. The Suns blew a 14-point lead in the second quarter and almost did it again in the fourth before hanging on to snap a 10-game losing streak that was their longest in 16 years. The loss meant a 12-season streak of playoff trips for the Mavericks (38-40) could officially end with a win by the Los Angeles Lakers, who played at Portland later Wednesday. The Suns, who led 85-71 early in the fourth, were up just four when Tucker put in a layup for a six-point lead after a shot by Luis Scola barely touched the rim as the shot clock expired. Tucker, who also had 10 rebounds, grabbed a miss by O.J. Mayo on the other end, then hit a 3-pointer for a 98-89 lead with 1:01 remaining. Tucker, a 26 percent shooter from long range this season, was 3 of 4 from beyond the arc. Goran Dragic led the Suns with 21 points and 13 assists, while Scola had 11 points and a season-high 15 rebounds. Shawn Marion led the Mavericks with 22 points and nine rebounds. Dirk Nowitzki scored 21 points and Vince Carter had 18. Phoenix took the lead for good with an 18-4 run in the third quarter. Dragic started it with a 3-pointer to break a 63-all tie, then had assists on a layup by Tucker and a 3-pointer from Markieff Morris. The Mavericks went almost 5 minutes without a basket in the third quarter and another 4 minutes to start the fourth before Mayo hit a long jumper, but Phoenix pushed the lead back to 12 with help from free throws by Dragic after Mayo was called for a flagrant foul for throwing his shoulder into the Suns guard when he was driving. The Suns led 51-41 at halftime after being up by 14 in the first quarter, but Dallas started the second half with a 12-2 run to get even. Wesley Johnson scored 15 points in the second quarter to help the Suns rebuild a double-digit lead they lost when Carter sparked a 12-0 Dallas run with a one-handed dunk off a miss by Nowitzki, who was 0 of 5 in the first quarter and took some practice shots before going to the bench at the end of the period. Johnson was 3 of 4 from 3-point range and the Suns, 29th in the NBA in 3-point shooting at 33 percent coming in, were 6 of 9 from beyond the arc in the second quarter. Dragic had 11 points on 5-of-6 shooting in the first quarter to build the Phoenix lead, and the Suns' starting backcourt of Dragic and Johnson outscored Dallas starters Mike James and Mayo 33-8 in the first half, which ended with Phoenix leading 61-51. NOTES: Dallas coach Rick Carlisle got a first-quarter technical when C Chris Kaman was called for a foul after knocking over Dragic at midcourt when a dribbling Dragic stopped in front of him. Carlisle stepped onto the court to complain about the call, drawing a puzzled look from Dragic. ... Mavericks C Elton Brand missed his fourth straight game with a sore right calf, and Suns F Michael Beasley missed his second straight for the birth of his daughter in Phoenix. ... There was a brief delay in the fourth quarter when the scoreboards, game clocks and shot clocks went blank or reset. Turned out there was 4:20 remaining.
Original Story:
http://www.foxsportsarizona.com/nba/p...
THE BACKYARD
BEST OF MAXIM
RELATED ARTICLES
P.J. Tucker scored 17 points, including two key baskets in the closing minutes, and the Phoenix Suns pushed the Dallas Mavericks to the brink of playoff elimination for the first time since 2000 with a 102-91 victory Wednesday night. The Suns blew a 14-point lead in the second quarter and almost did it again in the fourth before hanging on to snap a 10-game losing streak that was...
The Suns' less-than-stellar season just hit a new low. With the score tied, Rockets star James Harden heaved a 3-pointer as time expired. The ball clanged high off the rim and then Suns center Jermaine O'Neal reached up and goaltended it as he fought for position. Yes, he goaltended a game-winning 3-pointer. Don't believe it? Check it out. Even the Suns were speechless...
"I have to go to the army." — Dirk Nowitzki, age 18 Its the gift and the curse of living in the day and age where Youtube, camera phones and TMZ exist. Its a gift because we get to see so much, so fast by just stroking a few keys on the keyboard or just [...]The post The Day An 18-Year Old Dirk Nowitzki Gave Scottie Pippen 52 Points, As Told By Charles Barkley appeared first...
DALLAS (AP) -- Dirk Nowitzki was a baby-faced kid barely old enough to drink the last time the Dallas Mavericks missed the playoffs. Now he's a bearded veteran who can't shave because he and others vowed not to until the team got back to .500. Dallas still has a shot at a break-even record, but will be watching the playoffs for the first time since 2000. An unexpected...
Dallas Mavericks Out of the Playoffs for First Time This Millennium: The only bad thing about a good run is that eventually it has to come to an end—like it did for the Dallas Mavericks Wednesday night. It was not the plan to bring in a bunch of talented players on short term deals in hopes of creating a playoff team. The team did not want to play the first 27 games...
Will the Dallas Mavericks Finally Get to Shave? It's been a long time coming, and highly unlikely that anyone thought for a moment that when the 'No Shaving' pledge was made that it would take the team this long to actually get back to .500 again. However, with the season winding down and just a few games left it looks like the Dallas Mavericks will be able...
Mark Cuban told reporters that the Dallas Mavericks would consider drafting Brittney Griner with a second round pick in the upcoming draft. Many people have spoke out against this idea including, Geno Auriema and several analysts among the basketball hierarchy. Now as a fan I'd love if my team had a forward thinking owner like Cuban, plus you have to respect his passion for his...
Dallas Mavericks owner Mark Cuban got himself some publicity last week by saying he'd consider drafting Baylor women's basketball star Brittney Griner in this year's NBA Draft. A few days later, UConn women's basketball coach Geno Auriemma strongly disagreed with Cuban's idea that the 6-8 post player could play professionally against men. During a conference...
The Mavericks will miss the playoffs for the first time during a full season in which Mark Cuban has had ownership of the franchise.
Could Brittney Griner play in the NBA? That has been a debated topic since Dallas Mavericks owner Mark Cuban said last week that he would consider taking the former Baylor star in the NBA draft, or at least giving her a shot to try out for the roster. Lisa Leslie is one of the best women's basketball players of all time. Even though playing in the NBA was never a goal for her,...
Nikola Mirotic has drawn comparison to Dirk Nowitzki.
NBA News

Delivered to your inbox

You'll also receive Yardbarker's daily Top 10, featuring the best sports stories from around the web. Customize your newsletter to get articles on your favorite sports and teams. And the best part? It's free!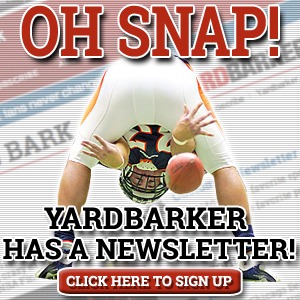 Latest Rumors
The Backyard

Today's Best Stuff

For Bloggers

Join the Yardbarker Network for more promotion, traffic, and money.

Company Info

Help

What is Yardbarker?

Yardbarker is the largest network of sports blogs and pro athlete blogs on the web. This site is the hub of the Yardbarker Network, where our editors and algorithms curate the best sports content from our network and beyond.