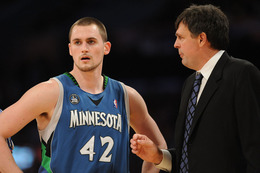 PHOENIX (AP) -- Kevin Love scored 13 of his game-high 30 points in the fourth quarter and the Minnesota Timberwolves outlasted the Phoenix Suns 127-124 on Monday night. Nikola Pekovic scored 24 points and Derrick Williams added 19 to help the Timberwolves snap a nine-game losing streak in Phoenix. Jared Dudley scored a season-high 28 points, Steve Nash had 25 and Channing Frye added 18 for the Suns, who snapped a three-game winning streak. Sebastian Telfair scored six points in seven seconds -- converting a four-point play and stealing the ensuing inbounds pass and scoring a layup -- to give the Suns a 111-107 lead with 6:38 left. Luke Ridnour put Minnesota ahead for good, 121-120, with 1:50 to go and the Timberwolves made six straight free throws in the final 37.8 seconds to close out the game.
Read the rest of this story...
MORE FROM YARDBARKER
NBA News

Delivered to your inbox

You'll also receive Yardbarker's daily Top 10, featuring the best sports stories from around the web. Customize your newsletter to get articles on your favorite sports and teams. And the best part? It's free!