Found May 17, 2013 on The Roosevelts:
PLAYERS:
Derrick Rose
,
Russell Westbrook
,
Kevin Durant
,
Marc Gasol
,
Kobe Bryant
,
Danny Granger
,
Frank Vogel
,
Paul George
TEAMS:
Miami Heat
,
Chicago Bulls
,
Oklahoma City Thunder
,
Memphis Grizzlies
,
Los Angeles Lakers
,
Indiana Pacers
,
San Antonio Spurs
,
New York Knicks
The Miami Heat are coasting through the 2013  playoffs and it's not just a testament to how good they are; they've also been very serendipitous with the best players from opposing teams have gotten hurt left and right. And considering that were are the tail end of the NBA awards season where players, coaches, and managers alike are awarded trophies for their achievement, it is only fitting that we—in awards season fashion—celebrate those who are not currently with us on the court. Here are five players who have succumbed to the injury bug, hereby dubbed the 2013 All-Injury team. PG – Derrick Rose, Chicago Bulls Injury: ACL tear The way in which Derrick Rose sustained his injury last year was crushing, nursing his injury  on the court in fetal position. A lot has been made of the way Chicago has handled Rose's return since he was cleared to play month's ago, but would the Bulls have fared better this year against the Miami Heat in the second round of the Eastern Conference playoffs? It does seem like a viable idea on paper but you have to remember that chemistry plays a greater role in basketball than the average takes into consideration. Plus, the Bulls accomplished two things: they can succeed without Rose if the situation arises again and the franchise will receive a higher pick in this year's draft to improve for the next few years. SG – Russell Westbrook, Oklahoma City Thunder Injury: Right meniscus tear Oklahoma City Thunder's Russell Westbrook was subtle in comparison to Rose's injury, though the outcome of his injury arguably shifted the course of this year's Western Conference playoffs. With Westbrook out with a meniscus tear, Kevin Durant—as much as an offensive force that he is—could not overcome the defensive prowess of Marc Gasol and the rest of the Memphis Grizzlies. A playoff series with Westbrook would definitely have a different outcome but, unfortunately  this playoff series will be filed in one of the great what-ifs of basketball, especially because the team seems to be in its prime when healthy. SF – Kobe Bryant, Los Angeles Lakers Injury: torn Achilles tendon The Lakers struggled with as as many injuries as they have championship banners this season. It seems that there was never a point in the season where the team was healthy enough to create any chemistry. Bryant, through all that, was still the vocal leader. There were stretches of games in which he single-handedly took over a game and got the W. After scrounging for one the last remaining playoff spots, Kobe tore his achilles tendon and wiped all hope of making the postseason. His teammates made the playoffs regardless but were swept by the San Antonio Spurs. A Kobe vs Spurs matchup (because that's how it would have been advertised) would have been the greatest high-profile matchup in the first round. Here's hoping that Vino overcomes this unfortunate injury. SF – Danny Granger, Indiana Pacers Injury: Knee The Indiana Pacers are still alive in the 2013 playoffs and can continue to the Eastern Conference Finals against the Miami Heat. it's amazing that the team, under the tutelage of head coach Frank Vogel, have gone this far without their star player who they lost in March to a knee injury. But in fact, Granger was out for longer, having gone through surgery in the offseason for patellar tendinosis. He was only available for a few games in the season. His absence arguably opened the opportunity for Paul George, who been the de facto star ever since. Still, one has to wonder what the Pacers will do now. Will they attempt to utilize their young talent as much as possible or is Granger on the outside looking in? C – Amar'e Stoudemire, New York Knicks With the smorgasbord of wily, beat-up veterans on the Knicks roster, who would have guessed that Stoudemire, once player worthy of a max-contract, would be the biggest question mark surrounding the upstart Knicks team? This squad was surprisingly good this season after being down on their luck for the latter part of a decade. Still, one can only wonder how good the team would have been with a healthy Amar'e in the rotation to accompany the even-older big men on the roster.
Original Story:
http://www.rsvlts.com/2013/05/17/the-...
THE BACKYARD
BEST OF MAXIM
RELATED ARTICLES
The Chicago Bulls are getting ready to play the Miami Heat tonight without Derrick Rose. Rose has not played a single game this season. He is currently rehabbing from a torn knee ligament he sustained last year in the playoffs. Even though Rose has not gone to work for his company he is still getting paid. This season Derrick has earned $17 million. Maybe I should not use the word...
I should never have to type "murdered 6 month baby". What type of society are we living in, where  it is a daily occurrence so many young people and in this case a baby gets murdered? It is just so much senseless violence in the world. Rose has offered to help the family out as they grieve their tragic loss. A 6-month-old girl died after being shot five times in Chicago on Monday...
Derrick Rose teaches us an important lesson. (Credit) Every sports fan has his or her own "Santa isn't real" moment. It's that one instance when suddenly, the idea that sports is a business makes sense. That these guys don't exist solely in the prism of their sport, that their interests don't always align with ours, or even that the game doesn't mean quite as much...
credit: getty images The cat is out of the bag. Derrick Rose's return to the Chicago Bulls will take place next season. Never saw that one coming. Rose tore his ACL in Game 1 of the first round of the playoffs last season. Bulls coach Tom Thibodeau said on Thursday that Rose would be ready to return next season. Thibodeau on DRose: "He's been diligent. He'll continue to be...
For the last month or so the NBA has been held hostage by one question--will Derrick Rose return? After receiving clearance he never said never. Throughout the playoffs he hinted at the possibility of a return practically every game. Since a player of his caliber could change the landscape of the postseason the question had to be continually asked--is Derrick Rose going to play...
Wouldn't it be cool if Derrick Rose seeing his team looking defeated and ready to surrender, took off his Brooks Brothers suit and went into battle with them? The Captain going down with the ship so to speak?  I doubt he could hurt his knee in one game right?  It would be symbolic that he is back and next season he will be a forced to be reckoned with. Yeah, that isn't happening...
A video poem dedicated to the 2012-13 whereabouts of Bulls star, Derrick Rose:
A day after falling to the untouchable Miami Heat 94-91 in the Eastern Conference semifinal series, Chicago Bulls head coach Tom Thibodeau said superstar Derrick Rose will be ready to compete this autumn. Thanks to ballsy competitors like Carlos Boozer, Luol Deng, Kirk Hinrich and Joakim Noah, the fifth-seeded Bulls nearly forced the reigning champions to fly back to Chicago for...
It seems at times, and some may say most of the time, the media over-hypes stories, and the Derrick Rose "should he have played or not play?" has seemingly been one of those stories. However, when it reaches to the point where other NBA players are talking about Rose's decision, there may be some smoke near this fire. Washington Wizards rookie Bradley Beal, when he is not being...
The Chicago Bulls' season ended last night, losing in five games to the defending champion Miami Heat. It was a rough year for the Bulls, who had to wait patiently through Derrick Rose's recovery only to have him sit out the whole season. They limped through the playoffs, grinding out a gritty series win against the Brooklyn Nets only to come up short to the Heat. But after...
The Chicago Bulls have some big questions now that they're never-say-die season is finally over. Nate Robinson, Marco Belinelli and Nazr Mohammed have expiring contracts, and the team figures to exercise its $1 million buyout on Richard Hamilton. Coach Tom Thibodeau also did not rule out the possibility of foot surgery for Joakim Noah, and Kirk Hinrich's badly bruised left...
The Chicago Bulls were eliminated from the 2013 NBA Playoffs on Wednesday, ending their season without having Derrick Rose in the lineup for a single game. Rose tore his ACL during Game 1 of the 2012 NBA Playoffs. "He never quite reached the comfort level he needed to play," said Tom Thibodeau. "So he made the right decision."
NBA News

Delivered to your inbox

You'll also receive Yardbarker's daily Top 10, featuring the best sports stories from around the web. Customize your newsletter to get articles on your favorite sports and teams. And the best part? It's free!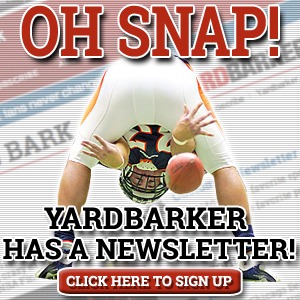 Latest Rumors
The Backyard

Today's Best Stuff

For Bloggers

Join the Yardbarker Network for more promotion, traffic, and money.

Company Info

Help

What is Yardbarker?

Yardbarker is the largest network of sports blogs and pro athlete blogs on the web. This site is the hub of the Yardbarker Network, where our editors and algorithms curate the best sports content from our network and beyond.