Found November 15, 2012 on Blog So Hard Sports:
Now that our beloved Washington Wizards have started 0-7 my frustrations, along with every other Wizards fan, are getting close to the tipping point. Randy Wittman can't seem to put a solid and consistent rotation on the floor on a nightly basis, so I'm going to lay one out for him that would be much more beneficial to this team and to us die-hards who have been pulling our hair out over this 0-7 start. I'm going to lay out what our starting line-up should be with how many minutes they should be playing and do the same with our reserves. So let's jump right into it and hope that somehow Wittman reads this by Saturday.   Starting Line-Up PG: Jordan Crawford – 32 minutes I have never been a fan of playing Crawford at the point until last night's game in Dallas. I have always worried that he just looks out for himself and not his teammates but last night he really looked like a legit point guard and was interested in getting the team involved. AJ Price and Jannero Pargo aren't getting it done and it is time for a change at the point. Enter Crawford who had his best game of the season last night to the tune of 21 points, 7 assists, and 4 rebounds. Give him some practice time at the point and some game time running the offense and I believe he will impress us all. At least I hope. With 32 minutes he can start at the point and play some shooting guard when AJ Price comes in depending on who else we have in at the time. But I think 32 minutes would be perfect Crawford. SG: Bradley Beal – 30 minutes Even though Beal has had some games where he really struggled with his shot and got a little lackadaisical with his aggressiveness, we still need to start him and play him. Every game Beal struggles his minutes get reduced greatly. When he is struggling with his shot, Sam Cassel needs to be in his ear telling him to take the ball to the freaking rim. I think with some better coaching and not pulling him out of the game when he starts to struggle, we could really see his production start to increase on a more consistent basis. I think it should be Wittman's goal to play Beal 30 minutes a game. We need to play him and have him work through his struggles and get in his brain that even though his shot isn't falling there are other ways to score and help out your team. SF: Martell Webster – 28 minutes Webster has shown throughout the course of the young season that he is a) a better shooter than Ariza and b) the team plays better with him on the court than Ariza. Ariza is shooting .339 from the field and .263 from the 3-point line and has the worst +/- rating on the entire team at -61 for the season. Webster is shooting .405 from the field and .365 from 3-point land. Webster though does boast a negative +/- rating but is much lower than Ariza's at -15. So to sum it up, START WEBSTER! I like Webster playing 28 minutes a game and getting starts. Most games we start off stagnant on offense and Webster could cure some of our scoring woes at the beginning of games. Playing 28 minutes gives him a lot more run on the court than he has been getting but still gives our reserves some time at the SF position. PF: Kevin Seraphin – 34 minutes Why Wittman hasn't inserted Seraphin into the starting line-up is just crazy to me. He is our best big and really our only consistent scoring option in the post. Seraphin has shown an improved game so far this season, but so far good ole Wittman has not increased his minutes. This man needs to start and play AT LEAST 30 minutes for us. In the 3 games that Seraphin has played at least 20 minutes he is averaging 17 points, 7 rebounds, 2.6 assists, and 1 block. In the 3 games that he didn't play at least 20 minutes Seraphin is averaging 3.6 points, 1.6 rebounds, .3 assists, and .6 blocks. Wittman, wake up dude. Play this man a majority of the game. Playing 34 minutes a game can get Seraphin in a comfortable groove and he could really put up some numbers. He needs to play more and play a majority of his time at PF. He can overpower most PFs and also has some nice range for a big man. C: Emeka Okafor – 30 minutes Emeka Okafor is our best defensive big man and he needs to start and play about 30 minutes a game. Running him at center and Seraphin at the 4 gives us a nice combo of starting big men. Of course once Nene returns I would like to see him at this position and Okafor in a reserve role, but for now Okafor should be the starting center. Playing him 30 minutes gives the Wiz a nice defensive force down low for a majority of the game but also gives some minutes for Earl Barron to play. Also, this would allow Seraphin to have some run at center when we play a smaller line-up. Reserves PG: AJ Price – 16 minutes AJ Price is not a starting caliber point guard in the NBA that much is for sure. He does bring some aggressiveness to the team and can score some points in bunches but he needs to be in a reserve role. With Crawford playing 32 minutes a game that leaves 16 minutes for Price to run the point. 16 minutes of Price running the show is much better than 30. SG/SF: Cartier Martin – 20 minutes Martin has shown that he needs to be on the court more than just a few minutes in the 4th quarter. Martin is a great outside shooter and that is what this team needs. In playing 20 minutes, he would play all 18 minutes that Beal leaves at shooting guard and 2 minutes at the SF position. This guy can score, and we need more of him. SF: Trevor Ariza – 18 minutes Ariza brings some nice things to the table but, just like Price, he doesn't need to be playing 30 minutes a game. I like him in a reserve role, because at times this season when he sees extended minutes, he forces the issue and tries to do way too much.  After Webster plays 28 minutes and Martin plays 2 minutes at the SF position, that leaves 18 minutes for Ariza. PF: Trevor Booker – 14 minutes I like Trevor Booker, but he also needs to be playing in a reserve role. He brings great energy, hustle, and occasionally a decent mid-range stroke, but Seraphin is a far better talent and the minutes need to reflect that. Booker can play the 14 minutes that Seraphin doesn't play and I think in that role he wouldn't be pressured to do as much and could increase his efficiency. C: Earl Barron – 18 minutes Barron has only played 23 minutes the entire season. In those 23 minutes Earl has put up 15 points, 12 rebounds and has shot .700 from the field. My god why not play this 7 footer. Give him some minutes and see what he can really do. We are 0-7. Obviously what we are doing is not working so give this man a chance. I would like to see him play all the reserve minutes at the center position which would be 18 minutes in this line-up. Guys Who Shouldn't Play F: Jan Vesely In time, Vesely could be a rotational player but right now he would be best served with a stint in the D-League. He has no confidence in his offensive game and in the last three games he hasn't registered a point. Let Vesely play extended minutes in the D-League where he can find his comfort level instead of struggling for the Wizards. PG: Jannero Pargo I was a Pargo fan at the beginning of the season but he has adopted too much of a gunner attitude. He should only be playing if an injury of foul trouble occurs. F: Chris Singleton Singleton brings some nice things to the table but he doesn't have the skill set to play SF and doesn't have the size to play PF.  A D-League stint might be the best for him too. A trade to a different team could be possible as well because I would much rather see, and I think the team would be better served, with the other guys receiving more minutes.   Now if we can only get ole Wittman to open his eyes and play a half decent rotation for once this season, we will be well on our way to the title. Just kidding, but I think with the aforementioned line-up this current Wiz squad can start winning some games and building some momentum for when Wall and Nene return. We are currently 0-7, so I sure hope management and the coaching staff can see that some changes are in order before we are buried in the Eastern Conference standings.
Original Story:
http://blogsohardsports.com/wizards-2...
THE BACKYARD
BEST OF MAXIM
RELATED ARTICLES
Wednesday Wizards Report Image courtesy @KevinHineWoA with Wiz of Awes _________________________________________    Wizards Need Changes….NOW! After last night's blowout at the hands of the Bobcats (one of the worst statements a NBA fan can mutter), I can't tell if this is 2011 or 2012. Last year the Washington Wizards started out 0-8 and with upcoming games against the...
Earlier today we tweeted a John Wall GIF that summed up these winless, feckless Wizards rather nicely, but this one from the halftime show of last night's loss to the Bobcats (via @HouseFromDC) really takes the cake. Your 2012-13 Washington Wizards, like a karate stick to the nuts.
The winless Washington Wizards have waived Jannero Pargo and signed free-agent guard Shaun Livingston, bringing back a player they hope can help fill the void until John Wall returns from injury. Pargo appeared in all seven of Washington's games during its 0-7 start, averaging 3.0 points and 2.0 rebounds in 14.6 minutes. The 6-foot-7 Livingston was waived by the Houston Rockets...
Click here to view the embedded video. The Washington Wizards played the Charlotte Bobcats Tuesday night in a game that made all 6 viewers at home say "can't we just contract one of these teams and combine the rosters?" The game was so unappealing that even the referees appeared to tune out at one point. The Set-Up: with just over three minutes left in the 3rd quarter, Jan...
mavericks 107 wizards 10111/14/2012 - American Airlines Center, Dallas, TXESPN BoxscoreNBA.com Game Highlights   I have got to give this one to Cartier Martin. Jordan Crawford played great, especially filling in for the injured A.J.Price at point guard but Cartier almost single-handedly got the Wizards their first win. He sat on the bench the entire game until...
The Bulls are among the teams that have already reached out to Jannero Pargo.
Taint power! This past Tuesday the woeful Washington Wizards lost at home to the Charlotte Bobcats 92-76, and as poor as the outcome was on the game side of things, it paled in comparison to the halftime entertainment, which featured some high quality martial arts demonstrations, including one guy breaking a bamboo stick with his all-powerful crotch. Little known fact—this is how...
"Men Lie, Women Lie, Numbers Don't" – Jay Z Jay was not lying (pun intended). 0-6. Ladies and gentlemen, that right there is the record for your Washington Wizards. You can't make this up. Time and time again, I come up with excuses on why Wizards fans need more patience.  But it's very hard when I'm trying to explain it year in and year out.  Excuses have ranged...
It seems the endless tweets, posts and wishes of increased stability at the point guard position finally funneled into the Wizards front office. Free agent Shaun Livingston can now put a halt to the unemployment checks and begin his hunt for real estate in the DC metro area as the Washington Wizards have announced their acquisition of the oft-traveling veteran. It's fair to...
According to the Washington Wizards official website, the team has waived backup PG Jannero Pargo and signed free agent Shaun Livingston:   WASHINGTON, D.C. –Washington Wizards President Ernie Grunfeld announced today that the team has signed free agent guard Shaun Livingston. Per team policy, terms of the deal were not released. "We are obviously familiar with what Shaun brings...
Check out the halftime entertainment during the Washington Wizards vs. Charlotte Bobcats game this past week.  Never seen anything like it.  How is breaking a bamboo stick over your genitals entertainment?  Can't explain it, but it damn sure makes me laugh every time I watch it.  I guess the real question we should be asking these guys is how they heck do you even think about...
After last night's loss to the deplorable Charlotte Bobcats, many fans of the Washington Wizards find themselves at a loss (most notably our own DJ Saam). The frustration is kicking in. Before long, the Phone Booth is going to be more of a ghost town than it already is. But Wizards fans: Just remember, it could always be worse. Let's go back to March 30, 2007. The Wizards...
Wizards News

Delivered to your inbox

You'll also receive Yardbarker's daily Top 10, featuring the best sports stories from around the web. Customize your newsletter to get articles on your favorite sports and teams. And the best part? It's free!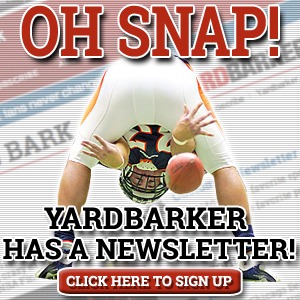 Latest Rumors
Best of Yardbarker

Today's Best Stuff

For Bloggers

Join the Yardbarker Network for more promotion, traffic, and money.

Company Info

Help

What is Yardbarker?

Yardbarker is the largest network of sports blogs and pro athlete blogs on the web. This site is the hub of the Yardbarker Network, where our editors and algorithms curate the best sports content from our network and beyond.