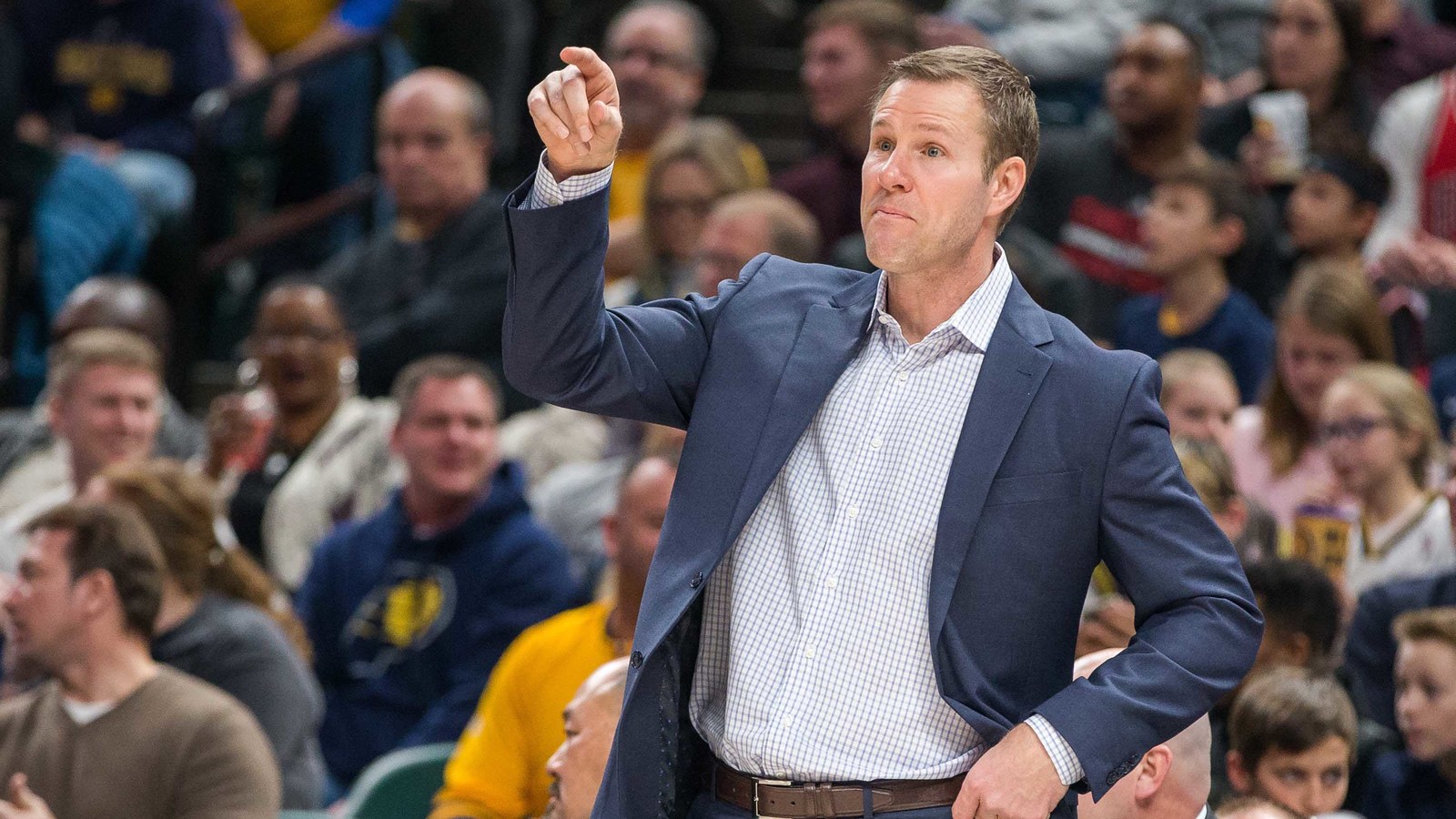 Trevor Ruszkowski-USA TODAY Sports
The Chicago Bulls made a decision on draft day last year to blow it all up and start over. Trading Jimmy Butler to Minnesota was supposed to start the tank and have the Bulls in the lottery for the top pick. Things were going swimmingly with a 3-20 start, but then something happened. The Bulls started winning.
Watching them near the end of that run, I could see they were going to begin to win some games. But nobody thought they would be this good. There is no quit in this team. And now, Bulls management needs to make a decision.
Do they stick to the plan and start decimating the roster? Or, do they let things ride and see just how good this team can be? It's scary, because you want to make the right decision. They can't win right now. But intact, the current roster is good enough to make the playoffs in the East despite their awful start.
The Bulls are playing so well that my thoughts going into the Golden State Warriors game last Wednesday was that I wouldn't be at all surprised if they beat them. And they almost did. You didn't see Steph Curry and Kevin Durant laughing on the bench in the fourth quarter. Instead, they were sweating out the final seconds while holding on for dear life.
The Butler trade exceeded everyone's expectations. Between Kris Dunn and Lauri Markkanen, the Bulls discovered a dynamic duo that would drive future success. With Zack LaVine now back on the court after his ACL injury last year looking like he hasn't lost a step (or his hops), the Bulls are going to win games no matter how hard management tries to lose.
The question now is: which direction should they take? You don't want to alienate a young core by purposely losing. But you also don't want to put yourself in the same situation you were trying to get out of by trading Butler. Being in the middle is the worst place to be in the NBA—where one star player is the difference between champion and also-ran.
Is that star already on this team? Are any of the players they received in the deal transcendent? Watching them play, I think all three can be All-Stars. But there is a big difference between an All-Star and a superstar. There are only a few players in the league that fit the second definition, and we all know who they are. If you have them, you play in the Finals every year. If you don't, you try to figure out how to get them.
That's what the Bulls thought they were doing. This is supposed to be a special draft. If you're picking near the top in June, you might be able to get that special player. I have already started scouting the top prospects. I've had a chance to see Marvin Bagley from Duke, Mohamed Bomba from Texas and Trae Young from Oklahoma.
Though considered a tweener at 6-foot-11 Bagley impressed me with his athleticism. I watched him grab a rebound and take the ball down court like he's a guard. He's got a versatile offensive game and is good on the glass. He would look nice combining with Markkanen in the front court.
Bomba is the player with incredible length that gets drafted every few years. That player is always lacking on the offensive side, however. And if he could just develop that part of his game, he will be….. Unfortunately, they never do. And I wouldn't touch him with a seven-foot pole.
I love Young and I am hoping he keeps on having 12-turnover games so his draft stock drops and the Bulls can get him. He can shoot from anywhere on the court. He is deceptively quick and gets to the basket at will. Add in deft passing and you have a player I am salivating over.
People talk about his size, but that was the same criticism of Curry coming out of Davidson. How did that work out? I remember at the time wishing the Bulls had an early pick in the draft to pair him with Derrick Rose when he was Derrick Rose. While others worried about how they would defend, my thought was nobody would be able to stop them.
With Young and Dunn in the backcourt, they could both handle the ball. And, Dunn could take the tougher defensive matchup. You move LaVine to small forward and keep Markkanen at power forward and you have Golden State Midwest. If Anthony Davis decides to come home using his opt-out in July 2020, you have a championship team.
I haven't seen the other top names in DeAndre Ayton from Arizona, Michael Porter (injured), or Luka Dončić from Europe. But I am thinking it won't matter if the Bulls continue to crush it on the court.
Unless the Bulls get lucky with the ping-pong balls like they did with Derrick Rose, they won't be anywhere near the top. And as I already mentioned, I don't think the playoffs are out of the question unless they make some trades.
The only team I can think of that won without a legitimate superstar in recent years was the 2004 Detroit Pistons. They had a deep roster with star players, but not the type of outlier that gets you to the dance year-after-year.
Looking at the Bulls roster right now, the cornerstones are LaVine, Dunn, and Markkanen and maybe David Nwaba. I can't believe I am saying that, but he's the type of player that makes you better and does the little things to help you win games. They are currently 9-2 when he plays more than 25 minutes.
There are pieces the Bulls can and should move if they want to execute the tank, including Nikola Mirotić. Ever since he came back from getting his face bashed in by Bobby Portis, he has been a different player. He's doing everything on the court and costing the team the all-important losses they need to get back in the drawing.
Robin Lopez has been solid in the middle as well. But he is not part of the future. They need to get rid of him as soon as possible and put Cristiano Felício in the starting lineup to facilitate losing.
The last piece of the puzzle they should trade is Justin Holiday. He has played better than expected since re-signing with the Bulls this year. But when he gets hot and starts sinking bombs, he's killing them.
The Bulls are hoping to get a first-rounder for Mirotić, but keeping him and putting more wins on the board will likely affect their future more than getting a low first-round draft pick in return. It's up to management to make a move sooner rather than later if the plan is still intact. They have a nice core, but another jewel in the draft puts them much closer to their goal.
The Bulls are now required viewing and fun to watch. I have even come to not be quite as disappointed when they win. But the big picture exceeds any immediate gratification. If there is no chance for a ring, this will be like other rebuilds the Bulls have undergone since Michael Jordan left.
High hopes, but no happy ending.
Bulls News

Delivered to your inbox

You'll also receive Yardbarker's daily Top 10, featuring the best sports stories from around the web. Customize your newsletter to get articles on your favorite sports and teams. And the best part? It's free!
MORE FROM YARDBARKER
Bulls News

Delivered to your inbox

You'll also receive Yardbarker's daily Top 10, featuring the best sports stories from around the web. Customize your newsletter to get articles on your favorite sports and teams. And the best part? It's free!