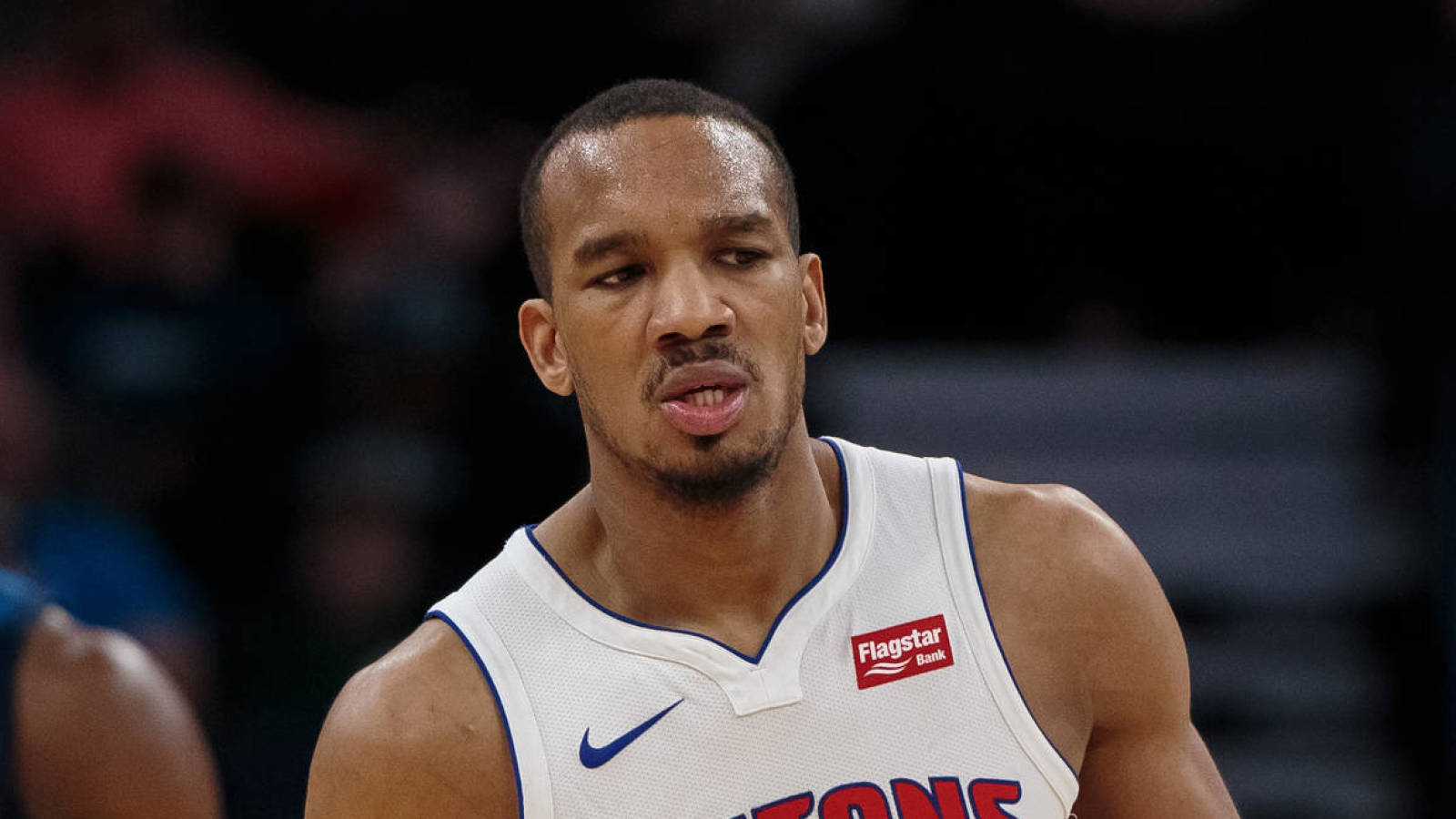 Brad Rempel-USA TODAY Sports
After sputtering without Reggie Jackson for the better part of the past month, the Detroit Pistons are looking to shake things up. Losing eight games in a row has prompted Detroit to put impending free agent Avery Bradley on the market. Bradley's sudden arrival on the trading block should pique the interest of several contenders. But before mortgaging assets to acquire the starting guard with defensive acclaim, teams need to understand one of the most mystifying players in the league. 
On the surface, Bradley's game seems straightforward. He defends like a rabid dog, is one of the NBA's best cutters, and uses his boundless energy to zip around screens, hand-offs or anything else he can find when his team has the ball. It's impossible to watch a game and walk away thinking Bradley isn't one of the most competitive players in the league. So for playoff contenders, Bradley seems like the type of player to seamlessly slide into their rotation and boost their performance. 
But dig a little deeper and you'll find that Bradley, despite all his effort, shooting accuracy and defensive acclaim, somehow doesn't positively impact basketball games. For three out of the past four seasons, Bradley's teams have been at least marginally better when he's not on the court.
| | | |
| --- | --- | --- |
| Year (Team & Record) | On Court +/- (Per 48) | Off court +/- (Per 48) |
| 14-15 (BOS 40-42) | -1.7 | +3.1 |
| 15-16 (BOS 48-34) | +4.0 | +1.7 |
| 16-17 (BOS 53-29) | +1.9 | +3.3 |
| 17-18 (DET 22-26) | -4.7 | +4.5 |
*All stats per NBA.com 
Even more weighted metrics, like ESPN's adjusted Plus/Minus, make the case Bradley is the type of player who upends the classic basketball axioms about effort and defense. According to their rankings, Bradley finished 56th in the 16-17 season. This year, he currently sits at 91st…..among players classified as shooting guards.
Now of course, it's important to put these numbers in context. This season, Bradley's big dip into counterproductive is due to a host of factors. For starters, Bradley has dealt with a lingering groin issue -- the same one that caused him to miss a stretch of seven games. Most NBA teams and/or players aren't overly communicative about the impact of nagging injuries, but there's a good bet the Bradley of late isn't one operating at full health.  
Then of course, there's the Pistons, whose hot early start turned into a raging dumpster fire. Stan Van Gundy received early plaudits for his creative use of Andre Drummond. Instead of Drummond producing a poor return on post ups, he moved higher on the floor as an offensive fulcrum in a weaving side-to-side offense with Drummond as a fulcrum. This general style of play was built to keep Drummond involved but also created more opportunities for the Pistons non-point guards -- like Bradley -- to get involved in all kinds of hand-offs, hand-backs (throw to the big and cut off him) or pick-and-rolls.
In addition to that, Van Gundy kept in a few of the departed Kentavious Caldwell-Pope's playcalls. Those sets require Bradley to come off some combination of a screen and hand-off and make plays driving at the teeth of the defense. But unlike Pope, who became a sneaky good passer out of those sets, Bradley just doesn't have the same feel for making plays for teammates.
In general, Bradley hasn't been effective in those actions. He ranks in the 24th percentile on hand-offs, the 17th percentile coming off screens and the 18th percentile in derived offense out of pick-and-rolls (which includes passes), per Synergy data. Yet despite that, Bradley has spent over 350 possessions doing one of those things -- that's a lot.
Part of Bradley's issue in these actions, aside from the playmaking, is the type of shots he normally winds up taking -- a mid-range jumper. In general, that shot has been a killer for Bradley. For the season, Bradley has attempted 161 shots classified as mid-range and converted just 35.4 percent of them. By contrast, Bradley has attempted 194 3's. That nearly 1-to-1 ratio obviously doesn't mesh well with the modern NBA's move toward efficiency.
Now in fairness to both Bradley, it's not like he's calling his own number on these plays. Van Gundy doesn't have a host of options (on a team he assembled), especially with Jackson out. So because of the respect he has for Bradley as a competitor and veteran leader, Van Gundy has called his number in ways that don't do his player any favors.
It's easy to then assume that any team acquiring Bradley could cut his usage and see a much more impactful player. And that's half true (more on why in a second). If teams asked Bradley to knock down corner 3's and cut behind napping defenders, it'd be a much better use of his skill set and eliminate some of the reasons that have traditionally caused his presence to negatively impact a team's performance.
But the reason it's only half-true is because turning Bradley into a more efficient offensive player doesn't make up for the fact that he *whispers to avoid the people who put him on all-defensive teams causing a scene* isn't actually all that helpful to a team's defense. You know how three out of the past four years his teams have been better overall when Bradley hasn't played? Well, all four of those years Bradley's teams have been better defensively when he's sat -- sometimes substantially.
Now obviously those raw numbers are laced with caveats. The most obvious being that because of his roles and reputation, Bradley is often on the floor when the opponents best players are. Clearly it's a lot harder to post positive splits when you're constantly tangling with the league's best perimeter scorers.
That doesn't mean, however, that Bradley's lockdown reputation (and perimeter defense in general) isn't benefiting from inflated value. Bradley's gung-ho defensive approach sometimes is a detriment to the team. As Bradley pokes, chests and generally harrasses players with the ball, he sometimes puts himself into bad spots -- either letting an opponent go a direction off a screen he shouldn't or getting slammed by screeners because his pestering caused him to lose track of the situation. At a glance, his frenetic defending looks like it's challenging and helpful, but there are definitely spots where Bradley opens a hole in the team's scheme because of it.
For teams trading for him, there's a lot they need to understand about what Bradley is really bringing to their team. There are certainly roles Bradley fits into in which he's extremely helpful, but those aren't quite the plug and play type ones his reputation suggests. And not only will a clear evaluation of his impact produce a proper market in terms of value, but it will also help with the impending decision about his future salary.
Given that Bradley is estimated (at least per the ESPN report) to command a deal in the $20 million range, teams acquiring him with the hope he'll be more than just a rental need to figure out if that price tag is reflective of his actual production -- rather than reputation. That in turn will impact the assets teams looking to acquire Bradley will be willing to part with, which will impact the trade market, etc, etc. It could all get really complicated if teams do their homework.
So referring to Bradley as mystifying might actually understate his place in the NBA.
Pistons News

Delivered to your inbox

You'll also receive Yardbarker's daily Top 10, featuring the best sports stories from around the web. Customize your newsletter to get articles on your favorite sports and teams. And the best part? It's free!
MORE FROM YARDBARKER
Pistons News

Delivered to your inbox

You'll also receive Yardbarker's daily Top 10, featuring the best sports stories from around the web. Customize your newsletter to get articles on your favorite sports and teams. And the best part? It's free!