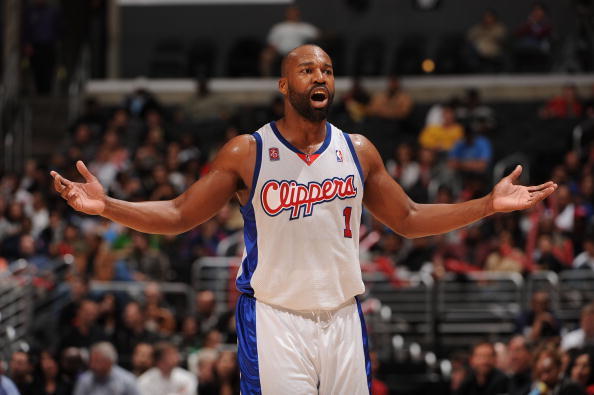 Baron Davis on the Los Angeles Clippers sitting on the bench. The Los Angeles Clippers defeated the Milwaukee Bucks by the final score of 101-92 at Staples Center in downtown Los Angeles CA. AiWire Photo via Newscom Photo via Newscom
Getty Images
    The National Basketball Association or the NBA if you're from the streets will be back in action on Christmas day. There will be several opening day matchups. Including a rematch of the NBA Finals in primetime, but what is must see?
    After a lengthy lockout your attention should be focused on who put on the most weight during hibernation. The number one candidate in the clubhouse has to be Baron Davis. Dude is prime for a big time debut. With thanksgiving and Labor Day under his belt, he could show up in Shawn Kemp like fashion (Kemp 1998 lockout style). I expect his to show up somewhere in between 235lbs and a Cadillac Eldorado. However there are some prospects you should look out for.
    Keep your eye out for DeMarcus Cousins. He may be young but he's ready (we have an Emanny citing). Just take a look at his eyes and you will see the eye of a tiger that likes Twinkies.
    Also watch out for Zach Randolph. This guy has always had problems keeping his weight under control, and the last thing he needed was free times. On the bright side he has done despite what shape he's been in.
    Lastly, Glen "Big Baby" Davis. With a nickname like big baby you have to make this list. There is a slight chance that he will be in decent shape because he's looking for a new contract. However since he knows he's trade bait maybe he'll pull the frumpy wife Jedi mind trick, and gain weight on purpose so he can't be traded it. You know the old; I can't trade in this car because it no longer has value. So, I'll hold on to it, in hopes that it becomes a classic.
Damn I can't wait to see who proves us right.
-Kortney Shane Williams
Comedian and Writer
www.kortneyshanewilliams.com
www.facebook.com/kshanecomedy
www.youtube.com/kshanecomedy
Read the rest of this story...
MORE FROM YARDBARKER
NBA News

Delivered to your inbox

You'll also receive Yardbarker's daily Top 10, featuring the best sports stories from around the web. Customize your newsletter to get articles on your favorite sports and teams. And the best part? It's free!