Found May 07, 2013 on Taking Bad Schotz:
This has made me sick to my stomach all year long. Knicks fans, which happen to be the worst kind in the NBA, have continually bragged about how great their team is. Some even think they have a chance to take down the Heat, which may be more ridiculous than Carmelo stealing a first place MVP vote from LeBron. To start off, I will give credit where it is due, a 54-28 record along with the Atlantic Division title is something to be proud of, but this team is good at best, a measuring stick if you will. If the Knicks were a Western Conference team, there is no way they would finish in the top 5, and would probably end up as the 7-seed. Photo Credit: AP Photo/Kathy Willens Hypothetical situation: prior to this season, the Knicks and the Warriors switched divisions. The Knicks are now in the Pacific, with the Warriors in the Atlantic. Each NBA season, teams play 52 in conference games, and 30 out of conference, so there is a fairly large sample size for both. This year, New York went 37-15 against the East, and 17-13 against the West. Those two winning percentages are .711 and .566 respectively. So in our hypothetical situation, in the Western Conference the Knicks would finish at roughly (rounded up) 51-31. Still a respectable record, but if in the Pacific Division (or any West Coast Division for that matter) they finish no higher than the 5 seed and face Denver in the first round. With these same calculations, the Warriors would finish (rounded up) 50-32. Yes, the Knicks would still have the better record, but this still gives Golden State the Atlantic Division Title, along with the same 2-seed that the Knicks got. It would, by theory, could also give Steph Curry the one MVP vote that Carmelo stole from LeBron. So Knicks fans, please relax a little. Congratulations on your playoff series win, but cool it with how much you love this team. The Pacers will handle you in no more than 6, and you probably wouldn't even be in the 2nd round if you were in the West. -Langer
Original Story:
http://www.takingbadschotz.com/?p=13750
THE BACKYARD
BEST OF MAXIM
RELATED ARTICLES
The New York Knicks got a strong performance out of Carmelo Anthony as they thumped the Indiana Pacers 105-79 in Game 2 of their Eastern Conference semifinal series.  Anthony scored 32 points and New York  put the contest away with a 36-4  second half run, which lifted them into a 1-1 tie. Iman Shumpert chipped in with 15 points and Raymond Felton put up 14 as New York fought...
It was widely expected that LeBron James would become the first unanimous NBA MVP this season. However, much like when the same was thought about Shaquille O'Neal back in 2000, he came up one vote short. That one vote went to Carmelo Anthony of the New York Knicks (who came in third behind Kevin Durant and of course LeBron). Being the curious bunch that we are, the world...
While folks worry about the 1 MVP vote that went to Carmelo Anthony - the Post nails it with STINKO DE MELO (and, not -- that doesn't refer to Melanoma Monday). **Follow us on Twitter or... Full story at Bob's Blitz ~ http://www.bobsblitz.com
Le Batard really loves Miami. Which makes this weird. Via Deadspin, Dan Le Batard didn't vote for LeBron James for NBA MVP: deadsp.in/mRNt1SL — Deadspin (@Deadspin) May 6, 2013 Ok so when it broke this afternoon that LeBron received 120 out of 121 votes for NBA MVP, a witch hunt started to figure out who the hell voted for Carmelo Anthony. Now we know. It was the Miami...
There are few things that I enjoy more than poster dunks and during tonight's Pacers/Knicks game two, Carmelo Anthony threw down a rather nasty dunk. It happened in the third quarter of play as Anthony got past David West and put down a nasty two-handed stuff in the face of Pacers forward Jeff Pendergraph:
The New York Knicks blew out the Indiana Pacers 105-79 on Tuesday night, evening their second round NBA playoff series at 1-1. Both teams looked wildly different than they did in Game 1, and no one played better than Knicks star Carmelo Anthony. The 28-year-old Anthony scored 32 points, grabbed nine rebounds, dished out three assists and snagged two steals while adding one sick dunk...
MIAMI (AP) -- The writer who did not choose LeBron James of the Miami Heat as the NBA's Most Valuable Player believes Carmelo Anthony "meant more to his team" this season. Gary Washburn of The Boston Globe says Anthony made the New York Knicks relevant again by leading them to their first division title in nearly two decades. Washburn's explanation was published...
Can Carmelo Anthony and his Knicks bounce back and even things up at 1-1 heading back to Indiana? Or do Paul George and the Pacers put the series in a stranglehold by going up 2-0? What To Watch For: Melo and JR Smith's Shooting Woes  The 2 big guns for the Knicks combined to shoot 33% in Game 1. Look for them to eschew the jumper and try to attack the rim to 1) draw...
New series, same old story. You can finesse the narrative however you want, it boils down to the cold hard facts: Carmelo Anthony's name may as well be Buck, and he comes to chuck. If he's hitting, the Knicks are reeeeally hard to beat (he was basically NBA Jams "On FIRE" for his 10 games in April, averaging 36.9 ppg on 53.6% shooting, including a mind melting...
(Eds: With AP Photos.) By JIM LITKE AP Sports Columnist Demanding as New Yorkers can be, it doesn't take much to keep Knicks fans happy. Their team last won a championship 40 years ago, and until the Knicks knocked off the Boston Celtics last week, they hadn't made it past the first round of the NBA playoffs even once in the last dozen. Amare Stoudemire's arrival didn...
Happy Monday to all. Lebron was officially named as the Most Valuable Player. We all know this was imminent and likely. What was the question is whether he will be the first unanimous one. Unfortunately, he wasn't. He was close, though, as he snagged all but one first-place vote. The Akron native thought it was a NY-based person who gave the dissenting vote, since that lone vote...
 Chicago Bulls vs. Miami Heat Game 1 -- 7 p.m./TNT LeBron James was quite clearly MVP. There really was no doubt about it. When I was on with 103.7 The Game in Lafayette, La., on Friday, they asked me if you could make any argument to vote for anyone aside from LeBron James. I told him you could make an argument for Carmelo Anthony perhaps . . . but it was not a good one...
Knicks News

Delivered to your inbox

You'll also receive Yardbarker's daily Top 10, featuring the best sports stories from around the web. Customize your newsletter to get articles on your favorite sports and teams. And the best part? It's free!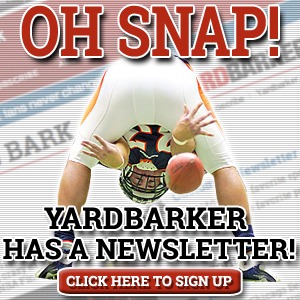 Latest Rumors
Best of Yardbarker

Today's Best Stuff

For Bloggers

Join the Yardbarker Network for more promotion, traffic, and money.

Company Info

Help

What is Yardbarker?

Yardbarker is the largest network of sports blogs and pro athlete blogs on the web. This site is the hub of the Yardbarker Network, where our editors and algorithms curate the best sports content from our network and beyond.