Found May 25, 2013 on The Sports Post:
PLAYERS:
Paul George
,
Dwyane Wade
,
Chris Bosh
,
Carmelo Anthony
,
LeBron James
,
Kobe Bryant
,
Chauncey Billups
,
Derek Fisher
,
Kenyon Martin
,
Pau Gasol
,
Andrew Bynum
,
Lance Stephenson
TEAMS:
Indiana Pacers
,
Miami Heat
,
New York Knicks
,
Los Angeles Lakers
,
Los Angeles Clippers
,
Philadelphia 76ers
,
Boston Celtics
Paul George shooting over Dwyane Wade and Chris Bosh. (Credit) As a New York Knicks fan and a basketball fan, I'm constantly haunted by the 2009 Western Conference Finals. If you don't remember, that's the series where Denver nearly stole Game 1 in Los Angeles and then actually won Game 2, leaving everyone involved thinking "holy crap, Carmelo Anthony is making the leap." There's no greater joy for a basketball fan than watching a player make the leap right before your eyes. It's just so gratifying to watch a player figure it all out and become the player they were always meant to be. It's the bizarro version of what we saw with LeBron James last summer in that we actually want to see it. For two games in Los Angeles that spring, it looked like it was going to happen for Carmelo. But, it didn't. Those two games were a mirage as Kobe Bryant completely took over the series. The Lakers won in six, but I had to reevaluate why the Nuggets were able to keep it so cl...
Original Story:
http://feedproxy.google.com/~r/thespo...
THE BACKYARD
BEST OF MAXIM
RELATED ARTICLES
Paul George absolutely annihilated Miami Heat forward Chris Andersen with a dunk late in the third quarter of Game 2 of the Eastern Conference finals. The Indiana Pacers forward was being guarded by LeBron James with about 10 seconds left in the quarter. He went left, blew by James, and then took off and dunked over Birdman with a spectacular throwdown. Here's your posterized...
The Indiana Pacers and Miami Heat gave fans a heck of show in Game One of the Eastern Conference finals Wednesday night with a clutch shot to send it to overtime and another one to win it in OT. Miami may have won the game thanks to LeBron James doing what he does best, but they didn't win one game. The fashion game. That honor goes to the Indiana  Pacers courtesy of the...
After a Game 2 win and one possession away in Game 1 from being up 2-0 in the Eastern Conference Finals against the Miami Heat, the Indiana Pacers' "Big Five"confidence is sky high heading back to Indiana for Games 3 & 4. According to ESPN: "We're not going to back down," Roy Hibbert declared. "They could be the champs, but we're coming for them." "Take...
The Indiana Pacers evened their Eastern Conference finals series with the Miami Heat Friday night with a 97-93 victory in Game 2. Pacers forward/guard Paul George, who scored 22 points and had six assists, credits playing as a team and not relying on one guy for the win. "Take nothing away from their 
Game 2: Indiana Pacers 97, Miami Heat 93. Not the best night to be a mohawk wearing big man in Miami. Speaking of Birds, Larry sure did a fine job building the Pacers. Paul George is a star and Larry got him at #10 in the draft. Roy Hibbert was drafted at #17 (Yes I know Toronto technically drafted him, just like Boston technically drafted Jeff Green and the Suns technically drafted...
Prior to Game 1 of the Eastern Conference Finals against the Pacers Wednesday, Dwyane Wade told the media that his knee injury this year, a right bone bruise, has been more bothersome than his knee injury during last year's postseason, a cartilage issue in his left knee which later required arthroscopic surgery. Dwyane Wade said before Wednesday's game that his injured right...
Dwyane Wade acknowledged before Wednesday's Game 1 against the Indiana Pacers that his left knee injury is more painful than it was last season. This season's injury is a bone bruise while last year's involved the cartilage, which required surgery in the offseason. "It's unfortunate I've had to deal with this thing for two months now," Wade said. "When...
Last month Dwyane Wade  attended the second prom of his life when he showed up unexpectedly to Archbishop Coleman Carroll High School senior Nicole Muxo's prom after she created a YouTube video asking Wade to be [...]
It was an instant classic. A game for the ages and any other terms to describe the epic battle between the Pacers and Heat in Game 1 of the Eastern Conference Finals and at the center of t all was Paul George and Lebron James. George and James clashed throughout Game 1 and provided fans with some great memories. From George's clutch three-pointer to force overtime to James...
I wouldn't be a good Celtics fan if I didn't take immense pleasure in the Heat losing or in the misery of their bandwagon fans.   It's interesting to see after all the "We got Ray" chants to begin the year they seem to be having some buyer's remorse.  Excuse me if I chuckle a bit.  And  I love how they end up trashing all their players.  It's one...
Really, what can you say? This was just one of those games where you have no choice but to shake your head, acknowledge the supremacy of the Miami Heat, and move on. This was the kind of game that reminds you why the Heat are the reigning NBA champs, and why LeBron James is head and shoulders above everyone else in the league. It is the kind of game that reminds us that as the Pacers...
Megan Olivi is a Fox Sports host, reporter & producer. You've probably seen her on San Diego Padres broadcasts. Megan Olivi works alongside Laura McKeeman and Kelly Crull. The trio was hired together in February; making Padres broadcasts and Fox Sports like the LeBron James, D. Wade and Chris Bosh of sideline reporter talent. How many championships would this trio win? Here...
NBA News

Delivered to your inbox

You'll also receive Yardbarker's daily Top 10, featuring the best sports stories from around the web. Customize your newsletter to get articles on your favorite sports and teams. And the best part? It's free!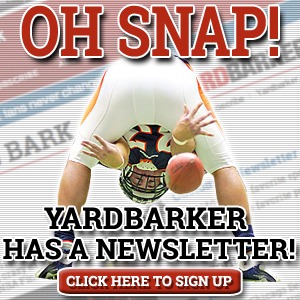 Latest Rumors
Best of Yardbarker

Today's Best Stuff

For Bloggers

Join the Yardbarker Network for more promotion, traffic, and money.

Company Info

Help

What is Yardbarker?

Yardbarker is the largest network of sports blogs and pro athlete blogs on the web. This site is the hub of the Yardbarker Network, where our editors and algorithms curate the best sports content from our network and beyond.