Found August 04, 2012 on Project Spurs:
Coming into Saturday's game between Australia and Great Britain, only five players had scored 30 points or more in this years Olympics, and this years highest scoring performance was Carmelo Anthony's 37-point game against Nigeria.
Anthony no longer holds that mark as San Antonio Spurs guard Patty Mills and Australia routed Great Britain Saturday  106-75 in a game where they were down 15-points in the second half, but Mills exploded for 39 points to hold the highest scoring mark this year in the Olympics.
Here's his stat line from his unbelievable performance: 39 points, 14/22 shooting, 5-of-7 from three, five rebounds, two assists, one steal. Let's get to the rundown of Mills' incredible performance.
First quarter: Australia (AUS) 18, Great Britain (GB) 25
Player of the quarter (AUS): Mills – Mills and the Aussies got off to a slow start, but then midway through the first quarter Mills heated up. He went through a timeframe of scoring 12 points in a row for the Aussies, by hitting inside jumpers, connecting on two 3-pointers and even pick-pocketing a British big man for an open lay-up.
Player of the quarter (GB): Luol Deng, Dan Clark – Clark (14 points) made three 3-pointers to stretch the British lead to nine points in the first quarter. Deng (9 points) used his All-Star presence to become a decoy and allow his other teammates to produce offensively.
Second quarter: AUS 36, GB 46
Player of the quarter (AUS): Aron Baynes – Though Australia really struggled to score in the second quarter, their big man Baynes was one bright spot as he had 10 points going into halftime, all his points were from dunks or shots under the rim.
Player of the quarter (GB): British defense, Joel Freeland  - The British defense clamped down on the Australians in the second quarter by holding the Aussies to just 11 points in the quarter. The British also had five steals by halftime.
Portland Trailblazer to-be Freeland (16 points) had 11 points at halftime to lead the British in scoring.
Spurs spotlight: Along with his teammates struggling, Mills only connected on one free throw line jumper in the second quarter to go into halftime leading the Boomers with 14 points.
Third quarter: AUS 66, GB 60
Player of the quarter (AUS): Mills, Matthew Dellavedova, Australian defense – The third quarter started to look like a blowout in favor of the British as they stretched their lead to 15 points early. Mills, Dellavedova, and the Boomers defense made a tremendous comeback as they first began with a 17-2 run to tie the game at 53. Dellavedova connected on three 3-pointers in the quarter for all of his nine points, while Mills scored all sorts of ways. He scored from the outside, hit jumpers off screens, made numerous free throws, and even finished with layups. Mills had 29 points by the end of three quarters, 15 points alone in the third.
The Australian defense was also huge in the third as they held Great Britain to just 14 points in the quarter, as the British only made five out of 22 baskets.
Fourth quarter: AUS 106, GB 75
Player of the quarter (AUS): Mills, team scorching from the outside – Mills put up 10 more points, mainly from 3-point range, in the fourth quarter. Once the Australian's had a huge lead, Mills was called to the bench with 4:10 left in the game.
The Australian's were scorching from the outside as they made 3-pointer after 3-pointer even after Mills went to the bench. They ended up scoring 40 points in the fourth quarter alone.
With the win, the Australian's secured the fourth seed in Group B's pool. They still have to play Russia on Monday, but they're secured an invitation into the next round next week with their comeback blowout of Great Britain.
Original Story:
http://www.projectspurs.com/2012-arti...
THE BACKYARD
BEST OF MAXIM
RELATED ARTICLES
Patty Mills scored a tournament-high 39 points and Australia beat Britain 106-75 on Saturday to earn a spot in the quarterfinals of the men's Olympic basketball competition. The San Antonio Spurs guard had 15 points in the third quarter to spark Australia's comeback. Matt Dellavedova made all three of his 3-point attempts in the period as Australia rallied from a 10-point...
Patty Mills has certainly turned on the inspired play for the Australian Boomers at an optimal time of the Olympic Basketball tournament. After pouring in 39 points against host nation Great Britain, Mills hit a buzzer-beating three point shot to give Australia a two point victory over previously undefeated Russia. After two losses to Spain and Brazil to start the tournament,...
Carmelo Anthony scored 37 points on 13-for-16 shooting from the field and 10-for-12 shooting from three-point.
Knicks fans have been fortunate enough to see Carmelo Anthony play a crucial role for Team USA during the Olympics, helping lead his team to a 4-0 record thus far. The star forward has filled it up offensively, holding his own next to scoring juggernaut teammates like LeBron James, Kevin Durant, and Kobe Bryant.As my pal Tommy Dee notes, however, Anthony has still struggled to garner...
Carmelo Anthony of Team USA drives to the basket past Nigeria's Derrick Obasohan during a record-setting afternoon at the 2012 Summer Olympics,...
The U.S. men's basketball team has broken its Olympic record for 3-pointers in a game, making 14 during a 78-point first half against Nigeria. The Americans were 14 of 24 behind the arc on their way to a 78-45 lead at halftime on Thursday. That broke their record of 13 made against Spain in the gold-medal game in 2008. Carmelo Anthony made five 3-pointers, Kevin Durant made...
All we have heard this Olympics is how the 2012 US Men's Basketball Team would match up against the 1992 Dream Team? Well, on Thursday way the 2012 Team played they could have beat the Dream Team. The US blew out Nigeria 156 to 73 to improve to 3-0 in pool play. In the win the American set all kind of records. The following are all Olympic records: 3-pointers (26)...
When Linas Kleiza sized up Carmelo Anthony, his former teammate in Denver, fastened his grip on the ball and rose up to sink a 3-pointer, it was not necessary to hear the roar of the pro-Lithuanian crowd to know what was happening. All you had to do was look at the United States' bench. The cheering, towel-waving and joking around that had been ever present during the Olympics...
2012 is the last time we will see Kobe Bryant in a USA Jersey (Courtesy NBC) The 2012 dream team is rolling in the Olympics. Following their 156-73 drubbing of Nigeria I got to thinking. What will this team look like in 4 years. Team leader Kobe will likely be gone but don't look for the dream team to slow down. Look for Carmelo Anthony and Lebron James to be the first players...
NBA News

Delivered to your inbox

You'll also receive Yardbarker's daily Top 10, featuring the best sports stories from around the web. Customize your newsletter to get articles on your favorite sports and teams. And the best part? It's free!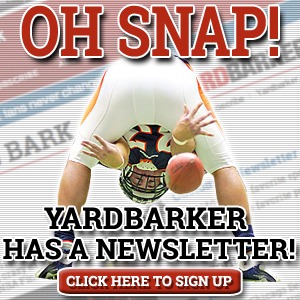 Latest Rumors
Best of Yardbarker

Today's Best Stuff

For Bloggers

Join the Yardbarker Network for more promotion, traffic, and money.

Company Info

Help

What is Yardbarker?

Yardbarker is the largest network of sports blogs and pro athlete blogs on the web. This site is the hub of the Yardbarker Network, where our editors and algorithms curate the best sports content from our network and beyond.