Found March 02, 2012 on Five Tool Tool:
10) Considering the rest of the roster, he's clearly on the wrong side of 309) It's not as if there's much else here with real trade value8) Once you've seen a man throw a ball at a referee, can never, you know, un-see it7) There's just something not right about a point guard that can't hit free throws 6) The Celtics have somehow talked themselves into the notion that they can get someone better for him5) Every time they threaten to trade him, he generally plays a hell of a lot better4) Part of the annual tradition of looking like a dogmeat team before flicking the switch for the playoffs3) He keeps making the tactical mistake of being black, talented and moody while playing in Boston2) Any guy that actually expresses irritation about missing the All-Star Game is just clearly too tone-deaf to be the best player on your team1) Danny Ainge is smart enough to know that this team is beyond the event horizon of winning the East, so blowing it up and starting over ...
Original Story:
http://fivetooltool.blogspot.com/2012...
THE BACKYARD
BEST OF MAXIM
RELATED ARTICLES
As March 1st and the beginning of the trade season looms large, the Celtics have been littered with potential trade rumors, some leaving Celtics fans with visions of a young athletic team dancing in their heads. Today's rumors breaking out in Celtic Nation: Rajon Rondo "aggressively being shopped" by Boston, from ESPN Boston: Boston is [...]
We've heard the whispers for a while now about the Celtics being open to trading Rajon Rondo. But suddenly the whispers have become straight up yelling. The Celtics are an older team that desperately wants to get younger and it seems counterproductive to move arguably your best player who also happens to be young.  But according ESPN's Chris Broussard, the sudden push for the...
The NBA trade deadline is approaching, and the Celtics are expected by some to be heavily involved. It sounds like that if they are involved, it will be as a seller. ESPN.com reports that the C's "aggressively" trying to trade All-Star point guard Rajon Rondo. According to the ESPN report, the Celtics "find Rondo's personality to be too high-maintenance and...
  ESPN's Chris Broussard has reported this morning that the Boston Celtics are "Aggressively" trying to trade Rajon Rondo. That is, of course, according to Broussard's infamous "Sources". There have already been a few Rondo related trade rumors in the first half of the lockout shortened NBA season, but according to this report, the Celtics are [...]
Blow-outs are boring. Who needs 'em? As we (and our Twitter followers) were applauding the stat lines of Rajon Rondo (15 points, 11 rebounds, 10 assists) and Chris Wilcox (13 rebounds, 2 steals) from the comfort of a 15-point lead with 2:27 remaining in this game, the Bucks slapped us back to reality with a 13-0 run. Suddenly, a game that appeared locked-up required four Kevin...
The Boston Celtics are aggressively trying to trade Rajon Rondo, their fourth-leading scorer and one of the best point guards in the NBA, sources told ESPN The Magazine's Chris Broussard.
by Marcel Mutoni / @marcel_mutoni Rajon Rondo is reportedly on the trading block once again. In related news, the sun rose in the East this morning. With trade rumors swirling, Rondo led the Boston Celtics to victory last night, while recording a triple double along the way (his third of the season.) According to ESPN, the C's front-office no longer wants Rajon largely because...
Despite Rajon Rondo's triple double, Celtics forced to stave off Milwaukee rally in final two minutes
7:10 p.m.: With Rondo, Kevin Garnett and Paul Pierce all reportedly drawing trade talk, two members of of the Celtics definitely will not suit up Friday for the Celtics. Ray Allen is sick and Jermaine O'Neal is contemplating season-ending surgery on his left wrist, forcing both veterans out for the game. Brandon Bass and Mickael Pietrus as slated to started in their place. The...
  Doc Rivers shot down the Rajon Rondo trade rumors and discussed the possibility of Jermaine O'Neal having wrist surgery that he may not come back from. Gerald Green discussed his weekend at the D League All-Star game before the Nets' loss to the Celtics.
Celtics News

Delivered to your inbox

You'll also receive Yardbarker's daily Top 10, featuring the best sports stories from around the web. Customize your newsletter to get articles on your favorite sports and teams. And the best part? It's free!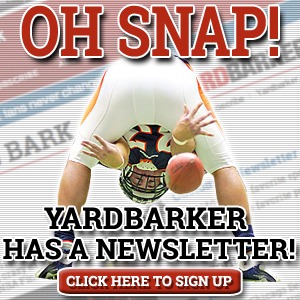 Latest Rumors
Best of Yardbarker

Today's Best Stuff

For Bloggers

Join the Yardbarker Network for more promotion, traffic, and money.

Company Info

Help

What is Yardbarker?

Yardbarker is the largest network of sports blogs and pro athlete blogs on the web. This site is the hub of the Yardbarker Network, where our editors and algorithms curate the best sports content from our network and beyond.