Found October 23, 2012 on Player Perspective:
Los Angeles Laker Dwight Howard (I hate the way that sounds!) swears he wasn't drunk when he was putting us through all that trade drama last season. I don't know if it's true or false that Dwight Howard had never tasted alcohol before he was traded from the Orlando Magic to the Los Angeles Lakers but I do know that's what he claimed according to Lee Jenkins at Sports Illustrated. Being traded to the Lakers drove Dwight Howard to drink … well, sort of. Jenkins writes that Howard, who attended high school at a Christian Academy (Ga.), felt "sheltered" upon his arrival in the NBA and wakes up early every morning to read the Bible. Until this summer, Howard says he had never had an adult beverage. [To finish reading whether I believe Dwight Howard or not click Read More] When the Magic, Lakers, Denver Nuggets and Philadelphia 76ers put the finishing touches on a complicated, blockbuster trade that sent Howard to L.A. after months and months of trade rumors and speculation, the three-time Defensive Player of the Year allowed himself a celebratory moment. On the night of Aug. 10, when Howard was dealt to the Lakers, he went to dinner at Mastro's in Beverly Hills, and a large group of strangers invited him to their private room. "They said, 'Dwight, we want to welcome you to L.A. and make a toast to you and your new journey here,' " Howard recalls. "I told them, 'Thank you, but I don't drink, I've never had a drink before.' And then I thought about it, and I was like, You know what, I think this deserves a drink." He clinked glasses and lifted one to his lips. Surely, 3,000 miles away in central Florida, there was some drinking going on too. On one hand Dwight comes off so utterly sleazy I find his story doubtful. On the other hand he's corny enough for it to be true. Bottom line: I don't know whether to believe this story or not. I mean this is the guy who spent a lot of time convincing everyone that his Christian values were important to him only to later rack up a few kids by different women. Now we're supposed to believe he bounced around all those club parties he hosted drinking only water with lime? And if he wasn't drunk all last season then how does he explain his behavior? It's one thing to say you don't drink, it's another to say you've never tasted alcohol before. Maybe he was talking about rubbing alcohol. I've never drank that either. No, seriously. I haven't. I know no one really cares if a grown adult male AND FATHER drinks alcohol or not, but for kicks, do you believe this or no? For the record, a thug like myself had alcohol for the first time in elementary school. I mean, I drank out of my mom's beer when she wasn't looking but the point is I wasn't a liquor virgin at 26 years old like this young man claims to be. Related Posts:What's better? Direct insults or throwing shade – Grantland – Adrian Wojnarowski EditionAthletes love personality glasses – a mini-look bookProfile: Howard Shatsky of Professional Football ManagementLamar Odom's Behavior Is What David Stern is Trying to PreventComedian Nails Kobe Bryant Meltdown – Plus A Look At The "What, Me Worry?" Lakers
Original Story:
http://feedproxy.google.com/~r/Player...
THE BACKYARD
BEST OF MAXIM
RELATED ARTICLES
They may have lost to the Sacramento Kings, but the Los Angeles Lakers pulled out a win in one respect on Sunday.   Please Click Here To Read This Story
Los Angeles Lakers center Dwight Howard left public address announcer Lawrence Tanter hanging on an attempted fist bump before Tuesday night's NBA preseason game at the Staples Center. Popout To be fair, Howard appeared to be looking into the crowd and likely didn't see Tanter offering the fist pump, but it certainly made for an awkward moment. Hopefully, Howard can...
In the building Dwight Howard's exploits helped build it's hard to find even the smallest remnant of the former Orlando center these days. The photographs, murals and other likenesses that once adorned virtually every other crevice inside the Magic's Amway Center have been scraped away, now just painful reminders of championship aspirations never realized. After taking...
Latest Dwight Howard musings, Howard feels he should've won "Defensive Player of the Year" last season. "I thought I should have won it last year, to be honest with you," Howard told reporters after practice Monday. "I was a little bit upset about that." [...] "I felt like I did my job to win it. [...]
LeBron James has traversed the rockiest terrain of stardom and ambition: From beloved prodigy to betrayer of the place that drafted him and loved him most to uncomfortable villain to brutal failure to, now, NBA champion. Two years. One long journey. And, in transitioning from The Decision to The Debacle to The Champion, a rewriting of the zeitgeist and the very functioning of...
Dwight Howard played his first NBA minutes during Sunday's preseason game between the Lakers and the Kings. Howard had a decent Lakers debut scoring 19 points, pulling down 12 rebounds and blocking 4 shots. But as expected, all of his game isn't completely there yet. Namely, the part of his rebounding game where he can effectively box-out his man. Kings rookie Thomas Robinson...
In an industry in which DUI arrests are more rampant than the common cold, Dwight Howard apparently lays off the sauce completely. Dave McMenamin, who covers the Lakers' beat for ESPN.com, sent out a tweet Monday that revealed some things he didn't know about Howard before training camp. Among the interesting facts: Howard wears glasses only because he has...
The news of this NBA off season has no doubt been the trade of Dwight Howard to the Lakers. Howard, who was recovering from back surgery, played his first preseason for the Lakers over the weekend against the Kings. In that game Kings rookie, Thomas Robinson welcomed Howard back to action. Off a Kings three pointer missed shot Robinson took the rebound and threw down a one handed...
On one side of the Los Angeles Lakers' practice court, Dwight Howard is shooting free throws and talking defense with Pau Gasol. On the other end, Kobe Bryant and Steve Nash are plotting out a pick-and-roll play with step-by-step precision. And somewhere in the middle, Metta World Peace's mind is blowing. ''Everybody on the starting five has led their own team and...
Every October, while you are trying to figure out a quirky name for you fantasy football team (the name of my historically bad team is "Ochostinko"), NBA GM's are filling out their annual survey. And very often, these surveys follow the lines of conventional thought. Which makes me wonder if (a) these GMs are actually filling these things out or (b) they are just putting...
NBA News

Delivered to your inbox

You'll also receive Yardbarker's daily Top 10, featuring the best sports stories from around the web. Customize your newsletter to get articles on your favorite sports and teams. And the best part? It's free!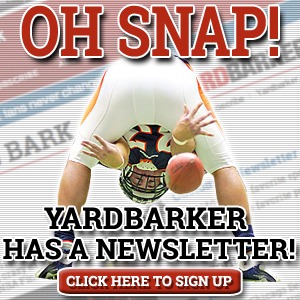 Latest Rumors
Best of Yardbarker

Today's Best Stuff

For Bloggers

Join the Yardbarker Network for more promotion, traffic, and money.

Company Info

Help

What is Yardbarker?

Yardbarker is the largest network of sports blogs and pro athlete blogs on the web. This site is the hub of the Yardbarker Network, where our editors and algorithms curate the best sports content from our network and beyond.