Found March 01, 2013 on Rumors and Rants:
Every once in a while Kobe Bryant reminds us how amazingly athletic he actually is. Bryant may not throw down thunderous dunks like he used to, but on occasion he'll bust out some pretty sweet finishes. Thursday night during the Los Angeles Lakers' 116-94 win over the Minnesota Timberwolves. Bryant scored 33 points in three quarters and wasn't needed in the fourth on Thursday night. He was 13-of-22 from the field, with five rebounds, five assists and two steals. Bryant had two sick throw-downs on the night, and then had another great finish at the rim plus a foul. Check out the videos after the jump. In the first quarter, Bryant drove right by Derrick Williams and dunked right over Nikola Pekovic. In the second quarter, Bryant drove the length of the court, went right by Ricky Rubio and threw down the best dunk we've seen from him in a while. Later in the second, Bryant snuck past Luke Ridnour before getting into the lane. He rose up to dunk it again, but instead took a hard fo...
Original Story:
http://rumorsandrants.com/2013/03/vid...
THE BACKYARD
BEST OF MAXIM
RELATED ARTICLES
AP.9 is best known for taking some Twodel style pictures with Ice T's wife CoCo. Once he saw how that got him a little bit of attention, he has starting attention whoring to the highest degree of attention whoring. I was trying to take him seriously, but then he started talking about taking 12 bullets and I started to tune him out. With that being said, he suggests he had an affair...
While LeBron and DWade were busy posting fun stuff to their Twitter account like The Heat's Harlem Shake video – FUNNY, make sure you watch that even if you hate every other video you've seen of it. Kobe Bryant was announcing he'd required a new nickname, Vino. But he's not giving you the meaning behind it. You have to figure out a brain teaser in order to understand the...
I'm not one to condone violence, but what the hell, we're all adults here! Roy Hibbert's little scuffle with David Lee, earlier this week, sent me on a hour-long YouTube bender pulling up some of the greatest NBA fights of all time.  When brainstorming #ThrowbackThursday ideas, I immediately thought Malice in the Palace. That fight was so major, folks thought it would be the...
As the Los Angeles Lakers cruised to an easy 114-96 win over the Minnesota Timberwolves on Thursday night, Lakers star Kobe Bryant turned back the clock and provided a classic 33-point performance. Four of those thirty-three points came off incredible slam dunks and below is each of those Kobe throwdowns:
One day, it is Dwight Howard's shoulder. The next day, it is Kobe Bryant's excessive shooting, or his excessive passing. The day after that, it is the Lakers' shaky transition defense. Game after game, the great mystery that is this Lakers team receives a new explanation. When they win, it is evidence that they should be better. When they lose, it is proof that they are as...
Following the Lakers' win over the Timberwolves on Thursday night, Kobe Bryant had something to say about his teammate. Kobe's killer quote of the night was likening Antawn Jamison to "a cockroach": "He keeps finding the cracks." — KEVIN DING (@KevinDing) March 1, 2013   Pretty spot on, seeing that cockroaches can live forever and live through hell. Article found...
SHINY HAPPY PEOPLE
While the season has not gone as planned, both Steve Nash and Dwight Howard -- and even Kobe, in a way -- said that the run for a postseason berth could be fun.
LOS ANGELES (AP) -- Kobe Bryant scored 33 points and Antawn Jamison added 17 in the Los Angeles Lakers' 21st consecutive victory over the Minnesota Timberwolves, 116-94 on Thursday night. Bryant and Jodie Meeks each hit four of Los Angeles' 16 3-pointers, and Meeks finished with 16 points. The Lakers (29-30) have won 12 of 17 and five of seven while moving within two games...
Michael Jordan, Kobe Bryant and Steph Curry.  All have dominated at the Mecca of basketball, Madison Square Garden.  Above is a video of all 11 three pointers that Steph hit on his way to 54 points. Last night was a plethora of great performances and as a Laker fan on reddit highlighted: Stephen Curry - 54 points, 7 assists, 6 rebounds[1] , (11/13 from 3pt land) Carmelo...
With a win last night, the Los Angeles Lakers have pulled within two games of the Houston Rockets for the eighth and final playoff spot in the Western Conference. The Lakers are 4-1 since the All-Star break and 11-5 in their last 16. Kobe Bryant guaranteed the team would reach the postseason and Steve Nash is starting to really adapt to the Lakers' role that went from juggernaut...
Los Angeles Lakers center Dwight Howard won a gold with Team USA in the 2008 Beijing Games but missed last summer's London Games due to back surgery, he plans to play in 2016. Asked if he will play for Team USA in Brazil, Howard said: "No doubt."
Mired in a disappointing season, the Los Angeles Lakers have been resurgent of late. But they've still showed they have a thin margin for error, particularly with turnovers and free-throw shooting. That margin may be a little wider than usual Thursday night when they try to extend their run of 20 straight wins over the struggling Minnesota Timberwolves - the longest active streak...
NBA News

Delivered to your inbox

You'll also receive Yardbarker's daily Top 10, featuring the best sports stories from around the web. Customize your newsletter to get articles on your favorite sports and teams. And the best part? It's free!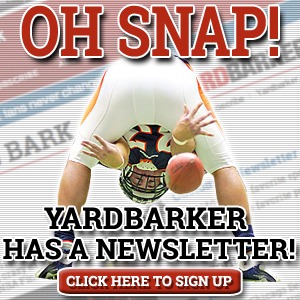 Latest Rumors
Best of Yardbarker

Today's Best Stuff

For Bloggers

Join the Yardbarker Network for more promotion, traffic, and money.

Company Info

Help

What is Yardbarker?

Yardbarker is the largest network of sports blogs and pro athlete blogs on the web. This site is the hub of the Yardbarker Network, where our editors and algorithms curate the best sports content from our network and beyond.