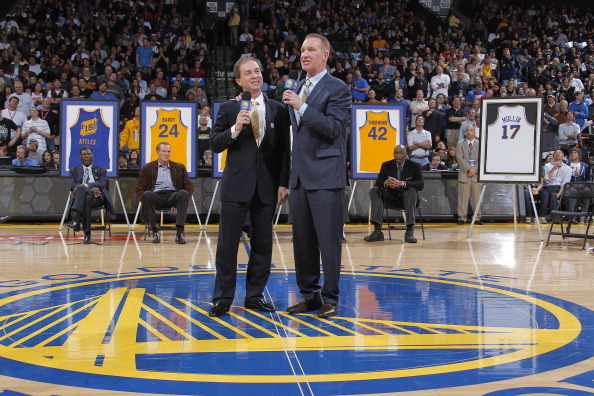 What was supposed to be a night of celebration turned into one of contention at Oracle Arena in Oakland Monday.
The Warriors held a ceremony to retire franchise legend Chris Mullin's jersey at halftime of the team's game against the Timberwolves. The problem began when team owner Joe Lacob went to talk after Chris Mullin gave his speech. The fans began booing Lacob, chanting "We want Monta" — a reference to fan favorite Monta Ellis, who was traded to the Bucks last week.
Lacob had to step aside because of all the boos and was comforted by Mullin, who reminded the fans to be patient. Next Hall of Famer Rick Barry grabbed the mic and chastised the fans, calling them classless, and telling them to "give [Lacob] the respect he deserves."
Lacob, clearly rattled, took the mic again and rushed through the rest of his speech.
We understand Warriors fans are upset Monta was traded, and unhappy with many of the team's recent decisions, but this was not the right time or place to show their anger. And here we were thinking Lacob was feeling the backlash from his fiancee the most. Guess not.
MORE FROM YARDBARKER
NBA News

Delivered to your inbox

You'll also receive Yardbarker's daily Top 10, featuring the best sports stories from around the web. Customize your newsletter to get articles on your favorite sports and teams. And the best part? It's free!