Found January 21, 2013 on NBA 24/7 365:
PLAYERS:
Serge Ibaka
,
Corey Brewer
,
Russell Westbrook
,
Pau Gasol
,
Steve Nash
,
Kobe Bryant
,
Ed Davis
,
Earl Clark
,
Dwight Howard
,
Vince Carter
,
Doc Rivers
,
Andre Drummond
,
Lawrence Frank
,
Brandon Bass
,
Jared Sullinger
,
Kevin Mchale
,
Jeremy Lin
,
James Harden
,
Chris Johnson
,
Mickael Gelabale
,
Zach Randolph
,
Carlos Boozer
,
Nate Robinson
,
Rudy Gay
,
Jimmy Butler
,
Marco Belinelli
,
Vladimir Radmanovic
,
Jerryd Bayless
,
Tony Allen
,
Al-Farouq Aminu
,
Jarrett Jack
,
Carl Landry
,
David Lee
,
Richard Jefferson
,
Ekpe Udoh
,
LaMarcus Aldridge
,
Brandon Jennings
,
Ersan Ilyasova
,
Randy Wittman
,
John Wall
,
Chris Paul
TEAMS:
Oklahoma City Thunder
,
Denver Nuggets
,
Los Angeles Lakers
,
Toronto Raptors
,
Dallas Mavericks
,
Detroit Pistons
,
Boston Celtics
,
Houston Rockets
,
Memphis Grizzlies
,
Chicago Bulls
,
New Orleans Pelicans
,
Golden State Warriors
,
Milwaukee Bucks
,
Portland Trail Blazers
,
Los Angeles Clippers
Nuggets 121, Thunder 118 (OT) ***This entire game was an officiating disaster.  Sixty-one personals and two technical fouls were doled out by Bill Spooner, Zach Zarba, Mark Lindsay, who obviously blew their whistles a lot but failed to do so with any sort of consistency.  In overtime, they called three illegal screens on Oklahoma City (two of which were pretty ticky-tack) before allowing Serge Ibaka to land a pair of hits that were fit for the NFL.  Fortunately, the refereeing was so bad overall that it's hard to argue that it favored either team. ***The difference in this game?  Corey Brewer.  Denver's sustainable energy source outscored the entire Thunder bench 26-18.  He made three threes in the fourth quarter and brought his usual all-around hustle to the table with six rebounds, three assists, a steal, and a blocked shot. ***Russell Westbrook is an abrasive character.  The type that would be so brash as to goaltend a mascot's halfcourt shot… …twice.  Westbrook, obvious giver of not a single ****, was in rare form throughout the night; he scored a season-high 36 points and sunk the three-point shot that led to overtime, but he also finished 10-26 with 7 turnovers.  In the end, Rocky and the Nuggets got the last laugh… but Russell still ought to be nominated for Hater of the Year.  I mean, goaltending a shot by the mascot? Silky Johnson himself would be proud. Raptors 108, Lakers 103 ***As badly as Pau Gasol and Steve Nash were abused at the defensive end (Calderon + Davis = 40) throughout the entirety of their combined 69 minutes and 33 seconds of unathleticness, the Lakers desperately could've used another 81-point effort out of Kobe Bryant.  Instead, they got one of the worst games of his life.  Having finished with 26 points on a frightening 10-32 from the floor, Kobe damn near missed a shot for every point he scored.  The really scary part?  That accounts for his fourth-quarter streak of relative hotness.  Prior to knocking down consecutive three-pointers and making four of his last eight shots, Bryant had gone 6-24 — that's 25% — for 15 points.  That computes to a putrid point-to-brick ratio of .833.  Yikes. ***Allow me to backtrack for a moment and touch on the aforementioned defensive struggles of Steve Nash and Pau Gasol.  Actually, I'm going to leave Nash out of this because I think he actually cares.  Paul Gasol, though… what the **** is wrong with this guy?  I've kind of been giving him a pass because he's been struggling through various injuries, but if he's healthy enough to insist on starting and score 25 points then he's healthy enough to give defense and rebounding the ol' college try.  Pau Gasol's defense was atrocious in this game, and his effort on the boards was no better.  Just look at the box score — Ed Davis destroyed him.  If I'm Mike D'Antoni, Earl Clark is starting in Chicago tonight.  At 17-23, I need men on the floor who can be counted on to fight harder than this. ***Needless to say, Dwight Howard's disqualification was the lamest ejection to take place in Toronto since Vince Carter slapped Mo Peterson. That's Ken Mauer for you. Pistons 103, Celtics 88 ***When the Pistons pulled out to a 20-10 lead, Doc Rivers aimed to exploit Andre Drummond's struggles from the free-throw line.  This strategy failed miserably as Drummond went 6-8 from the stripe and scored a team-leading 16 points.  He dunked on the Celtics five times (three lobs from Bynum) and dominated the painted area during the 20 minutes that Lawrence Frank allowed him to play.  So basically this was typical Pistons game except that they won in a blowout. ***This was the Celtics' fourth consecutive double-digit loss to the Pistons and third straight loss overall.  Afterwards, Doc Rivers was none too pleased.  Via The Boston Herald… "It was awful. We're playing awful. I mean, I'm clearly not doing my job with this team, and I'm serious. I ain't trying to take a bullet for the team, and I told them that. I said, 'We've got to find something where every night all 12 guys play the same way.' And we did it for three games in a stretch. I told them that Games 4 and 5 in that (six-game) winning streak were garbage. We just won the game." "I think this team wants everything easy. They want the easy way out. They want to win easy." "We're taking the wrong approach. So I've got to either find the right combination, the right guys, or we're going to get some guys out of here." Assuming Doc means business, I think this could be the end (at least temporarily) of Brandon Bass as a starter.  Bass played just 10 minutes to Jared Sullinger's 22 in yesterday's loss and has been generally disappointing all season long.  Rivers isn't about to bench Rondo, Bradley, Pierce, or Garnett, obviously, so the hammer has got to come down on Bass if the hammer is indeed coming down. Timberwolves 92, Rockets 79 ***The Rockets were whistled for FIVE traveling violations and one double-dribble in this game, their seventh straight loss.  They shot 32% from the floor and turned the ball over a total of 20 times. ***With his Rockets trailing 38-44 at the half, Kevin McHale attempted to make a statement by starting D-League call up Patrick Beverley rather than Jeremy Lin in the third quarter.  Beverley sabotaged McHale's plan by racking up a turnover, three dumb fouls, and a technical foul over a span of 22 seconds. ***This represents the third straight game in which James Harden has made fewer than 30% of his shots.  He's missed 57 threes in the month of January and 57 of his last 80 shots overall. ***The Wolves got 23 consecutive fourth-quarter points from 10-day contract signees Chris Johnson and Mickael Gelabale. Grizzlies 85, Bulls 82 (OT) 0:39    Zach Randolph chokes free throw 1 of 2  ::  83-80 0:39    Zach Randolph chokes free throw 2 of 2  ::  83-80 0:37    Carlos Boozer defensive rebound 0:36    Bulls Full timeout 0:25    Mike Conley blocks Nate Robinson's first attempt to be a hero :: 83-80 0:23    Rudy Gay defensive rebound 0:21    Rudy "Pass? Why? I'm Getting Traded" Gay lost ball turnover (Jimmy Butler steals) 0:14    Nate Robinson misses 23-foot second attempt to be a hero :: 83-80 0:12    Carlos Boozer offensive rebound 0:12    Marco Belinelli tries a four-pointer for the win, but that's actually the out-of-bounds line 0:12    Grizzlies Full timeout 0:12    5 sec inbound turnover because Vladimir Radmanovic scares Mike Conley 0:12    Bulls 20 Sec. timeout 0:06    Nate Robinson actually makes third attempt to be a hero (Marco Belinelli assists — wait, what? How is this an assist?!) :: 83-82 0:04    Jerryd Bayless isn't even forced to make two free throws (Tony Allen assists) :: 85-82 0:00   Bulls lose in the most hilarious fashion :: 85-82 Warriors 116, Pelicans 112 ***Though the Pelicans blew a seven-point fourth-quarter lead and ultimately failed to secure what would've been an impressive victory, an examination of the box score reveals promising performances from many of their young players.  First and foremost, Anthony Davis did long-arm things as he recorded a January high of 20 points to go along with 12 boards.  Al-Farouq Aminu, who killed the Celtics in his previous game, also recorded a double-double with 14 and 10 on 7-9.  Even Austin Rivers was relatively good, finishing with eight points on 4-6.  Robin Lopez and Jason Smith, on the other hand, collected a grand total of 0 (ZERO) rebounds in 36 minutes despite combining to be 14 feet tall. ***Former Pelicans Jarrett Jack and Carl Landry had nice revenge games.  Landry started in place of the injured David Lee and recorded an 11/11 double-double while Jack came off the bench to score 25 points and dish 12 assists. ***Richard Jefferson is alive… …and making $10 million this year. Bucks 110, Blazers 104 ***How large a second-half cushion did the Bucks need to beat the Blazers by six?  Only 22 points.  Portland nearly worked their magic against Milwaukee as they put together a 12-0 run beginning at the 3:40 mark of the fourth.  They'd closed to within four with just under a minute to play, but a costly missed call (Ekpe Udoh got away with tripping LaMarcus Aldridge) that resulted in a turnover would put an end to their comeback.  Unfortunately, the Blazers' tendency to fall behind before making these crazy comebacks leaves them especially susceptible to such unlucky breaks.  They've fallen to 20-20 on the season now with five straight losses. ***Brandon Jennings vs Damian Lillard was as every bit as much fun as you'd hoped it would be.  The two combined to score 56 points — 30 for Jennings and 26 for Lillard — 20 of which came in the fourth quarter. ***Ersan Ilyasova sighting!  The slumping Buck exploded for season highs of 27 points and 14 rebounds, earning his keep for a change. Clippers 94, Wizards 87 ***As he tends to, Joey Crawford made himself the center of attention when he blew a gasket in the third quarter.  After calling a technical foul on Randy Wittman and a delay of game on the Clippers, a furious Crawford could clearly be heard screaming various things, including "GIVE ME THE GODDAMN BALL!!!" This can't possibly constitute acceptable referee behavior, can it?  How is a man this emotionally unbalanced supposed to call a fair and consistent game?  I'm no conspiracy theorist, but the fact that the NBA continues to turn a blind eye to Crawford's questionable mannerisms is something that sometimes brings me to question the integrity of the game. ***Credit the Wizards for hanging around, but they did some awfully Wizard-y things in the last two minutes of what had been a two-point game.  I hate to say it, but John Wall kind of blew it by failing to tie the score at the free-throw line before carrying the basketball on a crucial possession within the final minute.  To make matters more humiliating, Wall played Bryon Russell to Chris Paul's MJ on the game's conclusive field goal.  Oh, and before before that, there was this.  Yeah… not such a good night for John Wall, even though he did have 24 points.
Original Story:
http://nba247365.com/?p=9795
THE BACKYARD
BEST OF MAXIM
RELATED ARTICLES
The Kings probably became the Sonics yesterday, but it didn't help their defense any.  In a 114-105 loss to the Pelicans, the Sonics allowed Ryan Anderson to get free for 14 three-point attempts, 7 of which he converted into 21 of his team-high 27 points.  A similar lack of resistance was present on the interior, where Eric Gordon and company were allowed to drive straight lines...
Nobody would think the 26-13 Memphis Grizzlies would be willing to trade their team, especially while being fourth in a tough Western Conference. The rumors are swirling that small forward Rudy Gay was on the trading block and now rumors are strong that it's power forward Zach Randolph who's on the trading black instead. According to Hoopsworld's Alex Kennedy, the...
Since becoming disabled I've had the honor of writing the recap articles each Martin Luther King Jr. Day. In healthier times I would travel to Atlanta and participate in the annual march once even having the sublime honor of walking alongside Dr. King's widow Coretta. There is a lot going on today for sports fans, not the least of which is the NBA-announced approval of the Kings...
CHARLOTTE, N.C. - James Harden scored 29 points, including 10 free throws in the final six minutes, as the Houston Rockets rallied to beat the Charlotte Bobcats 100-94 on Monday afternoon. Harden was just 5-of-20 from the field, but found a way to get to the line and was 19-for-21 from the stripe. He was a perfect 10-of-10 from the line down the stretch, including two with 40.2...
NBA News

Delivered to your inbox

You'll also receive Yardbarker's daily Top 10, featuring the best sports stories from around the web. Customize your newsletter to get articles on your favorite sports and teams. And the best part? It's free!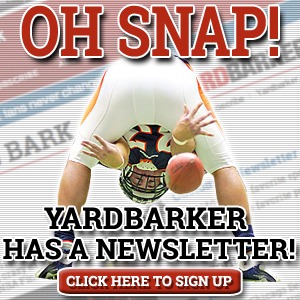 Latest Rumors
The Backyard

Today's Best Stuff

For Bloggers

Join the Yardbarker Network for more promotion, traffic, and money.

Company Info

Help

What is Yardbarker?

Yardbarker is the largest network of sports blogs and pro athlete blogs on the web. This site is the hub of the Yardbarker Network, where our editors and algorithms curate the best sports content from our network and beyond.