Found April 19, 2013 on Waiting For Next Year:
While We're Waiting serves as the early morning gathering of WFNY-esque information for your viewing pleasure. Have something you think we should see? Send it to our tips email at tips@waitingfornextyear.com. "The Cavaliers were designed to lose. To brave a few tough seasons and take advantage of a series of upcoming draft picks and the stash of salary cap space that the team smartly went after in the wake of the 2010-11 disaster. Byron Scott was not hired to lead this team to a surprise run to the eighth seed, even if Varejao and Irving stayed healthy the entire season. This franchise, intelligently, is in it for the long haul. And because they've seen such little progress even while working through the rebuilding caveats, they've garnered enough information needed to deduce that Byron Scott is not the man they want for the second part of this turnaround job. The next voice? Between Irving, those draft picks, and that cap flexibility, the Cavaliers should have their pick of the litter. Make all the 'Cleveland' jokes you want, NBA fans, before you come to terms with the fact that this is an enviable gig. This is a team looking to turn the corner, the right way. Finally." [Dwyer/Ball Don't Lie] —- "What I'm more inclined to believe is Scott was fired for reasons less apparent in the standings and more apparent on the court: the puzzling substitutions patterns, the lack of ingenuity on offense (especially down the stretch), the damn high-pressure defensive system that was at least partially to blame for the Cavs' historically bad opponent shooting percentages over the past three seasons. Perhaps this group of players was too young, too disparate to achieve respectability, but Scott could never assemble them in a way where it became easy to see where the future might lead. If the rumors are true, the players might have been divided as to whether he knew what he was doing. As of this morning, I'm certain the Cavs have talent, but I'm uncertain how that talent fits together and how each players' individual skills can best serve the team's success. A great coach is a great sense-maker, and this team is still gibberish in motion." [McGowan/Cavs the Blog] —- "Only ten players in A.L. history have had a strikeout rate of at least 30% in a qualified season, right now the Tribe has three such players (the record was set by Adam Dunn last year, at 34.2%). Strikeouts are only marginally worse than other outs, but the options for a PA that ends in an strikeout weren't just other types of outs, they could have become walks or hits, even home runs. The Indians' strikeout rate right now is 23.2% (115 K in 495 PA). The American League's combined strikeout rate last season was 19.3% (a record high). That additional 3.9% amounts to 19 additional strikeouts so far." [Lukehart/Let's Go Tribe] —- "But this is life in the National Basketball Association. It's where young, entitled players refuse to defend because they know they have more power than the coach. Only seven of 30 coaches have been with their current teams for four years. Scott had the third-most seniority in the Eastern Conference, in his third season with the Cavs. But something else has to change, besides the "defensive schemes" that Grant believes are a major problem. The roster has to be upgraded, and not just with the two first-rounders coming in this draft. The franchise can't charge fans big money to watch a team on training wheels, a core group of players of whom most aren't old enough to rent a car. Not for a fourth year in a row." [Pluto/Cleveland.com] —- "If Gilbert is smart, his first call is to Jackson. That doesn't mean Jackson will bite. He's made it clear he wants control in the personnel decisions, and that's not going to happen in Cleveland because Chris Grant has done a terrific job. Yet, if you're Jackson, do you pass on the chance to possibly — possibly — coach LeBron? And if you're LeBron, do you pass on the chance to return to Cleveland, join a much better surrounding cast than the one you left two years ago, play for Jackson and warm your way back into the hearts of a jilted city? It's a scenario that's almost too good to be true. And yet, if everything falls right, it can happen. And it would be the biggest news to hit the NBA since LeBron left for Miami and hooked up with Pat Riley, Dwyane Wade and Chris Bosh in 2011." [Powell/Sports on Earth]
Original Story:
http://www.waitingfornextyear.com/201...
THE BACKYARD
BEST OF MAXIM
RELATED ARTICLES
INDEPENDENCE, Ohio -- When people asked for my take on Byron Scott before the season, I said two things: 1. Its not often a coach misses the playoffs for three straight years and holds on to his job. 2. The Cavaliers bad losses at home need to end. Neither happened, and Scott was fired Thursday. Scotts first problem was the Cavs defense. Not only did opponents regularly shoot...
INDEPENDENCE, Ohio — Byron Scott's days of trying to turn around the Cavaliers are done. Scott was fired Thursday following a third straight losing season with Cleveland, an 82-game rollercoaster that included injuries, blown leads and a dismal final few weeks. Scott went 64-166 in his three years with the Cavs, who were weakened by injuries this season but also showed little...
The Cleveland Cavaliers have decided to part ways with head coach Byron Scott, per a report from the Akron Beacon-Journal. "I have tremendous respect for Byron professionally and a great deal of admiration for him personally. At the same time, it is critical for where we are as a team to ensure that we capitalize on every opportunity for development and success and we have fallen...
The Cleveland Cavaliers have reportedly fired head coach Byron Scott after only three seasons of coaching. He will be exiting with a 64-166 record and his .278 winning percentage which is the lowest in team history among all coaches (minimum one full season). According to Ohio.com: Rumors over Scott's future intensified over the past couple of weeks as the Cavaliers regressed...
The Cleveland Cavaliers have released Head Coach Byron Scott, 52, the team announced today. The Cavaliers' record during Scott's tenure was 64-166, including a 24-58 mark this season. "I have tremendous respect for Byron professionally and a great deal of admiration for him personally. At the same time, it is critical for where we are as a team to ensure that we capitalize...
Byron Scott believes he was not given a fair chance to turn the Cleveland Cavaliers' situation around.
BallertainmentByron Scott sent packing by Cleveland Cavaliers Coach Byron Scott has been fired by the Cleveland Cavaliers. Three losing seasons and poor defensive output saw to that. Of his firing, Scott said… I want to thank (general manager) Chris Grant, (owner) Dan Gilbert and the Cavaliers organization for the opportunity I had to coach this team the last three seasons,"...
In my usual half-rapid fire, half-prose form, I'm here today with another edition of The Boots. Again, for those unfamiliar with this feature, I assign loosely defined "Boot Up" or "Boot Down" votes to trending topics in the sports world. Let's talk basketball again today. Boot Up: Slotting in at No. 3 – That's not necessarily what Cavs fans were hoping from the 2012...
I still remember the day Byron Scott was hired to coach the Cleveland Cavaliers. I remember driving in my car and thinking to myself, "You know, I think I really like this hire. Even if LeBron does leave, at least the Cavaliers will play an exciting brand of basketball and be fun to watch." Three years later, Byron Scott is no longer the coach of the Cavaliers, and I find myself...
Kyrie Irving seemed particularly distraught about the news that Cavaliers coach Byron Scott had been fired Thursday.
The first time Byron Scott was fired, Lawrence Frank took his job. Now they're both looking for work, and the NBA's coaching carousel is already spinning in three cities. Scott was fired by the Cleveland Cavaliers, Frank was ousted by the Detroit Pistons and Doug Collins resigned as coach of the Philadelphia 76ers, all three Thursday, a day after the end of the regular season...
NBA News

Delivered to your inbox

You'll also receive Yardbarker's daily Top 10, featuring the best sports stories from around the web. Customize your newsletter to get articles on your favorite sports and teams. And the best part? It's free!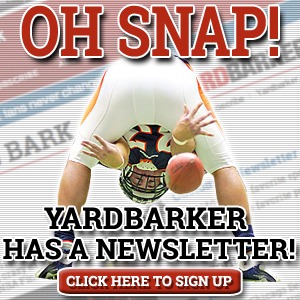 Latest Rumors
Best of Yardbarker

Today's Best Stuff

For Bloggers

Join the Yardbarker Network for more promotion, traffic, and money.

Company Info

Help

What is Yardbarker?

Yardbarker is the largest network of sports blogs and pro athlete blogs on the web. This site is the hub of the Yardbarker Network, where our editors and algorithms curate the best sports content from our network and beyond.