Found June 05, 2013 on Waiting For Next Year:
"While We're Waiting" serves as the early morning gathering of WFNY-esque information for your viewing pleasure. Have something you think we should see? Send it to our tips email at tips@waitingfornextyear.com. Wow. Really Danny? "Which is why the Atlanta Hawks could be in a whole lot of trouble. As a fan and member of the media, I can point out that the Hawks began clearing cap space for a run at Howard and Paul last summer. New general manager Danny Ferry made quick work of the above-average ceiling so happily clung to by his predecessor, but because of that smart decision the team and its fans are facing an uneasy future that could result in a Howard and/or Paul-less training camp. That's a hard sell to season ticket holders, which is why the Hawks reportedly sent out a letter to potential ticket buyers talking up a future that specifically mentions Mssrs. Howard and Paul." [Dwyer/Ball Don't Lie] —- "Listen, it's a player's league," Popovich told me on the eve of his last banner raising. "I think it's very important for a coach to make sure that his players believe 100 percent – and not with lip service – that it's about them. Coaches are going to do everything they can to create that environment for them. It's not about creating an environment for us. It's a privilege to be able to coach these guys. We make enough money. The other stuff is just a waste of time as far as talking about quality of life." [Wojnarowski/Yahoo] —- "I expect Nerlens Noel to be one of the most dominant defensive players of his generation. He has all the tools to be a stopper like the Cavs have never had inside. I'll go as far as saying that Noel could very well end up leading the league in steals AND blocks. He can defend all the way to the three point line. Has mesmerizing quickness off his feet and quick hands as well, and under the patronage of Mike Brown I have no doubt he'll become such a good pick & roll defender that he will make Kyrie Irving look good on defense. Having such a player is a game changer in the NBA. The Milwaukee Bucks are one of the best defenses in the league just because they have Larry Sanders inside. Noel will be even better than Sanders at protecting the rim. As a defensive anchor, and a guy who will lead by example, Noel will not be a star the way NBA players usually become stars (by scoring an insane amount of points) but will make watching Cavs basketball that much more fun. When it comes to the 2013 Draft, I think Nerlens Noel will be the best player in this class ten years from now. There is sort of an uncertainty around him (only played 27 games, torn ACL, no offensive game at this point) but I think he will overcome that and be remembered as the consensus number one pick he should be today." [Jackson/Stepien Rules] —- Ebay item of the month. You're welcome. [Ebay] —- "Ah, but what about the difficult reception Swisher received last fall from fans, when he struggled in the postseason? Back then, it wasn't awesome. It was "really tough." But Swisher didn't even let a reporter get that question out. "Oh, man? Live in the now, bro! You're just trying to stir it up again," Swisher said, and he was smiling, but his words weren't. "That was something that happened so long ago, you know, I thought we kind of handled that, kind of squashed that as-is, but to put it in that terms… are you asking me am I nervous about it?" The reporter said he was. And Swisher was back on familiar ground, projecting limitless excitement about the future." [Megdal/Sports on Earth]
Original Story:
http://www.waitingfornextyear.com/201...
THE BACKYARD
BEST OF MAXIM
RELATED ARTICLES
MILWAUKEE -- While Larry Drew was in the middle of describing his first extended look at the city of Milwaukee, a cell phone rang. "That's a fine," Drew said without hesitation. As it turns out, it was his wife Sharon's iPhone. It's tough to be the wife of a coach. While the exchange was light-hearted and everybody laughed about it afterward, it was a well-timed...
Not sure why, but I find this to be one of the best and most random items the Internet has provided today.  The Hawks' Zaza Pachulia took to Twitter to send Kyle Korver a quick hello, and check out what he sent the young man.  Zaza definitely meant in a harmless and joking way, but it is still hilarious whichever way you look at it. Hi @kylekorver Lol twitter.com/zaza27/status...
The Atlanta Hawks plan on being big spenders this offseason with the ton of salary cap room the will have heading into free agency. But they may have just shot themselves in the foot due to an overzealous ticket-sales department that sent out emails mentioning two high-priced free agent names that happen to be the biggest targets this summer. Everybody around the NBA suspects that...
((ht: ajc.com)) Well, that's another fine mess the marketing department may have made. According to a report Tuesday afternoon in the Atlanta Journal-Constitution, the Atlanta Hawks sent a letter to possible season-ticket buyers that mentions the possibility of the team acquiring Dwight Howard and Chris Paul. Problem is: It may have violated the NBA Anti-Tampering policy...
It goes without saying that the Atlanta Hawks would love to have free agents-to-be Dwight Howard and Chris Paul join them next season, the team's first under new head coach Mike Budenholzer. Unfortunately, the Hawks reportedly went ahead and said it -- and now the team could be in trouble with the NBA for violating the league's anti-tampering policy as a result. According...
We here at That NBA Lottery Pick would like to wish Atlanta Hawks forward Al Horford, "A Happy 27th Birthday" and well, Mr. Horford posted a celebratory photo to his Twitter account only a few short moments ago. Clearly, I don't think the sunglasses are a good look for Al:  
Atlanta is expected to have somewhere near $35 million in cap space available to it this summer. There is little expectation the Hawks will re-sign Josh Smith (more of a mutual split) and so the Hawks are moving forward and looking to make a splash this summer in free agency. It is a poorly kept secret that Atlanta is going after the two biggest fish in the free agent sea: Dwight...
According to The Atlanta Journal-Constitution, the Atlanta Hawks may see a huge fine from the NBA for possible tampering.  The NBA has an anti-tampering rule that teams must obey.  Of [...]
Chris Paul and Dwight Howard coming to Atlanta? If you listen to the Hawks' sales department they are. So let's not make too big of a deal about this Atlanta Hawks "tampering" fiasco. Yes, it's bad...but it's not going to tear down the franchise. We hope. It was a stupid mistake by some sales & marketing whiz (a "single ticket rep with no...
The Atlanta Hawks may have jumped the gun a bit by using the names of impending free agents in an attempt to boost their ticket sales, and the NBA could make them pay for it. A recent letter that was sent to prospective ticket buyers hyped up the possibility of Atlanta making a run at [...]
The Atlanta Hawks may have committed a violation of the NBA's anti-tampering policy by mentioning Dwight Howard and Chris Paul in a letter sent to prospective ticket buyers. The letter was sent from the marketing department: "Hot New Player news: Chris Paul and Dwight Howard." It began with the statement: "The buzz around our offseason is more than heating up. With massive...
If the Atlanta Hawks were hoping to make a big free-agent splash this offseason, this probably wasn't the kind of start they had in mind. According to the Atlanta Journal-Constitution, a recent letter sent by the Hawks to prospective ticket buyers may have violated the NBA's anti-tampering policy by mentioning Lakers center Dwight Howard and Clippers point guard Chris Paul...
NBA News

Delivered to your inbox

You'll also receive Yardbarker's daily Top 10, featuring the best sports stories from around the web. Customize your newsletter to get articles on your favorite sports and teams. And the best part? It's free!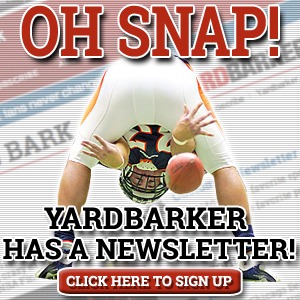 Latest Rumors
Best of Yardbarker

Today's Best Stuff

For Bloggers

Join the Yardbarker Network for more promotion, traffic, and money.

Company Info

Help

What is Yardbarker?

Yardbarker is the largest network of sports blogs and pro athlete blogs on the web. This site is the hub of the Yardbarker Network, where our editors and algorithms curate the best sports content from our network and beyond.