Found February 17, 2013 on New York Sports-Kings:
Just five weeks ago, Carmelo Anthony hated Kevin Garnett.  We all know the story; Anthony and Garnett were going at it in a tightly contested game back on Jan. 8.  It got chippy and the two started jawing and before long, Garnett went below the belt like he normally does and allegedly said that Anthony's wife "tastes like Honey Nut Cheerios." Now I'm not married but if I was, I wouldn't want to be friends with a man who made a comment like that about my wife. Hell, if someone told me my wife tasted like Brussels sprouts I would still want to punch them in their nose. But apparently 'Melo is more forgiving than I or many other men would be.  On Saturday, Anthony and Garnett showed that their beef had been squashed when they teamed up to make fun of sideline reporter Craig Sager at an All-Star Game practice.  It has become popular among NBA players to clown Sager and his outrageous outfits and this instance was no different. Carmelo Anthony (left, 7) and Kevin Garnett (right, 5) have squashed their beef but one has to wonder why they decided to do that. PHOTO COURTESY: DEBBIE WONG/USA TODAY SPORTS Some might be happy that Anthony and Garnett have seemingly squashed their beef but is anyone disappointed that these two are so buddy-buddy now?  If these two were still feuding, it would reignite a New York-Boston rivalry that has been absent from the NBA since the two were powers in the 1970's. It also brings in to question whether this feud was real to begin with. The NBA is missing out on a rivalry from two of the biggest markets in the United States and now that these two are friends, there is no chance of this rivalry being significant.  With the Knicks being relevant for the first time in over a decade and the Celtics still being one of the league's best franchises, a heated rivalry between the two teams would be great for the NBA. Maybe NBA Commissioner David Stern should stir the pot a little and start a rumor that Anthony said something about Garnett's mom.  After all, is there any better way to get a fight started than a good old fashioned "mama joke?" The fact that Anthony could forgive Garnett so quickly seems odd, especially if you watched the way Melo went after KG.  He let his emotions get the best of him during the game when he went 6-26 from the field and committed five fouls, and then let that carry over after the game when he waited for Garnett by the Celtics team bus. The emotion that Anthony showed seemed real but now, one can question if it really was.  Was this whole thing just an act to gain publicity?  On the off-chance that it was, it seems to be an elaborate and stupid plan for Anthony who got a one-game suspension for his post game antics. You would hate to think that either one of these players, who are both among the NBA's elite, would do something like this.  However, when a feud changes that quickly some people will scratch their heads. Maybe Anthony just has tougher skin than most people do.  Knicks fans are hopeful that this is true because if Melo and the Knicks want to make a deep run in the playoffs, he's going to need that mental toughness. Follow us on Twitter – @NYSportskings Like Dave Ragazzo on Facebook and follow him on Twitter The post Why Aren't Carmelo Anthony and Kevin Garnett Still Feuding? appeared first on New York Sports Kings.
Original Story:
http://nysportskings.com/why-arent-ca...
THE BACKYARD
BEST OF MAXIM
RELATED ARTICLES
Kevin Garnett mentioned that he was bringing his family to All Star Weekend with him and he was going to enjoy it because it was going to be his last. That set off a feeding frenzy of the media speculating that he was planning to retire at the end of this season. He sets the record straight about those comments in this interview. I sure wish Rondo was there with him. They'...
Kevin Garnett plans to retire as a member of the Celtics.
There is so much to look forward to during the NBA's All-Star break. The dunk contest, three-point shootout, the celebrities in the arena, the best-of-the-best NBA player's on one court and of course, what incredibly outlandish suit TNT's Craig Sager will wear. For years Sager has worn some crazy looking suits which run the gambit of fashion mistakes. From mismatched...
Kevin Garnett has said it again and again — he will not waive his no-trade clause. Still, despite the Big Ticket's best efforts, the Celtics continue to be linked in trade rumor after trade rumor involving their big man. KG has reiterated his allegiance to the Celtics time and time again, but general manager Danny Ainge might be wishing that Garnett wouldn't. After all, Boston...
STAYING IN BEANTOWN
Kevin Garnett has been mentioned in trade conversations, but the veteran All-Star forward says he will not waive his no-trade clause.
Kevin Garnett didn't exactly make the dramatic All-Star game exit many Celtics fans had been hoping for when he cryptically leaked last week that this would be his last appearance in the event. He did take the floor as the starting center for the Eastern Conference, however, fulfilling his due diligence in the lineup and saluting the fans. The big man does, after all, have a surging...
Sweet Jesus, it's 1 am on a Friday night, yet the rumors keep rolling in. But this time is a little different. This time it's Woj (esteemed Yahoo NBA insider Adrian Wojnarowski). The proposed deal: Kevin Garnett for Clippers PG Eric Bledsoe and C DeAndre Jordan. Here's an excerpt from Woj's article (co-written with Marc Spears) (link). The Boston Celtics and Los...
"Leave me alone Blake!" Marc Stein of ESPN has a column up that touches on many of the trade rumors and rumblings around the league.  A few quotes from it really jump out at me regarding the "Kevin Garnett lives in Malibu and is friends with Chauncey Billups so maybe he could be traded to the Clippers for DeAndre Jordan and Eric Bledsoe" story that won'...
Now that the 2013 All-Star weekend is in the books and the second half of the NBA season is starting up it is time for a deeper look into what has made the Knicks so successful and where potential improvements could be made. There is little doubt that the road to the playoffs will pass through Miami and if the Knicks are to take down the Heat in a seven game series they will need...
The Herald's Mark Murphy offers this update on the Celtics need for a guard: The Celtics are reportedly on the verge of signing a guard to a 10-day contract — a hedge in case a more desirable player is available in another two weeks — though management was still sifting through possibilities. Shelvin Mack, the Maine Red Claws point guard, remained with his team on its road...
With the NBA trade deadline knocking on the doorstep, the Boston Celtics have a ton of decisions to weigh in, which could essentially make this the toughest deadline in Celtics history. Currently, the Celtics sit in utter silence after storming rumors consisting of Kevin Garnett and Paul Pierce this past week, but that doesn't mean they aren't talking trading places with players...
5280 Hoops Show: Denver Nuggets Podcast We have an action packed episode for you this week!  Peter and Justin are joined by Bill Rogan from KNUS radio for the entire show and the trio get into some excellent basketball talk on this NBA All-Star Weekend.  The guys talk about NBA All-Stars past and present, Carmelo Anthony's return to Pepsi Center, FastBreaks and an interview with...
NBA News

Delivered to your inbox

You'll also receive Yardbarker's daily Top 10, featuring the best sports stories from around the web. Customize your newsletter to get articles on your favorite sports and teams. And the best part? It's free!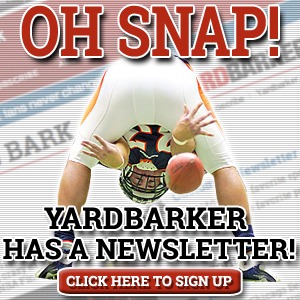 Latest Rumors
Best of Yardbarker

Today's Best Stuff

For Bloggers

Join the Yardbarker Network for more promotion, traffic, and money.

Company Info

Help

What is Yardbarker?

Yardbarker is the largest network of sports blogs and pro athlete blogs on the web. This site is the hub of the Yardbarker Network, where our editors and algorithms curate the best sports content from our network and beyond.