Found February 23, 2013 on isportsweb.com:
While the Feb. 21 NBA trade deadline was very dull for any professional basketball fan, it was even more bland if you're a fan of the Detroit Pistons. The case could be made that the Pistons already made a "major" move on Jan. 30 when they traded Tayshaun Prince and Austin Daye to Memphis and received Jose Calderon from Toronto in a three-team deal. However, is that really a big move? Don't get me wrong, Calderon is a great point guard and one of the best passers in the NBA, but is he the answer for the future? When the move initially happened I thought that Detroit was going to keep the Spanish point guard for a short time and use his expiring contract, along with the contracts of Jason Maxiell, Charlie Villanueva, Will Bynum and/or Corey Maggette, as trade bait to bring in that potential star player to help them make the push for the eight seed in the playoffs. There were rumblings that the Pistons were in the hunt for now-Milwaukee Bucks shooting guard J.J. Reddick, but the former Duke Blue Devil isn't a player you can build your team around. It's obvious that Joe Dumars and the rest of the Pistons front office are going to take their almost $30 million dollars in expiring contracts to try and build a contending team this summer, but are the pieces out there to add to the core of young players to make this Pistons team a contender again in the Eastern Conference? I'm not sure. Greg Monroe (left) and Andre Drummond (right) are the future of Detroit Pistons basketball. (AP Photo) The interior of the Pistons seems to be set for many years with third-year player Greg Monroe (averaging 16 ppg and 9.8 rpg this season) and rookie Andre Drummond (averaging 7.3 ppg and 7.5 rpg), but perimeter scoring is where the Pistons need to really find help this summer. Here are some soon-to-be unrestricted free agents that I believe fit the needs of the Pistons: Josh Smith, O.J. Mayo, Andre Iguodala, Chris Paul, Earl Clark, Monta Ellis, J.R. Smith and Kevin Martin. Let's be realistic here, unless Detroit is paying up BIG bucks, what free agent is going to want to come to the Pistons? It's unfortunate that the league works like that, but that's the way the cookies crumble usually. The Pistons should have attempted to get a star player with a big contract, so that they have enough time to convince him that they're going to build a championship team around him. I'm not sure if the Pacers were shopping around Danny Granger, but he would have been a perfect fit in Detroit. Also, why couldn't the Pistons have grabbed Rudy Gay? He would've been the exact player the Pistons need. So, out of the other guys above, Smith, Mayo and Iguodala are the only logical players, in my opinion, that could potentially be that go-to guy for Detroit. Smith, who is only 27, has really improved his offensive game the last couple of seasons. Last season, Smith shot nearly 46 percent and averaged a career-high 18.8 ppg. This year, the  eight-year player is shooting 46 percent again, a career-high from beyond the arc (34 percent) and is averaging 17.2 ppg. He would be a great addition on both ends of the floor for the Detroit, and while Detroit has the bucks to give him a the big-money like he is asking for, I'm sure that there are better teams out there willing to give him the big bucks as well. Next, we have Iguodala. The eighth-year small forward is another one of those defend-first type of players. Iguodala is known mainly for his defense and athleticism and not so much for his scoring. While his scoring is up from a year ago, he hasn't been a very prominent scorer over the past couple of seasons. I don't think adding Iguodala would hurt the Pistons if they're able to bring in another scorer, but him alone as the potential big signing won't be enough for Detroit to get back to contenders. Lastly, Mayo is the guy that I believe will be the most likely to sign with Detroit. In his first season with the Mavericks, Mayo is averaging 17.8 ppg and is shooting 46 percent from the field. The fourth-year player out of USC has failed to be that go-to guy for Dallas or Memphis due to the other studs that are on both of those teams. I believe that Mayo has been trying to get into a situation where he can prove he can be a dominant scorer in this league and Detroit could be a very good place for him. With all of that being said, do you trust any of these guys to be the player that turns this franchise back around? Outside of Chris Paul, I don't believe there are any perennial NBA All-Stars in this group of free agents, and if the Pistons had a chance at a top-flight player (Which I'm just hypothetically speaking/speculating they could have) they should have pounced on the opportunity. It's possible that Brandon Knight, Monroe or Drummond continue to develop into that role, but I don't see them becoming contenders again until they add a go-to guy on the perimeter. The Pistons should have used the expiring contracts that they have to find a way to trade for a proven scorer with a long-term deal because I just don't see any free agent wanting to come here with the roster that this team currently has. However, you never know what could happen. Maybe one big signing will cause other role players to follow suit, and then the Pistons are back as contenders. Only time will tell.  
Original Story:
http://feedproxy.google.com/~r/isport...
THE BACKYARD
BEST OF MAXIM
RELATED ARTICLES
Just a few days after Michael Kidd-Gilchrist said that he lost a one-on-one game with Michael Jordan he pulls out one of the more impressive dunks of the NBA season.  Check him out in the video below Posterizing Greg Monroe of the Detroit Pistons. The Pistons would get the last laugh and beat the Bobcats 105-99 behind the 19 points of Monroe.  I would personally go with...
When you are a 6-11 NBA center, the last thing you want happening to you is having a someone dunk on you and putting you on a poster. Unfortunately for Pistons' Greg Monroe, it happened to him last night courtesy of Bobcats rookie Michael Kidd-Gilchrist. In the fourth quarter, Kidd-Gilchrist went in the paint with one dribble, took his allowed two steps, went straight for the...
Pistons forward, Charlie Villanueva, is in the fourth year of a 5-year/$35 million contract he signed in the Summer of 2009. The 7-year-veteran can either pick up his $8.5 million player option come June, or decline it, making him an unrestricted free agent, but he made it clear Tuesday that he'll stay put in Detroit, citing money and his son as the primary reasons. According to...
AUBURN HILLS, Mich. The Detroit Pistons are happy to be done with the Indiana Pacers. The teams played their last two games of the season this weekend, and Indiana finished off the home-and-home series the same way they started it, routing Detroit 90-72 Saturday at the Palace. Indiana had led by as many as 43 in Friday's 114-82 blowout in Indianapolis, and were up by 21 in...
Detroit Pistons' second-year guard Brandon Knight has been listed as day-to-day after hyperextending his knee against the Bobcats as well as twisting his ankle. Knight injured his right knee after Kemba Walker fell on it during the third quarter, which was later diagnosed as a hyperextension. Knight later tried to return to the game but promptly twisted his ankle forcing him...
The Pistons lost to the Pacers by 32 on Friday night. They trailed by as many as 43, at which point the broadcast fittingly showed a monkey riding a doggy: pic via Brady Green
The Detroit Pistons came into tonight's rematch with the Indiana Pacers fresh off a 32 point embarrassment the night before in Indianapolis. The rematch wasn't much better. The Pistons were missing starting shooting guard Brandon Knight again due to a right knee hyper extension, and Detroit struggled to score without him. Against a stout Indiana defense, the Pistons missed...
Charlie Villanueva has decided to pick up his player option for the 2013-14 season.
[caption id="" align="alignnone" width="352"] Photo from indycornrows.com[/caption] The Detroit Pistons headed into Indianapolis looking to end a nine game losing streak at Bankers Life Fieldhouse. The Indiana Pacers were coming off a resounding 125-91 win over the New York Knicks two nights ago. The Pistons were no match. Already missing rookie...
Late in the 4th quarter of the Charlotte Bobcats-Detroit Pistons game, rookie Michael Kidd-Gilchrist absolutely posterized Greg Monroe.  The Pistons ended up winning the game 105-99, but unfortunately for Monroe, this dunk is destined for the SportsCenter Top 10. [YouTube]
There haven't been much for Charlotte Bobcats fans to cheer about this season but last night, rookie Michael Kidd-Gilchrist decided to bring the fans to their feet with this epic poster dunk.Watch as Michael rises up against Detroit Pistons center Greg Monroe and throws it down rather emphatically:
Pistons News

Delivered to your inbox

You'll also receive Yardbarker's daily Top 10, featuring the best sports stories from around the web. Customize your newsletter to get articles on your favorite sports and teams. And the best part? It's free!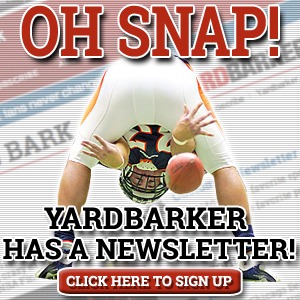 Latest Rumors
Best of Yardbarker

Today's Best Stuff

For Bloggers

Join the Yardbarker Network for more promotion, traffic, and money.

Company Info

Help

What is Yardbarker?

Yardbarker is the largest network of sports blogs and pro athlete blogs on the web. This site is the hub of the Yardbarker Network, where our editors and algorithms curate the best sports content from our network and beyond.