Found February 01, 2013 on Fox Sports Southwest:
PLAYERS:
O.J. Mayo
,
Dirk Nowitzki
,
Darren Collison
,
Vince Carter
,
Shannon Brown
,
Goran Dragic
,
Lindsey Hunter
,
Alvin Gentry
,
Michael Beasley
,
Jae Crowder
,
Marcin Gortat
,
Brandan Wright
,
Kendall Marshall
,
Sebastian Telfair
TEAMS:
Dallas Mavericks
,
Phoenix Suns
PHOENIX (AP) -- O.J. Mayo scored 20 points to lead six Dallas players in double figures and the Mavericks, despite the absence of Dirk Nowitzki, added to their mastery of Phoenix with a 109-99 victory over the Suns on Friday night. Darren Collison added 19 points and Vince Carter 17 for the Mavericks, minus Nowitzki for the second game in as many nights because of a sore right hip. Shannon Brown scored 20 and Goran Dragic added 19 points, nine assists and eight rebounds for the Suns, 0-3 against Dallas this season and losers of 11 of the last 12 in the series. The Suns lost at home for the first time in four games since interim coach Lindsey Hunter took over from the fired Alvin Gentry. After scoring a season-high 27 points in Wednesday night's win over the Lakers and averaging 18.2 points in his first six games under Hunter, the Suns' Michael Beasley was 2-of-13 shooting for four points. The Mavericks trailed most of the night before Carter's 3-pointer put them up for good, 84-81, with 8:51 to play. The basket was part of a 12-4 run that gave Dallas a 92-85 lead on Jae Crowder's 3 with 6 minutes to go. Phoenix never got closer than five again. Dallas' only lead of the first half was at 2-0 but the Suns never were up by more than seven in the first two quarters and it was tied at 54 at the break. Dragic had 10 points, four rebounds and four assists in the first quarter, with the Suns holding a 31-29 lead. Brown opened the second quarter with a pair of 21-footers to make it 35-29, then capped an 11-4 run with a 3-pointer to put Phoenix up 40-33 with 9:10 left in the half. The Mavericks caught the Suns with a 15-8 surge, trying it at 50 on Mayo's 3-pointer 2:16 before the break. The Mavs went nearly 4 minutes without a point as the Suns scored 11 straight to go up 71-61 on Marcin Gortat's layup with an assist from Dragic with 4:45 left in the third quarter. But Dallas responded with a 13-2 run to take the lead for just the third time of the night, 74-73, on Brandan Wright's inside basket with 1:12 left in the period. Brown's basket 20 seconds later put Phoenix up 75-74 entering the fourth. NOTES: The Suns play seven of their next eight on the road, where they are 4-19, second-worst in the NBA (Washington is 3-20). ... For the second time in three games, Hunter used rookie Kendall Marshall as the backup point guard instead of Sebastian Telfair. ... Dallas is 13-16 without Nowitzki, 7-11 with him. ... The teams don't meet again until April 10 in Dallas, where the Mavs can sweep the season series. ... Dragic has one career triple-double. ... The Suns are 4-3 since Hunter took over.
Original Story:
http://www.foxsportssouthwest.com/02/...
THE BACKYARD
BEST OF MAXIM
RELATED ARTICLES
Dirk Nowitzki missed Thursday's game with the Golden State Warriors due to a right adductor strain. The Mavs' Earl K. Sneed offered today's anatomy lesson: The adductor is a muscle in the thigh. No word on how much time he'll miss. Also missing the Warriors-Mavs game: Stephen Curry with his bad ankle and Chris Kaman with a concussion. Dirk Nowitzki is out...
A stirring comeback might have given the Phoenix Suns just the boost they needed. A win over a longtime nemesis could have the same effect. The Dallas Mavericks, though, handled the Suns this past weekend but might not get Dirk Nowitzki back from injury when they try to continue their recent dominance in the series Friday night. Phoenix (16-30) won its first two games under interim...
Over his 17-year career, Dallas Mavericks guard Vince Carter has given NBA fans some of the most memorable dunks in league history. From 360 windmills to dunking while covering his eyes to throwing his arm through the rim and hanging from his elbow, "Vinsanity" has proven to be one of the best in-air performers the basketball world has ever seen. And after Thursday night...
O.J. Mayo scored 20 points to lead six Dallas players in double figures and the Mavericks, despite the absence of Dirk Nowitzki, added to their mastery of Phoenix with a 109-99 victory over the Suns on Friday night. Darren Collison added 19 points and Vince Carter 17 for the Mavericks, minus Nowitzki for the second game in as many nights because of a sore right hip. Shannon Brown...
DALLAS (AP) -- Mavericks coach Rick Carlisle was fined 25,000 by the NBA on Saturday for criticizing the officiating after Dallas' loss to Golden State. With the Mavs trailing 98-97 on Thursday, Brandan Wright had the ball knocked away while going up for a shot, and no foul was called. The Warriors went on to win 100-97 at home. Carlisle was particularly frustrated because...
After 14 years in the NBA, Vince Carter probably has his fair share of tricks up his sleeves. He pulled out one of his best last night, in a 3 point loss to the Golden State Warriors. In an attempt to get his defender to play off of him a little, Carter faked an injury in the corner to appear to be out of the play. Once his defender began to help off of a seemingly injured Carter...
Last night the Phoenix Suns spoiled Steve Nash's return to the place he called home for the better part of the last decade by storming back behind the crazy hair and shot making of Michael Beasley. That's not the most important thing that came out of the Suns' victory. What's most important is that after years of suffering through the ugliest uniforms in professional...
Wow, what a difference a day can make. Dallas is on the 3rd of a 4 game road trip and so far had not done so well after losing 2 close ones to both Portland and Golden State. Just for the record, both of those games Dallas should have won. After seeing a lot of the media writing after the Portland game, it's nice to know that I'm not the only one who felt that the play at the...
Michael Phelps is really enjoying retirement. We told you earlier he was playing in a pro-am golf tournament in Phoenix this week. After the sun went down he had to find something to keep him occupied so he headed to the US Airways Center to see the Suns take on the Lakers. After the game ended Phelps followed in Morgan Freeman's footsteps and decided to hang out with the Suns...
After Alex Kennedy of Hoops World reported yesterday that the Phoenix Suns were "pursuing Josh Smith", 620 KTAR Sports Talk Radio host, John Gambadoro is refuting the report, saying the Suns have absolutely no interest in the Hawks forward. The stories about the Suns being interested in Josh Smith are ridiculous, there is zero interest there -ZERO! — John Gambadoro (@Gambo620...
This coming week of fantasy basketball is a big one. Eighteen teams play four-game slates. The other 12 teams each play three games. And that's it. No two-game weeks. No one-game weeks (although those are only a week away). Everyone is in play this week, even Michael Beasley, who new Suns coach Lindsey Hunter loves. Beas is playing 27.6 minutes under the new regime and is...
Doc Rivers reaffirmed why O.J. Mayo didn't become a Celtic last season. On WEEI Thursday morning, Doc Rivers said Memphis backed out of the deal that that would have swapped Mayo for Ray Allen. Doc on old Ray/Mayo deal: "Memphis pulled plug, not us. … O.J.'s so much younger. That's a trade we really thought we had to look at hard."— Ben Rohrbach (@brohrbach...
NBA News

Delivered to your inbox

You'll also receive Yardbarker's daily Top 10, featuring the best sports stories from around the web. Customize your newsletter to get articles on your favorite sports and teams. And the best part? It's free!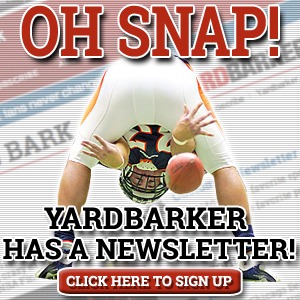 Latest Rumors
The Backyard

Today's Best Stuff

For Bloggers

Join the Yardbarker Network for more promotion, traffic, and money.

Company Info

Help

What is Yardbarker?

Yardbarker is the largest network of sports blogs and pro athlete blogs on the web. This site is the hub of the Yardbarker Network, where our editors and algorithms curate the best sports content from our network and beyond.