Found March 26, 2013 on BlackSportsOnline:
The Washington Wizards are 18 games under .500 and on their way to another losing season. And with that realization comes frustration for all those associated with the franchise, especially the head coach. It only takes one silly question from a reporter, to get a coach whose patience at this stage of this season must be at its lowest after having to be present and accountable to the media following all those losses, to go on a mini tirade. So it's was understandable when Wizards coach Randy Wittman, went off on a reporter who compared his team to a circus. CSN Washington has the blow-by-blow: "Coach Randy Wittman just went ballistic on a local TV reporter comparing franchise to a circus. The exact question: 'The circus was here this past weekend. Is it a relief to you that this is no longer a circus?' Wittman: 'You didnt seriously just ask me that question, about the (expletive) circus being in town? Are you (expletive) … You called this organization a circus at one time. So I'm not going to answer that question … I'm part of the damn circus. It's not a circus around here … I don't want to hear that no more. That's disrespectful.'" The reporter sent out this tweet explaining what happened. Wizards people: I phrashed a poor question to Randy Wittman and he let me have it. We shot the **** about it 20 minutes later. No big deal — Kevin Jones (@Mr_KevinJones) March 25, 2013 The team record doesn't show it, but the Wizards have taken some significant steps forward. John Wall, is playing at a very high level and Bradley Beal's play has him in contention for the Rookie of the Year award, not to mention all the impressive victories they've had over contending teams. For the first time in a long time, there's something to look forward to from that organization.
Original Story:
http://blacksportsonline.com/home/201...
THE BACKYARD
BEST OF MAXIM
RELATED ARTICLES
EN FUEGO
On Monday night John Wall went absolutely nuts. The No. 1 overall pick from the 2010 NBA Draft led the Washington Wizards past the Memphis Grizzlies by dropping a career-high 47 points. Wall also added seven rebounds, eight assists, one steal and a block. Wall is obviously a serious talent, but his numbers have actually gone down each year after an excellent rookie season. But on...
After being ejected for two technical fouls the game before, the Wizards' John Wall came back with a vengeance in route to a career high 47 points vs the Grizzlies Monday night. With the Wiz down to only 9 players for the game due to injury, it was pretty clear who was going to take on most of the scoring load for Washington. Wall finished the game going 13-22 from the floor, including...
Randy Wittman went off on WUSA9′s Kevin Jones after he compared the 25-44 Washington Wizards to a circus. You probably shouldn't say that to the head coach, even if you have a case. According to J. Michael, CSN Washington: Coach Randy Wittman just went ballistic on a local TV reporter comparing franchise to a circus. The exact question: "the circus was here this past weekend...
Two seasons ago, the Washington Wizards made a move for trade for a big man to help the team out both then and in the future. Nene Hilario (now just known as Nene), is making $13M per year for the next three seasons, and the Wizards probably wish that they had saved that money so they could have spent it elsewhere.
Tweet Washington Wizards point guard and former number one overall pick John Wall believes he is worth max contract money, and he has been proving it with his play lately. The latest example is him scoring a career-high 47 points Monday night in a Wizards victory over the Grizzlies. Here are the highlights: Wall has [...]
The Oklahoma City Thunder have been tied to the Wizards all season long. It started in the off-season when Washington turned down a trade that would have sent Bradley Beal and Chris Singleton to the Thunder for James Harden. Then, with the season in full swing sans John Wall, the Wiz fell to 5-28 and their 34th game of the season was against OKC. With Wall returning the next game...
It must be hard to be one of the elite talents in the NBA and be stuck on a poor team like the Washington Wizards. So when he gets a nasty elbow like the one that Klay Thompson from the Warriors gave him Saturday it is understandable that he be a little upset. What is not understandable is how he can keep running his mouth long after the play is done that the refs feel till the...
John Wall scored a career-high 47 points and added eight assists, Emeka Okafor had 21 points and nine rebounds, and the undermanned Washington Wizards beat the Memphis Grizzlies, 107-94 Monday night. Wall shot 13 of 22 from the field and made a career-high 19 free throws on 24 attempts. Mike Conley led Memphis with 23 points. It was Washington's sixth straight home win, while...
wizards 107 grizzlies 94 3/25/2013 - Verizon Center, Washington, DC ESPN Boxscore NBA.com Game Highlights Stephen Gosling I feel just the way Randy Wittman did when trying to open up his post-game presser after tonight's game. "I don't know where to begin," Wittman said as he settled into his seat in front of the media. And I don't blame...
Washington (AP) — John Wall scored a career-high 47 points and added eight assists, Emeka Okafor had 21 points and nine rebounds, and the undermanned Washington Wizards beat the Memphis Grizzlies, 107-94 Monday night., http://juicedsportsblog.com/sports-news/news/wall-scores-47-as-wizards-beat-grizzlies-10794-yahoo-sports
Game Time: 7:00 PM CT Television: FS Oklahoma Radio: The Sports Animal (WWLS 98.1 FM) Injury Report: Nene (sore knee/wrist/shoulder), Tervor Ariza (flu-like symptons), Bradley Beal (sprained left ankle), and A.J. Price (sore right groin) missed Washington's Monday game against the Grizzlies. Leandro Barbosa is out due to left knee surgery and will miss the remainder...
1978 BULLETS CHAMPIONSHIP TEAM TO REUNITE AT WIZARDS GAME April 6, 2013                                               WASHINGTON, D.C. – The Washington Wizards and the Bullets & Wizards Alumni Association will celebrate the 35th anniversary of the 1978 Washington Bullets championship when the Wizards host the Indiana Pacers...
Wizards News

Delivered to your inbox

You'll also receive Yardbarker's daily Top 10, featuring the best sports stories from around the web. Customize your newsletter to get articles on your favorite sports and teams. And the best part? It's free!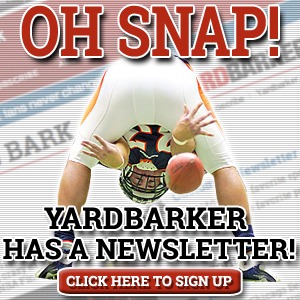 Latest Rumors
Best of Yardbarker

Today's Best Stuff

For Bloggers

Join the Yardbarker Network for more promotion, traffic, and money.

Company Info

Help

What is Yardbarker?

Yardbarker is the largest network of sports blogs and pro athlete blogs on the web. This site is the hub of the Yardbarker Network, where our editors and algorithms curate the best sports content from our network and beyond.