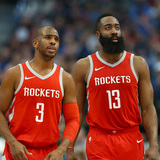 On Sunday night, the NBA All-Star game didn't disappoint. But James Harden and Team Curry would ultimately take the loss. However, that probably doesn't bother Harden as much as Chris Paul not being there does."What are we talking about? Obviously, everybody knows Chris Paul is with the Rockets. The Rockets have the No. 1 (record). How does that happen? It's frustrating. I know he...
The Los Angeles Clippers acquired now-star shooting guard Lou Williams this offseason in the blockbuster trade that sent Chris Paul to the Houston Rockets. Williams to that point had had a nice career, and was known for his ability to score off the bench. Williams has continued in this role with the Clippers, but has been extremely better. This season, Williams is averaging 23.2...
http://www.clutchfans.net Chris Paul after the Houston Rockets beat the Sacramento Kings 100-91 on 2/14/2018. Paul did not play the second half of the fourth quarter after "banging his hand" but says he's OK.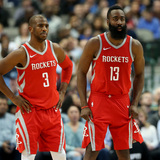 James Harden certainly knows how to show love to a teammate.Harden was asked in an interview with Complex whom he would select with his top pick if he were a captain for the All-Star Game. His answer was one of his teammates."If I had the first pick, I would pick Chris Paul," Harden told Complex. "He's not on the All-Star team, but he should be."True, Paul did not make the All-Star...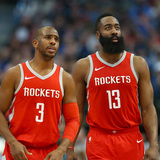 If you ask Chris Paul who's going to take NBA MVP honors this season, the answer is simple. It's his teammate, James Harden."Look at what (Harden) does for our team. All everybody does now is look at the numbers. Nothing against stats. … But nobody looks at how the game went. Watch the game, too. I'm here. I get to see what he's doing night in, night out."But the praise for Harden...
There's no easy fix for the Cleveland Cavaliers. But even this is getting ridiculous.Saturday night against the Rockets, Chris Paul and Co. would obliterate them, The final score? An uneven 120-88. There's not putting a positive spin on this. The Cavaliers are in big trouble. But there's no solution in sight. Additionally, they are 0-8 in network broadcasts since losing to the Golden...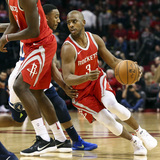 Just in case you couldn't tell based on his commercials, Chris Paul is a great actor.During the second quarter of Saturday's Houston Rockets-Golden State Warriors game on ABC, TV cameras caught CP3 doing a great fake laugh: It's unclear to whom that was directed. Paul was talking with one of the officials, but he was also looking in the direction of where some of the Warriors were...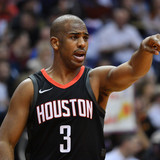 Rockets point guard Chris Paul returned to Staples Center to square off against his former team on Monday night, and Clippers fans gave him a nice ovation at one point during the game.Paul, who played for the Clippers for six seasons until being traded to the Rockets during the offseason, was the team's leader during his tenure in Los Angeles.CP3 was cheered when his name was announced...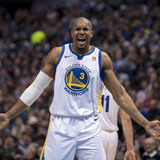 Chris Paul put the moves on David West during one particular play in Thursday's game, which caused the Warriors veteran to suffer a sprained ankle while attempting to guard the Rockets point guard.CP3 used a few stepback crossover moves to put West on skates, and then proceeded to drain a jumper from the free-throw line. West appeared to twist his left ankle while getting juked by...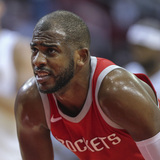 Being an NBA superstar has its perks. In addition to the fame that comes with the gig, fortunes are being made by the top players, like Chris Paul, who recently used his wealth to purchase a massive mansion in Spring, Texas, roughly 30 miles from the Toyota Center where the Houston Rockets play.Per TMZ Sports, this place has 14 bathrooms! Additionally, "the home has 9 bedrooms, a...
MORE STORIES >>
Rockets News

Delivered to your inbox

You'll also receive Yardbarker's daily Top 10, featuring the best sports stories from around the web. Customize your newsletter to get articles on your favorite sports and teams. And the best part? It's free!