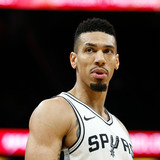 Danny Green only played 14 minutes in Tuesday's win over the New York Knicks, and San Antonio Spurs head coach Gregg Popovich thinks it might be the shooting guard's last action for a while.Jabari Young of the San Antonio Express-News shared a video of Popovich responding to a question about if Green was injured."I think he is. We didn't play him in the second half because of the...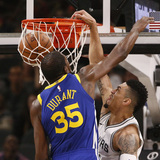 The Warriors and their celebrations that often follow don't usually go over well with the team they're facing, so they often face taunts and jeers by opposing players and fans as a result.That was what happened during Thursday night's game, when Danny Green dunked all over Kevin Durant, and then chose to stare him down afterward. The defending champions always get their opponents...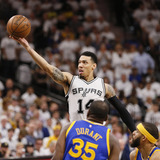 It looks like Danny Green, recently placed on the trade block, might be headed back to the team that drafted him, the Cleveland Cavaliers.According to Sam Amico of Amico Hoops, the San Antonio Spurs have been in contact with the Cavs about making a deal that would send Green back to Cleveland.Adding Green to Cleveland's roster makes some sense, as he's a tremendous perimeter defender...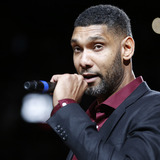 Tim Duncan was back in San Antonio Monday morning, working out with his former teammates at the Spurs' shootaround.Being the machine that he is, Duncan remains in great shape at the age of 40. In such great shape, in fact, that Spurs shooting guard Danny Green wondered aloud if the team could sign him for the playoffs."He's trying to stay in shape," Green said, via MySanAntonio.com...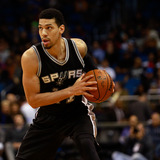 San Antonio Spurs guard Danny Green is typically a reliable shooter, especially from three-point range. This season — not so much. Green shot a career-worst 37.6 percent from the field and converted 33.2 percent from beyond the arc, which was his most inefficient production since his rookie season. Perhaps that inspired the 28-year-old to have surgery to correct his vision. Manrique...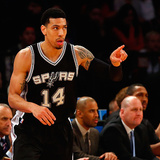 By David Kenyon The San Antonio Spurs' pursuit of free agent LaMarcus Aldridge put Danny Green's future into question with the franchise, but ESPN's Chris Broussard reports the shooting guard is sticking around. Sources: Danny Green has agreed to a 4 year, $45 million deal with the Spurs — Chris Broussard (@Chris_Broussard) July 1, 2015 Green rose to league-wide popularity...
San Antonio Spurs guard Danny Green gave us another example on Wednesday of why so many people hate social media. Green visited the Holocaust Memorial in Berlin during his team's recent trip to Germany. Like many others, he decided to snap some photos of the powerful scene, which includes blocks that symbolize Adolf Hitler's reign of terror. The problem, however, is that Granger...
Early Saturday morning, San Antonio Spurs guard Danny Green sent an interesting tweet that could mean he'll be changing his jersey number with the Spurs in the coming season. And for those asking about the number change…yes it is really happening #14 — Danny Green (@DGreen_14)
San Antonio Spurs' Danny Green was a guest on "The David Glenn Show"and touched on many topics. Perhaps the biggest was Green admitting the Spurs did not expect to have a relatively easy march to the NBA title saying only Dallas gave the team their biggest challenge. Green went on to talk about how confidence in […]
The Spurs turned up the heat in Game 3 of the NBA Finals and shattered shooting records with an almost unfathomable stretch in which they shot 90.5 (!) percent from the field. From the opening tip through the halftime whistle, it was clear they realized how important it was to win a game in Miami and regain the series lead. And they came out on fire, hitting 19 of their first...
MORE STORIES >>
Spurs News

Delivered to your inbox

You'll also receive Yardbarker's daily Top 10, featuring the best sports stories from around the web. Customize your newsletter to get articles on your favorite sports and teams. And the best part? It's free!