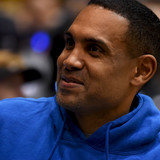 Remember that time Tim Duncan could've signed with the Orlando Magic? Well according to Grant Hill, that possibility vanished – and it was all thanks to Doc Rivers. Let's go back to the summer of 2000. Grant Hill would be at the dinner for the Duncan pitch. But things go south quickly when Doc Rivers says significant others cannot travel on the team plane. That's that. It would all...
The Clippers made one of the biggest in-season trades in NBA history, and it appears that might be it for them.Blake Griffin, who was initially promised to be a Clipper for life, was traded to the Pistons, for a number of players and draft picks.As it stands, the Clippers now only have one player on its starting five from last season — DeAndre Jordan. Lucky for Clippers fans, it...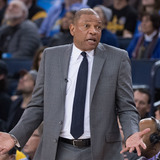 The LA Clippers created shock waves throughout the NBA when they traded Blake Griffin on Monday afternoon. One of the big questions on everyone's mind was, "How are his teammates going to react?" All of the players were absolutely shocked when it happened. Many claimed they heard via Twitter and didn't believe it was real. Sam Dekker stated he was with Blake Griffin the morning of...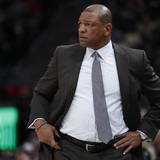 Doc Rivers suggested the Clippers are done trading after sending Blake Griffin to the Pistons.On Monday, the Clippers shocked the NBA world by sending Griffin to Detroit for a package that included Tobias Harris and Avery Bradley. It was reported the Griffin trade wasn't going to be the only move in jump starting a rebuild for the Clippers.DeAndre Jordan and Lou Williams were rumored...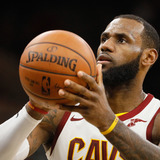 The Los Angeles Clippers have made it clear they're not going into full-scale rebuild mode after the trade of franchise big man Blake Griffin on Monday.For Doc Rivers and Co., the idea is to reload on the fly while remaining competitive. It's a plan that has not necessarily worked for other teams around the league.But following Monday's shocking trade, various suggestions have come...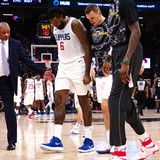 The Los Angeles Clippers must be tired about negative updates for injuries, but they finally received encouraging news with DeAndre Jordan.According to Broderick Turner of the Los Angeles Times, head coach Doc Rivers expects to Jordan in the lineup soon."DJ I think is really close. He did some stuff yesterday and even thought that he may play [Monday]. So, he's close."Jordan had...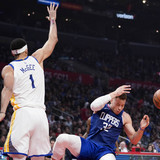 Blake Griffin went down with a scary concussion in the first quarter of today's Clipper game against the Warriors. Doc Rivers addressed the injury during the post-game press conference: Deandre Jordan also spoke post game about the injury.Blake's a pretty tough guy, he should be okay, but we definitely want him to be precautious and do whatever he needs to do to be ready to play...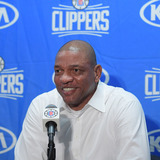 Blake Griffin appears to be a few weeks ahead of schedule in his recovery from an MCL sprain in his left knee.In an interview before Saturday's game against the Memphis Grizzlies, LA Clippers head coach Doc Rivers told longtime team announcer Ralph Lawler that Griffin could be back within a week, per Tomer Azarly of ClutchPoints. As noted above, the All-Star big man is less than...
The Los Angeles Clippers are going to let Doc Rivers focus exclusively on coaching.Clippers owner Steve Ballmer told ESPN's Adrian Wojnarowski that the organization has returned Rivers to the singular role of head coach, removing his front office responsibilities so he can better focus on coaching the overhauled team."I've owned the team for three years now, and I really better understand...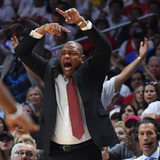 The Los Angeles Clippers hired Doc Rivers as their head coach and president of basketball operations four years ago, and they have not advanced past the Western Conference semifinals during his tenure with the team. That is obviously a major disappointment, but how much of it is Doc's fault?While winning and losing is never the responsibility of one person, some questions have popped...
MORE STORIES >>
Clippers News

Delivered to your inbox

You'll also receive Yardbarker's daily Top 10, featuring the best sports stories from around the web. Customize your newsletter to get articles on your favorite sports and teams. And the best part? It's free!