Afro-rocking rookie Jarrett Allen doesn't just have the best hair on the Nets — he might have the best hair in New York sports. Allen quipped he's 7-foot-5 with his hair, and it's easy to see how his epic 'fro could make him feel outsized — it's at least 3 inches deep. "I feel like...
Caris LeVert has been the key to unlocking rookie Jarrett Allen's potential early in his young career. Before Allen took over the starting role (& before LeVert went down with an injury), these two were the dynamic-duo of the second unit. It's the video you've been waiting for! A compilation of every assist from Caris LeVert to Jarrett Allen, four and a half minutes of deft...
D'Angelo Russell Jahlil Okafor DeMarre Carroll Jarrett Allen Kenny Atkinson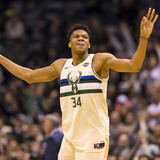 Sometimes, life just isn't fair. Other times, it comes at you really fast. Just ask Brooklyn Nets center Jarrett Allen, who was absolutely embarrassed by none other than Milwaukee Bucks All-Star Giannis Antetokounmpo Sunday morning.Here, you will see the Greek Freak put Allen on a poster in the biggest possible way. (via @bucks) pic.twitter.com/wwNbXOB6on— SLAM Magazine (@SLAMonline...
Nets center Jarrett Allen discusses his career-high 20 points against the Lakers and how great it felt to face his predecessor, Brook Lopez.
The Glue Guys track the evolution of Jarrett Allen and how he withstood Joel 'The Process' Embiid. Also discussed: Whether missed calls late in the game matter as much as ones missed earlier in the game, Brook Lopez's future, RHJ's trade value and the Brooklyn Nets semi-uncomfortable charity even from Wednesday Night. Subscribe to the Glue Guys on iTunes Follow the Glue Guys on...
Another Nick LeTourneau Twitter moment on the progress of Nets 19-year-old center Jarrett Allen is shooting 71.2 percent in January after his 6-of-6 performance Tuesday. Jarrett Allen impressed in his first career start
It's not a small thing that since returning from a six-game absence, Jarrett Allen has had two strong outings — both against powerhouse teams. After a solid cameo against the Celtics, an NBA-best 15-2, his 12-minute stint against defending champion Golden State on Sunday was likely the teenager's best showing as a pro. Up next...
Sarah Kustok sits down with Nets rookie center Jarrett Allen to find out what made him tick as a youngster growing up in Texas.
Jarrett Allen had read all the rumors and heard all the haters. He doesn't love basketball, they assumed. He isn't committed to the game, they accused. Rubbish, he replied. Allen said being a dedicated pro and well-rounded person aren't mutually exclusive. Brooklyn's first-round pick insists he loves the sport — and considering how much the...
MORE STORIES >>
Nets News

Delivered to your inbox

You'll also receive Yardbarker's daily Top 10, featuring the best sports stories from around the web. Customize your newsletter to get articles on your favorite sports and teams. And the best part? It's free!