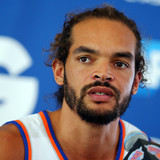 Joakim Noah has barely played since his PED suspension ended last month, but the Knicks have no thoughts of trying to get him to agree to a buyout, according to Marc Berman of The New York Post.Noah has been on the court for just 11 minutes in two games this season and has appeared in just 48 total games since signing a four-year, $72MM deal in the summer of 2016. He still has two...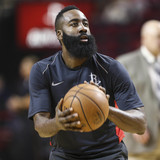 "The week that was" covers the previous Monday-Sunday in the NBA.Team of the Week: Utah JazzThe Utah Jazz were being written off just a few weeks ago. The offense was struggling without Gordon Hayward, the new acquisitions weren't fitting in, and then Rudy Gobert got hurt. As with almost all things, the Jazz have improved with time. They've now won five straight, including going...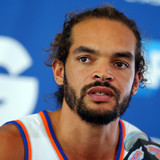 Joakim Noah recently made his season debut for the New York Knicks, but the team is sending him to the G-League for more minutes.The Knicks announced they have assigned Noah, along with Damyean Dotson, to the Westchester Knicks of the G-League. The affiliate club plays Wednesday morning before the NBA side hosts the Miami Heat at night.While it's a humorous development from afar...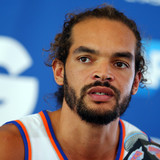 Joakim Noah, the $72 million man, made his triumphant return to the court on Monday night. It was his first game back since Feb. 4, after suffering an injury and then serving a suspension.Given how much of a disappointment he's been, it was unclear how Knicks fans at Madison Square Garden would react to him coming back.They were largely supportive, though, maybe because Willy Hernangomez...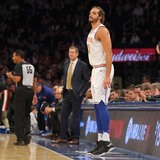 Joakim Noah made his return to court for the Knicks and received a warm welcome from those on hand at Madison Square Garden.Noah served the remaining 12 games of a 20-game suspension for using a banned substance to begin the season. He remained on the inactive list until Monday. With Enes Kanter set to miss the game against the Blazers due to back spasms, the Knicks activated Noah...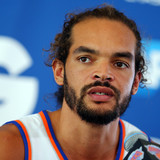 Joakim Noah seems to be in the acceptance stage of his decline as a player.The New York Knicks big man admitted on Friday that he "probably" will never be the same player that he once was, per Steve Popper of USA TODAY. Noah, 32, has averaged just 4.7 points per game over his last two seasons of play and has made just 75 total appearances over that span. He also has yet to play in...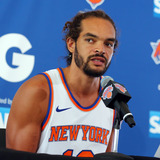 The New York Knicks signed Joakim Noah to a massive contract in July 2016, and their current return on investment is approximately nothing.Noah wasn't available for the first 12 contests of the campaign while serving the remainder of a 20-game suspension. However, the center has watched the last two outings from the sideline as an inactive.And according to Al Iannazzone of Newsday...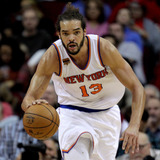 To say that Joakim Noah struggled last season during his first campaign as a member of the New York Knicks would be an understatement of epic proportions.The center hauled in a ridiculous contract in free agency, only to put up a relative egg of a season. He averaged just five points, 8.8 rebounds, 2.2 assists and 0.8 blocks per game, averaging just over 22 minutes per contest before...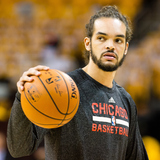 In the lead up to the 2015-16 NBA season, there was a lot of talk about the Chicago Bulls and whether former All-Star Joakim Noah would accept his new role as a reserve after being the team's starting center for his entire career.Prior to Chicago's blowout win over the Brooklyn Nets on Wednesday, first-year head coach Fred Hoiberg discussed the Noah situation with Grantland's Zach...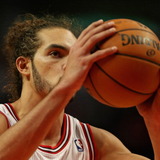 By Steve DelVecchio Fred Hoiberg is expected to be announced as the next coach of the Chicago Bulls in the near future, and he may have to have an awkward conversation - if he hasn't already - with Joakim Noah at some point. On Sunday, The Score dug up an old tweet that Hoiberg sent in which he mocked Noah for his poor shooting form. Look away kids! pic.twitter.com/5TLECVJb7u...
MORE STORIES >>
Knicks News

Delivered to your inbox

You'll also receive Yardbarker's daily Top 10, featuring the best sports stories from around the web. Customize your newsletter to get articles on your favorite sports and teams. And the best part? It's free!