With the latest Yahoo report on the NCAA hitting the press, Dennis Smith Jr. and Nerlens Noel of the Dallas Mavericks are mentioned in the report. For the crowd who actually cares about collegiate players getting paid in college, the latest Yahoo report on the NCAA includes a plethora...
But it doesn't affect him or the Mavericks at all. According to a new report from Yahoo's Pat Forde and Pete Thamel, Dennis Smith Jr. is one of many high profile names included in documents seized by federal authorities from management agency management agency ASM Sports. The documents include expense reports and balance sheets. Mavericks rookie point guard Dennis Smith Jr. is listed...
We don't like posting things like this, but documents dropped in the FBI's investigation of NCAA Basketball and former NC State Dennis Smith Jr. is on them. Here is what they've found. Dennis Smith, who would go on to play at North Carolina State in 2016-17, received $43,500 according to the documents. Another document headed "Pina," for ASM agent Stephen Pina, says Smith received...
For over a decade, Dirk Nowitzki was the lone presence for the Dallas Mavericks throughout the NBA's All-Star Weekends. Every now-and-then there would be a stray All-Star like Jason Kidd in 2009-10 or someone like Wesley Matthews last year in the JBL Three-Point Contest. It was not until this year, however, that another player, Dennis Smith Jr, took the reins as the representative...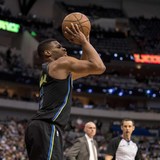 Dennis Smith Jr came up short in Saturday night's Slam Dunk Contest, and he had a few choice words for the judges' scores afterwards.The Dallas Mavericks rookie failed to advance to the championship round in the competition and took to social media roughly an hour after it ended. In a tweet, Smith pointed to the fact that a double-pump dunk of his barely got a better score than a...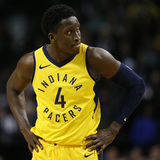 Victor Oladipo went Hollywood while in Los Angeles for the Slam Dunk contest.The Indiana Pacers guard performed a cool "Black Panther" dunk for his second dunk in the contest. Actor Chadwick Boseman, who plays the titular superhero in the Marvel movie "Black Panther", was sitting courtside for the dunk contest at Staples Center on Saturday night. Oladipo came over to Boseman and...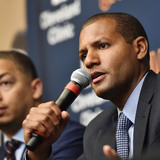 The Cavaliers had the busiest and most impactful trade deadline of any other team, swinging three major trades and restructuring a faltering roster by end of lunchtime on February 8. The behind-the-scenes and on-court struggles preceding the moves were a major talking point across the league, Cleveland.com's Joe Vardon breaks down.For starters, Cleveland's rookie general manager...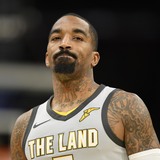 J.R. Smith's 2017/18 season has been a difficult one but head coach Tyronn Lue's loyalty to his sharpshooter dates back to Game 7 of the 2016 NBA Finals, Joe Vardon of Cleveland.com writes. In his defense, Lue referenced Smith's eight straight points in the third quarter of that decisive seventh game and his overall value to the team."Sometimes your shot is going to come and go,...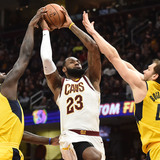 It's just one game, but the Cleveland Cavaliers are going to take anything they can get right now.Friday night, the Cavaliers would outlast the Indiana Pacers. But it started with a lineup change. Head coach Tyronn Lue would finally accept that changes needed to be made following weeks of turmoil. So he put Tristan Thompson back at center, moved Kevin Love back to power forward and...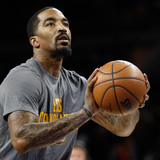 Cleveland Cavaliers coach Tyronn Lue said on Tuesday night that he is planning to make changes to the lineup, and J.R. Smith is willing to accept a reduced role if Lue thinks that will help.Following his team's 114-102 loss to the San Antonio Spurs, which was Cleveland's 10th loss in its last 13 games, Lue said he is "gonna make a change." Smith, who has started 42 of 45 games this...
MORE STORIES >>
Cavaliers News

Delivered to your inbox

You'll also receive Yardbarker's daily Top 10, featuring the best sports stories from around the web. Customize your newsletter to get articles on your favorite sports and teams. And the best part? It's free!