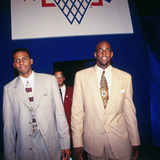 In what has turned out to be just the opening salvo of a chaotic pre-draft week, the Boston Celtics traded the first overall pick in this week's NBA draft to the Philadelphia 76ers. This trade both marks the final touch on a process years in the making for Philadelphia and gathers more assets for Danny Ainge's war chest.This deal marked just the seventh time in league history where...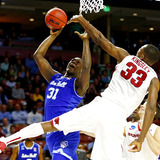 The Seton Hall-Arkansas game sure ended in controversy after a Seton Hall player was called for a flagrant foul that all but sealed the victory for eighth ranked Arkansas.With just 18 seconds left, Desi Rodriguez pushed Jaylen Barford in an attempt to foul Barford and send him to the foul line. And then Seton Hall would hope to get a chance to either tie or win depending on the shots...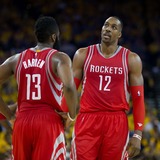 James Harden and Dwight Howard were teammates on the Houston Rockets from 2013-2016 and reached the Western Conference Finals together, but the pairing did not pan out as hoped.Harden and Howard clashed, and the Rockets' poor start to last season resulted in the firing of Kevin McHale. Howard left for Atlanta in free agency over the offseason, while Houston hired Mike D'Antoni...
The Sacramento Kings' quest to fill their head coaching vacancy has officially gone up and under. According to a report by Marc Stein of ESPN on Monday, former Rockets head coach Kevin McHale's interest in the Kings' coaching job has advanced from exploratory talks to his emergence on the list of known candidates for the position. McHale, 58, has a career record of 232-185...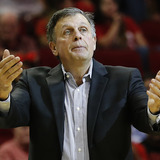 Kevin McHale was fired by the Houston Rockets on Wednesday, and it sounds like his own family didn't see it coming any more than we did. McHale's wife Lynn spent some time on Twitter Thursday mocking her husband's former employer. She quickly came to her senses and deactivated her account, but not before all of the grenades she lobbed were preserved in screenshot form...
Charles Barkley, not known to mince words when expressing his opinion, didn't hold back while blasting Daryl Morey over the sudden dismissal of Kevin McHale, suggesting the Houston Rockets general manager fired the head coach in an effort at "covering his own ass." Barkley, appearing on Colin Cowherd's radio program Wednesday, acknowledged he and Morey have had their beefs...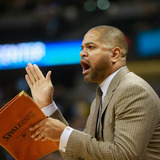 The Houston Rockets made the biggest early-season move when they fired head coach Kevin McHale, but the team plans to give J.B. Bickerstaff the reins for the rest of 2015-16 season. In an interview with ESPN's Calvin Watkins, Rockets owner Leslie Alexander confirmed Bickerstaff will be evaluated at the end of the year. ESPN: Can J.B. win this job? Alexander: Of course he...
The Houston Rockets surprised everyone Wednesday when they fired head coach Kevin McHale after the team's 4-7 start. Everyone except rap mogul Lil B, that is. Lil B placed the Based God curse back on James Harden less than one month ago for stealing his signature cooking gesture and not acknowledging that the rapper was the first to do it. And now he's taking credit for the Rockets...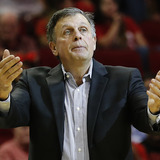 The Houston Rockets have fired head coach Kevin McHale, according to a report from Adrian Wojnarowski of Yahoo Sports. The news comes as a shock this early in the season, though the Rockets have struggled mightily as of late and lost their last four games. McHale had been the head coach in Houston since 2011. He went from winning 34 games in his first season — which was shortened...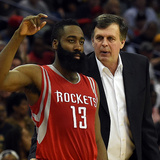 By Jason Rowan Houston Rockets coach Kevin McHale wasn't content to only rip Matt Barnes on Thursday, as he delivered a snarky suggestion to  the Los Angeles Clippers over their bemoaning over the significant disparity between the amount of free throws the respective teams have attempted through the series' first two games: Stop fouling Rockets players. "I heard them...
MORE STORIES >>
NBA News

Delivered to your inbox

You'll also receive Yardbarker's daily Top 10, featuring the best sports stories from around the web. Customize your newsletter to get articles on your favorite sports and teams. And the best part? It's free!