Paul Pierce weighed in on tonight's Celtics-Warriors matchup this afternoon on ESPN's The Jump. Pierce compared tonight's game, the hot team on a streak vs the best team in basketball, to a matchup both he and co-panelist Tracy McGrady participated in back in 2008. The Celtics had yet to win their title in Pierce-Garnett era, that would come just a few months later, but they were...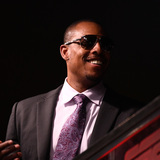 Paul Pierce wants to see more out of Joel Embiid this upcoming season. Given this will be an extremely pivotal season for the rising Philadelphia 76ers superstar, that's a perfectly acceptable sports take. It's just how Pierce, in his new role of NBA analyst for ESPN, phrased the sentiment on Thursday night.Embiid — much to is chagrin it's worth noting — is playing on a minutes restriction...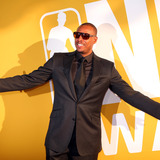 Celtics legend/current ESPN analyst Paul Pierce turned 40 years of age on Friday, and received a clever gift from his colleagues as a result.Pierce, who, earlier in the year, received a wheelchair from Doc Rivers and his former teammates as a retirement gift, probably knew he would be getting some sort of gag gift from the other ESPN'ers.And they delivered."The Truth" received a...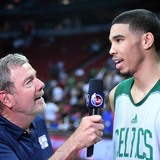 A popular player comparison for Boston Celtics rookie forward Jayson Tatum is none other than C's legend Paul Pierce, and The Truth himself believes it.In an interview Thursday with A. Sherrod Blakely of CSN New England, the retired 10-time All-Star discussed the similarities between Tatum and himself."He looks like an older version of me, when I started doing the step-back and stuff...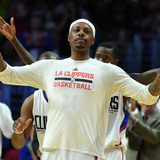 Paul Pierce thinks it's time for the 2008 Boston Celtics to let bygones be bygones.Pierce was recently reunited with Ray Allen for a celebrity basketball game in China and took the opportunity to call on Rajon Rondo and Kevin Garnett to reunite with the guard — who fell out with his former Celtics teammates over his decision to join their rivals in Miami in 2012. Will this work?...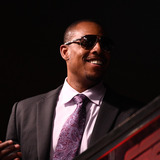 Even in retirement, Paul Pierce remains The Truth.Marc J. Spears of ESPN reported on Friday that guard Brandon Jennings has agreed to a one-year, $1.5 million deal to play overseas with the China Shanxi.In the wake of the news, Jordan Heck of Sporting News recalled Jennings' feud with Pierce last season, mentioning the 10-time All-Star in a tweet. For his part, Pierce obliged to...
Paul Pierce called it quits after spending 19 seasons in the NBA, but that doesn't mean we won't ever see him playing on the basketball court ever again. Ice Cube is already trying to make sure fans aren't denied that pleasure, and is attempting to do that by recruiting him to play in the BIG3 League. Both Pierce and Ice Cube grew up in Inglewood, so maybe that's why Cube had this...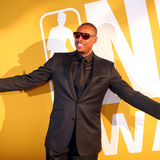 Paul Pierce is only days into his NBA retirement, officially speaking, and there's already a standing offer for him to play basketball..BIG3 founder Ice Cube took to Twitter Wednesday night to issue his initial recruiting pitch to Pierce. As noted by Ice Cube, Pierce signed a symbolic, one-day contract earlier this week so he could officially retire as a member of the Boston Celtics...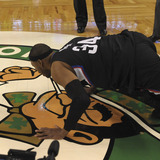 Paul Pierce is officially going to end his NBA career in the same place it began.On Monday, the Boston Celtics announced that they have signed Pierce to a contract so he can retire with the team. "It's an honor to have this opportunity to once again call myself a Boston Celtic," Pierce said. "The organization and city took me in and made me one of their own, and I couldn't imagine...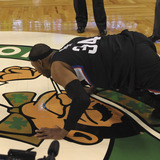 The day after Paul Pierce played his final NBA game, Boston Celtics owner Wyc Grousbeck confirmed to Toucher and Rich, a local Boston radio show, that The Truth will have his No. 34 hanging in the rafters of TD Garden. This news isn't surprising in any way. Pierce was the face of the franchise for an entire era and was named the NBA Finals MVP in 2008, Boston's lone title since 1986...
MORE STORIES >>
Clippers News

Delivered to your inbox

You'll also receive Yardbarker's daily Top 10, featuring the best sports stories from around the web. Customize your newsletter to get articles on your favorite sports and teams. And the best part? It's free!